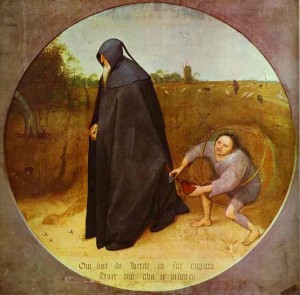 The Misanthrope by Pieter Bruegel the Elder (1525-1569)
Sometimes fragrances run so true to their house's character that you can almost imagine it being the child of a couple of other fragrances. When I got my samples of the new Dubai City Exclusive Cuir 28 it immediately brought to mind two previous Le Labo creations Another 13 and Patchouli 24. What makes it even more likely that I see some of these similarities is the perfumer for Cuir 28 is the same perfumer for Another 13, Nathalie Lorson. Cuir 28 mixes the ambrox of Another 13 with the birch tar coated leather of Patchouli 24 and the resulting child is precocious and fascinating especially early on.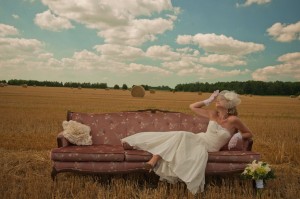 (Photo: Stiletto Photography)
The three early releases of this year; Lys 41, Ylang 49, and Limette 37 were part of the Le Labo family tree which is easy going to start with but over time shows off the hidden quirkiness below the congenial exterior. Then there are the others like Another 13, Patchouli 24, or Oud 27 which wear their misanthropic personalities front and center almost daring you to like them. They are worth dealing with that hard to love exterior because if you spend some time with them there is real beauty underneath. Cuir 28 is one of the misanthropes full of strong potentially confrontational accords from tarry leather, heavy vetiver, and even heavier ambrox all layered over a synthetic musk. Sounds about as appealing as hugging a cactus, right? Well Cuir 28 is a fragrance I should've preferred hugging a cactus over wearing because of the ambrox and muscenone but Mme Lorson is one of those perfumers who forces me to confront my fragrant prejudices to see if there is truly nothing there to admire. Cuir 28 shows me in the hands of a master perfumer there is much to admire in the previously unlikable.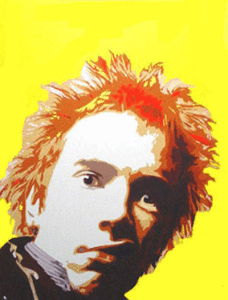 Johnny Rotten aka John Lydon
Cuir 28 swaggers onto my skin with a sticky birch tar and leather splotch. Now this kind of intensity I embrace and the early going of Cuir 28 is that smell of tanned leather and summer asphalt that I gravitate towards naturally. Mme Lorson further entices me forward by ladling on a hefty application of vetiver which pulls the smoky aspects of both the tar and the leather forward. Then it all changed as she takes the twin sledgehammers of ambrox and muscenone and breaks up the smokefest underneath a synthetic onslaught. Ambrox and muscenone always feel like nails on a fragrant chalkboard when used separately but here Mme Lorson uses them to turn the central leather back towards an almost raw unrefined hide drying in a barn. The rawness is almost simultaneously revolting and fascinating to me as my natural inclination to pull away from the synthetics wars with my desire to get closer to the less polished leather accord. Eventually I let my fragrant nemeses usher me towards my goal and together we reach a detente of sorts. To celebrate, a lovely sweet vanilla soothes all of the difficulties at the end.
Cuir 28 lasts all day and into the next morning which is mostly the ambrox and muscenone by that point. It also has way above average sillage and a light hand on the atomizer is recommended.
Cuir 28 might not exactly be the progeny of a rowdy rendezvous between Another 13 and Patchouli 24 but it is definitely a Le Labo fragrance and a member of that group of Le Labo fragrances that defiantly challenge you to observe their beauty. Gird your loins, and take Cuir 28 on, there are abundant pleasures on display.
Dislcosure: This review was based on samples provided by Le Labo.

Thanks to Le Labo we have one sample of Cuir 28 to giveaway. This is a US draw only. To be eligible leave a comment on what your favorite Le Labo fragrance is. The draw will end on September 23, 2013.
We announce the winners only on site and on our Facebook page, so Like Cafleurebon and use our RSS option…or your dream prize will be just spilled perfume.
-Mark Behnke, Managing Editor
Editor's note: Even though Cuir 28 is a Dubai City Exclusive you can still get it at the Le Labo website or any stockist until October 15, 2013.