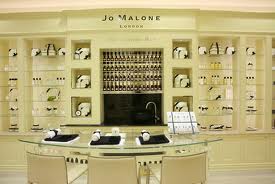 Jo Malone is one of those houses that have exquisitely made scents and there has never been one I have smelled that I have not liked…and many I truly love! From the equally luscious and ephemeral Blue Agava & Cacao to the dark and delicious Black Vetyver Café to the superb Dark Amber & Ginger Lily, Jo Malone has shown that a scent can be built around just two notes or aromas, and still possess depth and complexity. The other thing that really "tickles my nose" about Jo Malone is the fact they have a custom blending counter at many larger upscale department stores that carry their line. A niche company that has enough respect for their clientele to let THEM create their own fragrance blends-how refreshing and very cool, indeed!!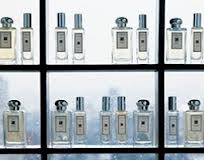 All of Jo Malone's bottles are equally as spartan as they are intriguing. Some have little bows on them, and some are darker glass; but, they all have basically the same simple shape with a rather plain label and round metallic cap. What is inside the bottle, on the other hand, is often a perfect balance of two notes or two notes that seem incongruous working in perfect harmony that create the basic aroma chord and it is almost always surrounded with the perfect accompaniment to bring out the best of both. There are also a few "soliflores". Most of these colognes (and intense colognes), despite the lower percentage of fragrance that word usually conveys, tend to last extremely well on my skin and continue to have me sniffing my wrist most of the day…and, almost always, receive compliments.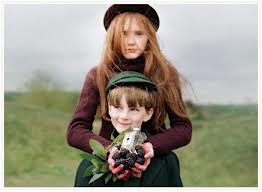 When I found out samples of the newest release Blackberry & Bay were headed my way I was ecstatic. When I saw the ad campaign I was even more excited. As many of you may already know, I grew up in the hills of southwestern Pennsylvania, where we had woods and thickets and bramble patches all around us. Every year, towards summer's end, my mother and I would go hither and yon (often wading chest high through briars and thorns) to gather wild berries (blackberries, black raspberries with occasionally dewberries) for pies, home-made jams and jellies and just to eat. At the time this was a "real pain" (both figuratively and literally) as very often we had to shed blood to get to the berries and would have scratches aplenty on arms and legs. Now, I miss those days.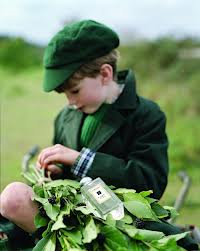 Another point of interest for me was the inclusion of bay leaf into this perfume. I was always fond of the scent of fresh bay leaves, even dried ones added to soups and stews, and loved to stir the pot and to find the leaf and chew it, after the soup was ready! I still do this today. The warm aromatic woody green of bay seemed the perfect foil for the tart sweet blackberry and I was looking very forward to seeing how they worked together. Jo Malone, once again, did not disappoint.

The scent of the berries and their juice is here, from the very first spray. A dark yet elegant fruitiness prevails in this, and it never becomes sickeningly sweet. A true wild berry has a touch of sweetness hidden within a sharp tart juiciness and this is very much a "true" berry scent. Many perfumes featuring berries are more like jam or preserves (already sweetened). This perfume captures that just picked freshness perfectly. A moderate misting of grapefruit zest adds to sharpness without overpowering everything and adds a certain sparkle and augments the "bite" of the berries. As most berries are ripe towards the middle or end of summer, many wildflowers are still blooming. Here, there is a hint of fresh soft blossoms on the breeze; but it is not a floral scent.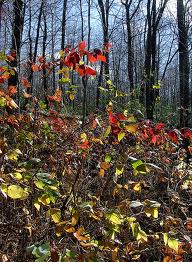 From the initial reaction of this perfume to the air, after leaving the atomizer, a deep and woody green is lurking. As you wade further into the proverbial perfumed thicket, the pungent and woody bay begins to unfurl. This is not the deep and spicy bay of your dad or grandfather's Bay Rum cologne. It is ever so slightly balsamic (without being resinous) green of thick leaves still on the bush and creates a lush and wild feeling of a real berry patch. The inclusion of vetiver adds to the soft grassiness and cedar creates the feeling of being on the edge of a mighty forest.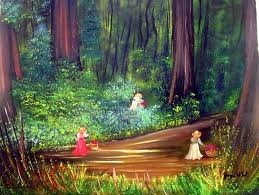 Picking Berries by Joyce Vitek
This fragrance is "marketed" to women, yet it comes across as one of the more unisex in this line. Very often the addition of fruits and flowers make many men leery or skeptical, when it comes to fragrances. Just as cedar and vetiver make some women raise an eyebrow and pass something over. I can see this perfume working equally well on both genders. My mother adores it (almost as much as Nectarine Blossom & Honey, her favorite Jo Malone) and, I must admit, so do I. The notes are listed linearly (no top, heart or base notes) but it does change subtly-going from tart and fruity to woody and green, all the while smelling amazing! This would do equally well on a cooler summer evening or a warmer fall day, when summer lingers and autumn is beginning to approach. This is not a projection monster, nor is it a "shrinking violet". It is refined and subtle, all the while smelling tasteful and dignified.
It has been years since I was in a briar patch picking berries with my mother; but now we can at least smell like we were as we fondly remember those times…and for that we are both equally thankful! Sillage: average. Longevity: slightly above average.
Disclosure: Reviews based on samples from Jo Malone London
–John Reasinger, Editor