Olivia Giacobetti is one of my favorite perfumers. The reason I so enjoy her compositions is she can somehow create unbelievable strength out of almost indescribable delicacy. Her best perfumes feel like I am following an olfactory ghost just out of reach and only containing the slightest of structure when I finally do catch up. Some of her best creations were for her own label IUNX. IUNX opened a Paris boutique in 2005 and unfortunately was unable to keep its doors open. Mme Giacobetti clearly also had a need to keep these creations alive somehow and so in 2011 she re-opened a small IUNX store in the Hotel Costes also in Paris. Since that re-opening she has slowly been bringing back the fragrances that were available at the first IUNX store. Late last year there was a rumor that she would be releasing a new IUNX fragrance that did not exist before. At the end of March 2013 this rumor turned out to be true as L'Arbre was released.

Olivia Giacobetti
L'Arbre (The Tree) also carries a bit of mystery as it is always difficult to gather complete information on anything Mme Giacobetti is working on these days. The rumor I had heard was that Mme Giacobetti has either tapped in to this same new renewable source of Indian Sandalwood or she unearthed a source of aged real Mysore sandalwood. I honestly didn't care because the idea of whatever the source of sandalwood was getting the Mme Giacobetti treatment had me fascinated and panting with anticipation. L'Arbre is exactly what I hoped for as Mme Giacobetti turns sandalwood into something diaphanous but so full of structure it is endlessly fascinating.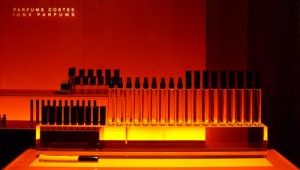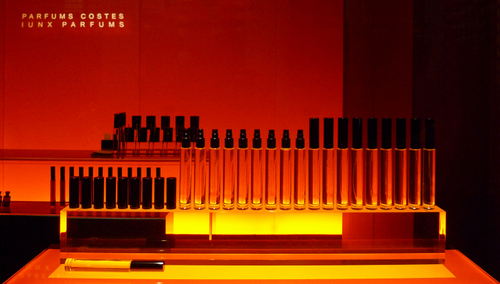 Let's get this out of the way I believe this source of sandalwood is the renewable source that is being touted as a replacement for Mysore sandalwood. When I smell my vial of Mysore sandalwood there is a slight edgy almost charred quality to it in the early going which I call "ashy". The sandalwood in L'Arbre does not contain that characteristic. Mme Giacobetti adds some pepper leaves to give that quality to L'Arbre but my best guess is this is not aged Mysore sandalwood. As far as my enjoyment of L'Arbre goes I don't care because the sandalwood comes out of the bottle and swirls sinuously around my head before trying to race away. By the time I catch this lively wraith it has picked up the aforementioned pepper leaf along with an enhancement of rosewood. This last ingredient is that tiny bit of addition that turns L'Arbre into something mesmerizing. Rosewood usually gets overpowered in most of the fragrances it is used in. In L'Arbre because of the ethereal nature of everything else it stands on its own and the quality it brings to L'Arbre is perfect.
L'Arbre has average longevity and average sillage. The lightness of this might make you think it is gone but late in the day I was wearing it one of my co-workers leaned in and told me I smelled really nice.
There are times I hesitate to wax so enthusiastically about a fragrance that is so difficult to get. If you love sandalwood, or Mme Giacobetti, or IUNX, or all three; L'Arbre I think will be worth the effort to get your nose on. It is a unique sandalwood fragrance like no other out there.
Disclosure: This review is based on a decant I purchased from Surrender to Chance.
–Mark Behnke, Managing Editor