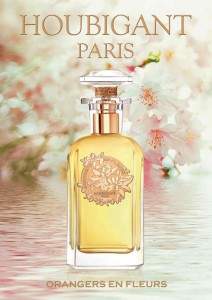 It has been a while since the house of Houbigant, famous for the original Chantilly and Quelques Fleurs, has released a new fragrance aimed to the feminine market. Their last release was a masculine, a reworking by Rodrigo Flores-Roux of the classic Fougere Royale, which was met with open arms and mostly favorable reviews by the perfume community. Now they have added to the line with a perfume based on orange blossom by perfumer Jacques Flori, called Orangers en Fleurs. Being the orange blossom perfume enthusiast that I am, I was anxious to try it, and am glad I did.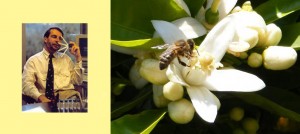 Jacques Flori (l.) and Orange Blossom Bee by Ingrid Dance (r.)
Orangers en Fleurs is seriously feminine, perfume with a capital P. Flowers expand upon flowers, and the scent is incredibly heady. Really, what could be better for a flower-lover? Orange blossom, jasmine, rose, tuberose, ylang? Incredible. This is perfume to swan around in, leaving a trail of perfumed petals in your wake. My orange blossom lover's soul is pretty happy with this one, as the orange blossom is front and center in the bouquet. The jasmine note gives this a bit of a Givenchy Organza Special Harvest vibe, which for me is not a bad thing at all. The rose note is subdued, just adding a bit of pink lace around the edges.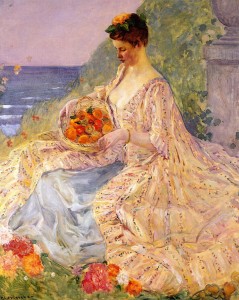 Woman with a Flower Basket by Frederick C. Frieseke
After going about my business, taking a walk in the cool air, the headiness of the scent dissipated quite a bit. What is left on my skin has presence, but is soft and vaguely woody. This is the part that makes it a fine scent for the office after you've had a seriously fragrant commute. There is enough floralcy left to just peek out when you least expect it. Give yourself a little refresher spritz before you go out for cocktails after work and you'll be perfect – by the end of the evening the perfume will have settled into a soft purr.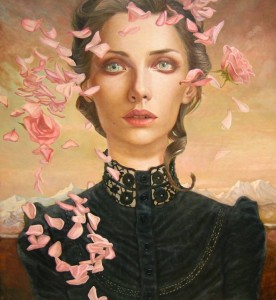 Scintillating Venuses by Kris Lewis
Should men try this concoction of flower upon flower? Absolutely. Any man who enjoys the sweet fragrance of orange blossom must try this, and I would love to smell it on him. My skin amps sweetness, so I would like to experience the scent on skin that might amp the nutmeg and greener notes, because I'll bet it would be fantastic. People who find Serge Lutens Fleur d'Oranger too cuminy or have issues with the honey note in L'Artisan Seville a L'Aube, but like a rich orange blossom scent, should give this one a try. The sillage and longevity are both very good.
Top notes: Orange blossom, rose absolute, and Egyptian jasmine absolute
Heart notes: Tuberose, eau de brouts (orange leaf), ylang comores, and nutmeg
Base notes: cedar wood and musk (notes extrapolated from various sources)
Orangers en Fleurs is currently available as Eau de Parfum, and is set to be released as parfum as well (for $600, just kill me now). I obtained my sample from Neiman Marcus in San Francisco.
–Tama Blough, Senior Editor