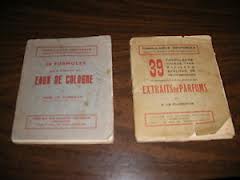 An encouraging trend over the last few years has been the reinvigoration; one could even use the term resurrection, of classic perfume houses which went out of business decades previously. The formula for success seems to center around two things, the passion and vision of those trying to bring the defunct brand back to life. One of those success stories is that of English perfume house Grossmith. Simon and Amanda Brooke along with Sophie Reeve re-introduced Grossmith in 2009 by reformulating the original instructions from a lab notebook acquired by the Brookes. Of those three re-releases my favorite was the fantastic iris fragrance Hasu-No-Hana. I was very interested to see what the next steps would be for Grossmith. Would they continue to look to the past or would they choose to forge a new future. Late in 2012 the answer came via press release with the announcement of four new Grossmith fragrances under the collective name of Black Label. It has taken me some time to acquire enough to properly review these four fragrances but they all share a definitive Grossmith character even though they did not come out of that old lab notebook.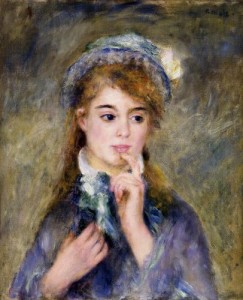 The Ingenue- Renoir (1877)
Amelia is an ingénue of a fragrance. It feels as light as a young partygoer at a spring garden party. It opens on a mix of neroli and osmanthus. The osmanthus persists into a peony and jasmine heart where rose also makes its presence known. The base is warm as amber, sandalwood, patchouli, and musk come together. Of the four Black Label fragrances Amelia is the lightest and that lightness makes it stand out because it is delicate but tenacious. Just like that ingénue I imagine, Amelia leaves a lasting impression.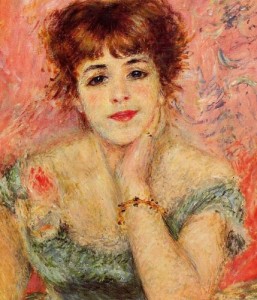 Jeanne Samary (La Reverie)- Renoir (1878)
Floral Veil is no ingénue it is the life of that same spring garden party. Floral Veil announces its presence on a combination of lemon and blackcurrant bud. The tartness of the lemon is adequate foil for the green berry quality of the blackcurrant bud. This is an attention getting set of top notes because the stars of Floral Veil are about to appear as tuberose and a very green vanilla orchid take charge. Those two notes hold court for the great majority of the development of Floral Veil and only very reluctantly do they find their way off stage. What is left when that happens is a sheer musk; it is almost like Floral Veil knew it couldn't match the two floral divas in the heart and didn't even really try. If you are a tuberose lover this pairing with the vanilla orchid is worth checking out.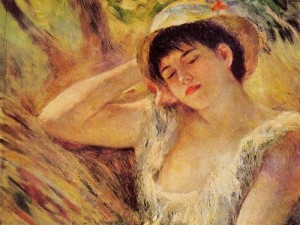 The Sleeper- Renoir (1878)
Golden Chypre was the one I was most apprehensive about trying as many modern versions of chypres often feel like wan watercolor reproductions of a glorious past. Golden Chypre is not in that class it is a creation all its own which instead of trying to slavishly recreate a chypre instead feels like a close relative but has that wonderful New Vintage feel that I am seeing more and more. Cardamom and nutmeg lie upon a bed of citrus but it is the spices which are most prominent. The heart is where Golden Chypre uses an ingenious mix of green and floral notes to make up for the lack of being able to use oakmoss. Geranium, patchouli, vetiver, and heliotrope almost form an oakmoss accord which rose interacts with. This works surprisingly well and it carries a bold quality that reminds me of many of the classic chypres in my collection. Labdanum, amber, and musk make sure the retro vibe doesn't end before Golden Chypre does. Had I been told that Golden Chypre was in one of the old Grossmith lab notebooks I definitely would've believed it as it feels like a creation from the middle of the last century.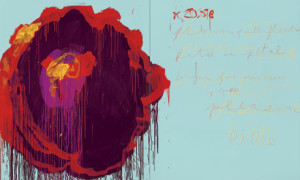 The Rose- Cy Twombly (2008)
If I was told Saffron Rose was in those notebooks that I wouldn't have believed. The other three Black Label fragrances successfully nod to the past of Grossmith, Saffron Rose points in the other direction towards the future. Saffron Rose's connection to the Grossmith style is the use of amazingly high quality ingredients and it starts with the titular notes rising off my skin right from the start, saffron and rose are excellent olfactory dancing partners but in this case a dusting of cinnamon enhances the saffron so as it is in the title it is also in the early going on top. Saffron Rose then undergoes a transformation from exotic spicy floral into a narcotic resinous heart of myrrh, tobacco, and oud. These three notes are precisely balanced and make for a fascinating heart as the sweetness of the myrrh amplifies the sweet facets of the tobacco and the oud picks up the smoky facets of the tobacco. The oud could have gotten out of balance and ruined this but instead it never becomes overbearing and makes the heart of Saffron Rose perfect. It ends on a woody mix of guaiac and sandalwood along with labdanum. Saffron Rose is another example of a perfume which contains oud where it plays its part and doesn't overwhelm which makes Saffron Rose a cut above the rest of the oud fragrances out there.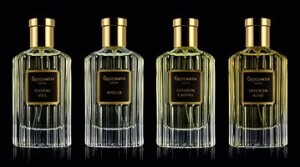 All of the Black Label fragrances have outstanding longevity but they vary in Sillage with Amelia being the lightest followed by Floral Veil, Saffron Rose and then Golden Chypre as the one with the most projection.
I am very happy to say that the future of Grossmith will not rely on those old lab notebooks exclusively. The current creative team clearly knows how to make new entries in modern lab notebooks which are the equivalent of those old recipes.
Disclosure: this review was based on samples provided by Fragrance & Art.
–Mark Behnke, Managing Editor