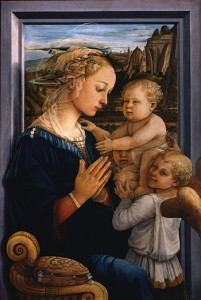 Madonna with Child and Two Angels by Fra Filippo Lippi
On my first trip to Italy at the very end of the trip we finally got a ticket to visit The Uffizi Gallery in Florence. By this time I was a little burnt out by all of the travel, and museums we had been to, over the previous nine days. As a result, let us politely say that my mind was not in the proper place to really appreciate what was hanging in front of my face. In fact I was walking into each gallery, looking around and saying to myself as I looked at the paintings, "Pope, Medici, Baby Jesus, Mary, Next gallery!" Despite being unprepared to truly appreciate everything that was in front of me I learned a very important lesson that day. As I entered the third gallery the internal dialogue started up again but had a significant difference, "Pope, Medici, Baby Jesus, Wow! That's Different!" what was happening was as I scanned the gallery looking at all of this there was one painting which stood out as something very different. It was of the same age and influence but it was special. As I drew near enough to see the artist I saw it was Fra Filippo Lippi, an acknowledged master. This visit to The Uffizi taught me that when something is truly special it stands out, you know it when you encounter it.
I could say the same kind of weariness takes over when I start sniffing oud-based perfume lately, "Rose and Oud, Wood and Oud, Incense and Oud, Amber and Oud, Oud and Oud, Next!" But as with my trip to The Uffizi when something different shows up it is easy to recognize it as something a cut above the rest. This happened earlier this year when I first tried Ex Idolo Thirty-Three when I was at Esxence in Milan. I was amazed that this could be a commercial fragrance. Almost everyone who is using oud damps it down for, what they assume are, the consumers who are unwilling to embrace something as powerful as a real oud. Ex Idolo Thirty-Three trusts that there is a segment of perfume buyers who will happily hug something authentic and true.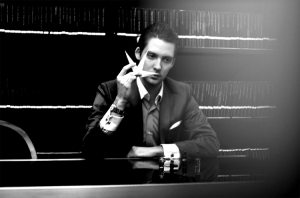 Matthew Zhuk
Matthew Zhuk is the owner and perfumer behind Ex Idolo which is based in London. He comes to perfume as someone who has an interest in vintage fragrance, 80's Orientals and oud. Mr. Zhuk spent years studying oud. He also had access to a vintage oud distilled in 1980 and that was what he wanted to use as the centerpiece of his first Ex Idolo fragrance. This is also where the Thirty-Three in the name comes from for the length of time the oud has been aged. One thing is crystal clear Mr. Zhuk has forged a special relationship with oud through his time spent understanding it. Thirty-Three is like no commercial oud I have ever tried. It is closer in nature to the oud attars I have spent considerable effort obtaining than anything from a current fragrance house. It is a blend of contrasts at turns, soft then strong, alto then bass, light then dark. It is everything I want when I wear fragrance.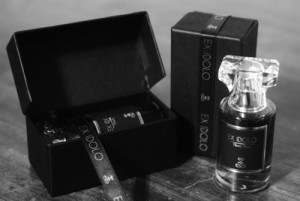 I knew Ex Idolo was going to be something exceptional right from the set of top notes. Mr. Zhuk uses black pepper, candied mandarin, and caoutchouc. Caout..what? Caoutchouc is the natural latex harvested from rubber trees and it smells exactly like you would expect it to smell. If you like the rubber note in Bvlgari Black imagine it as something more real instead of synthetic and you'll have an idea of what is going on here. The pepper and the mandarin are equal partners and the opening is engrossing as I spent so much time enjoying the interplay at work here. The heart is almost disappointing after the top notes but Mr. Zhuk goes for quality as he designs a setting consisting of a newly sourced Chinese rose oil along with orris and an accord he calls "damascus steel". That latter accord is that slightly metallic aspect you get from violet or really fine frankincense although it doesn't seem like either of those are present. The stage has been set and now the vintage oud arrives with a consort of vintage patchouli. This is where Thirty-Three turns from something interesting into one of the best fragrances of the year. This vintage oud has none of the rougher edges most of you will be used to smelling, there is no band-aid, no medicinal, none of that. Instead this is akin to drinking a finely aged red wine after all of the tannins have been aged away and what you are left with is a supple powerhouse. Don't underestimate the use of the vintage patchouli here either as it is the ultimate wingman for the oud; without it Thirty-Three would be much less memorable.
Ex Idolo Thirty-Three has overnight longevity and average sillage.
The most important aspect to Ex Idolo Thirty-Three is the authenticity which is on display from top to bottom. This is a real attempt to show all of what is so highly prized about oud. One thing that I urge anyone reading this who is interested in this fragrance is to make sure you wear this on skin. It is excellent on a strip but on skin is where it is meant to be worn and it is there where Thirty-Three really is at its most brilliant. What Mr. Zhuk has accomplished will make it very hard on the next few ouds to arrive in my mailbox because they just won't have this same sense of reality that Thirty-Three has. Then again this is one of the best fragrances of 2013 so I could say the same thing of almost every other new release. At the end of a long year of smelling many new fragrances I thank Mr. Zhuk for making me go, "Wow! That's different!"
Disclosure: This review is based on a bottle of Ex Idolo Thirty-Three I purchased.
Thanks to Twisted Lily we have a draw for three samples of Ex Idolo Thirty-Three for three US readers. To be eligible leave a comment on what you like or don't like about oud and whether you are in the US. The draw will end on December 4, 2013.
We announce the winners only on site and on our Facebook page, so Like Cafleurebon and use our RSS option…or your dream prize will be just spilled perfume.
-Mark Behnke, Managing Editor