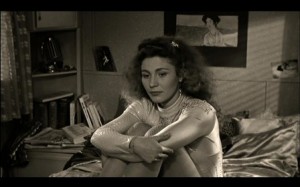 Solveig Dommartin as Marion 'Der Himmel über Berlin' by Wim Wenders
When Berlin based perfumer Tanja Bochnig of April Aromatics-natural perfumery- kindly sent me a sample of her new perfume 'Calling all Angels', it couldn't have arrived at a better time. I was going through a somewhat turbulent period and a serene and comforting scent was very welcome. I know that Tanja has her own story about the inspiration for her new fragrance, but by the thought of "angels" and "Berlin", I couldn't help but to think of the iconic 1987 film 'Der Himmel über Berlin' by Wim Wenders**.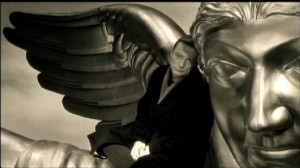 I liked to imagine Bruno Ganz in the role of the angel Damiel as the 'face' of this fragrance, an angel choosing to become human, shedding his wings of immortality and choosing instead human life, and with it, its joys and sorrows. Damiel makes this choice first and foremost because of his love for a beautiful woman, the lonely and beautiful trapeze artist, Marion. I think of the two angels Damiel and Cassiel (Otto Sanders) looking out over the big, and divided, city with a troubled past and uncertain future, and hearing the thoughts of the people below. Or envisage the black and white picture of the angels next to the golden angel statue that tops the 'Siegessäule' (victory column), looking for the people who needs their guidance.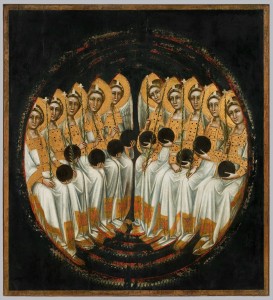 Guariento di Arpo Serafini
I think the angels part of 'Calling all Angels' might have lead me to expect a more introvert, perhaps a discreet prayer to the angels, but put the stress on both CALLING and ALL , and you see why it's only right that the opening is an intense and dominant one. It's a call that doesn't doubt its purpose; it's reaching out with open arms… Imagine a room, full of light and full of incense having just been set alight. The incense and myrrh is like a blast, it's huge and omnipresent yet in a calm and very reasserting way.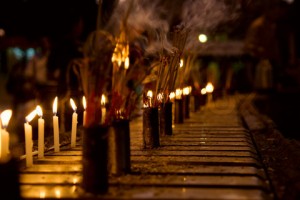 After the powerful opening, I was wondering if there was enough space for anything else to shine through; but to follow the story of the calling, I assume that after that great big call for ALL angels, comes a wish or a prayer. After all, there should be an intention why one should wish to call out to higher powers. So, little by little, the sting leaves the myrrh and the headiness of the incense, as it becomes smokier, mellower and slowly finds its way to a little vanilla sweetness. It sticks its head out first a little timid, in between the waves of smoke. It's never sugary, it's either resinous or a little dry, with a calmness exuding from the depth of the fragrance. At the end of the séance, many many hours later, the very last whisper of 'Calling all angels' is woody honeyed, and as if the light of the last candle goes out in that before illuminated room, a whiff of beeswax is merging, adding a slight feline touch, like the downy sweetness of a kitten's fur.
The angel Damiel feels lonely as an angel, since he can never really talk to the people that he is guiding and tries to help, he wants to understand what it is like to be human, since in 'Der Himmel über Berlin' the angels are deprived of all sensory experiences, he wants to experience smelling and feeling. And in Damiel's spirit, I was happy to discover that this fragrance is less about heavenly creatures, and more about the ones that need to call them. 'Calling all angels' seems about the room you create around yourself when you want to clear your thoughts of all needless, and envelope yourself in the warm and peaceful space which makes you come out stronger.
Notes: Incense, Labdanum, Tonka Bean, Vanilla Accord, Benzoin, Elemi Resin, Frankincense, Amber Accord, Honey Accord, Precious Woods Accord, Opoponax, Rose Otto.
–Jasia Julia Nielson, Contributor
Bruno Ganz and Peter Falk
** The movie Der Himmel über Berlin has the English translation 'Wings of Desire', was inspired by the poems of Rainer Maria Rilke and featured the American actor Peter Falk who passed away June, 2011.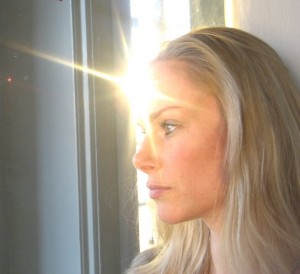 Tanja Bochnig: "Self Portrait" 2007
T anja on Calling All Angels: "My friend Mari Nil, (Author of the "Essence of God") is a clairvoyant healer who channeled this perfume with the intent of bringing the healing messages of the angels into a scent and to the wearers. This fragrance is connecting all dimension and realms with each other and this way our beloved friends are able to be very close to us and to help us. Calling all Angels is infused with clear crystal, Herkimer diamond and Gold flakes ,was bottled on a full moon and is the first in a series of my Angel scents."
Thanks to Tanja Bochnig of April Aromatics we are offering a 7ml preview sample of Calling All Angels to one reader. To be eligible please leave a comment with the name or depiction of your favorite "Angel" (in literature, music, culture movies or art) AND a April Aromatics Natural Perfume you like or one you would like to try by October 31, 2012
We announce the winners only on site and on our Facebook page, so Like Cafleurebon and use our RSS option…or your dream prize will be just spilled perfume