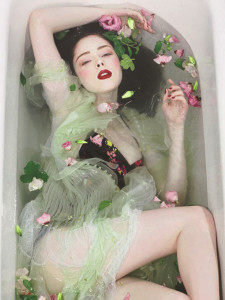 As we get to the end of March in the Northern Hemisphere I think most are ready to put away their winter coats and head outside to smell all that nature offers in the early spring. For many the first sign of spring is the blooming of lily of the valley, also called muguet. Lily of the valley is worn on May 1 all over France. They are a shared sign that spring is truly finally here. This symbolism has been a magnet for many perfumers over the years as they all want to interpret this bloom of spring. The most recent perfumer to take on muguet is Jerome Epinette in the new fragrance for Byredo called Inflorescence. In the note he sent accompanying my lab sample he said, Inflorescence is "the interpretation of a muguet, greener, fresher and more stylized than the real one."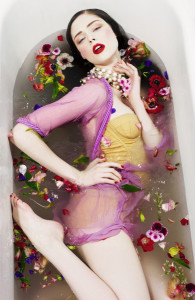 The word inflorescence describes a cluster arranged on a stem that is composed of a main branch. In nature that cluster would all be the same flower but in M. Epinette's creation his inflorescence is a cluster of five floral notes on a common olfactory branch. The main progression is freesia, muguet, jasmine. Rose helps on top and magnolia in the middle but that is all there is. When you see that note list, and knowing M. Epinette's previous work for Byredo, you might expect something very diaphanous and light. What M. Epinette has produced can be best described by breaking down the word to "In Fluorescence" as Inflorescence wears like a hyper-realized floral study captured unflinchingly in stark white light.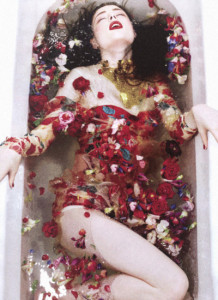 Inflorescence begins with this dewy rose note that I seem to be experiencing a lot recently. It only lasts for a short while before freesia crests over the top of the rose. When I say the freesia crests over the rose I'm talking like a 20-foot wave crashing on the beach as the freesia sweeps in taking no prisoners. If you are not a fan of freesia this early going could be tough. I like freesia a lot and the intensity of the freesia caught me a little off guard the first time I wore Inflorescence. Like my metaphorical wave the freesia recedes and the next wave to hit the beach is one made up of muguet and magnolia. This pairing by M. Epinette is a perfect pairing of spring harbingers. The slightly woody creamy quality of magnolia up against the almost metallic nature of muguet makes for an excellent study in contrasts. The magnolia softens the edgier facets of muguet to make the heart of Inflorescence smooth and fresh. As much as I like all that has come so far it is the base of jasmine which really makes Inflorescence special. Every time I wore Inflorescence the magnolia and muguet felt like an end in itself and after about two hours I would pull my wrist to my nose to be met with an incredibly soft and heady jasmine. It felt like the magnolia and muguet had given birth to jasmine on my skin. I came to think of this transition as the flowers of spring were begrudgingly giving way to the flower of summer.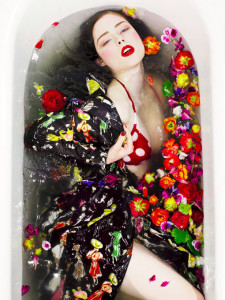 Inflorescence has above average longevity and above average sillage.
There are many muguet fragrances out there to choose from when May 1 arrives but when May 1 2013 arrives it will be Inflorescence I choose to wear in celebration of spring. This is a fantastic fresh floral fragrance that is one of the best in the entire Byredo line.
Disclosure: This review was based on a lab sample provided by M. Epinette.
–Mark Behnke, Managing Editor
Art Direction: Michelyn Camen, EIC
Editor's note: All of the pictures are of model Coco Rocha as photographed by Sofia Sanchez and Mauro Mongiello for the June 2008 issue of Numero magazine in a layout entitled "Agua Caliente".