Saffron is one of the rarest, costliest, and most distinctive of spices. The delicate orange threads are the stigma of a crocus flower, which have to be painstakingly harvested by hand. The spice imbues everything it is used in with its distinctive golden-orange color, and it is the signature shade of Buddhist monk's robes. Cooking with saffron requires a delicate hand; I have made saffron rice by gently heating the saffron threads in a little milk, to tease out the flavor and color without burning it and achieve the maximum effect and flavor dispersal. In perfume, it is a note that is often used to lend an air of Oriental mystery and depth. Ben Gorham of Byredo, working with perfumer Jerome Epinette, has introduced a perfume that honors this spice that is holy to Hindus and symbolizes India, the country he was raised in.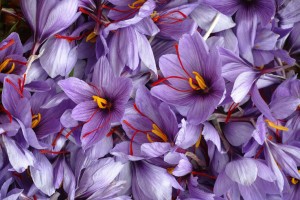 Black Saffron is the third Byredo scent that I have had the pleasure of reviewing, and it continues to weave the spell started by Seven Veils and Bullion, also by Jerome Epinette. These perfumes tell tales of lands far away, of spice markets, seraglios, deserts, ancient villages, and precious goods. Black Saffron is no exception, because as soon as I put it on I am again transported across the waters to a place I have only imagined.
Lord Vishnu
Opening with a sweet, vibrant citrus, Black Saffron quickly simmers into a beautiful, heady blend, with bursts of silvery violet and dewy rose popping out between the wisps of saffron. The saffron here is subtle – I pulled out my jar of spice to compare – but definitely present. The spice has a bitterness that has been tempered in the perfume, leaving the creamy and indescribable saffron heart. A surprising, soft leather note hovers at the edges of the composition, giving the perfume an interestingly human touch, like your hands might smell at the end of a savory feast you have eaten with fingers that have been rinsed with a bit of rosewater.
As a preliminary to my review, I wore Black Saffron without any thoughts as to what was in it, or trying to imagine what I would say about it, just put it on and went about my day like I normally would. I have to say that the perfume and I got along like we had been companions for a long time, the kind that can carry on an interesting conversation, but also know when to just be quiet with each other. I can see adding it to my wish list, and maybe edging it in above a few other perfumes on that list. It is definitely unisex, with fairly close sillage and good longevity.
Notes per Byredo:
Top: Pomelo, Saffron, Juniper Berry

Heart: Black Violet, Accord Cuir, Cristal Rose
Base: Blond Woods, Raspberry, Vetiver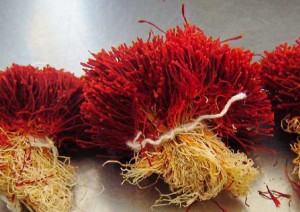 I obtained my sample from the great folks at the San Francisco Barney's NY, who also graciously provided a second sample to give away. Let us know in the comments if you have experience with saffron, in cooking or perfume. We will draw one winner on October 19, 2012.
We announce the winners only on site and on our Facebook page, so Like Cafleurebon and use our RSS option…or your dream prize will be just spilled perfume.
-Tama Blough, Senior Editor