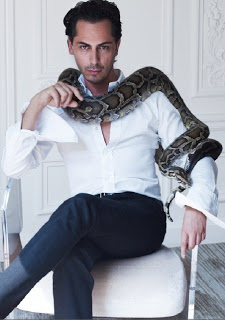 Kilian Hennessy and Friend
Kilian Hennessy is in the top tier of creative directors in perfumery. He has been so successful at it that he no longer lives in the shadow of his family's name. He has created his own name and his own place in a different industry. The By Kilian line has been successful from the beginning and it is because of the attention to quality M. Hennessy has insisted upon. His first collection L'Oeuvre Noire was a story told in ten fragrant chapters over four years. As a collection it is one of the best out there and it contains a couple of modern classics. The newest collection which has just been released is called In the Garden of Good and Evil.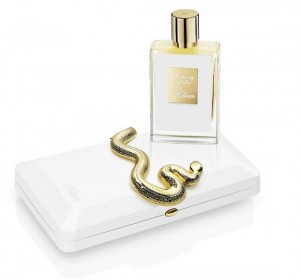 There are three new fragrances to start this collection and the garden of which we speaking of is the Garden of Eden and these perfumes are meant to be ruminations on the nature of Original Sin. M. Hennessy has found one perfumer who has become his partner for many of his fragrances, Calice Becker. Mme Becker is responsible for In the City of Sin and Forbidden Games. For the third, Good Girl Gone Bad, M. Hennessy has turned to Alberto Morillas. All of these come in striking new white bottles which come encased in a white clutch with a gold serpent slithering atop it. As always the attention to detail in By Kilian does not stop at the perfume in the bottle.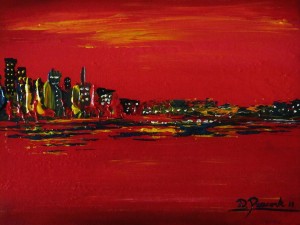 Sin City by Deborah Peacock
In the City of Sin is a fantastic spicy fragrance and upon first encountering the three new By Kilian fragrances, my favorite. Mme Becker uses a lovely breath of cardamom to entice you closer, once you have come through the gates this city of sin wraps you in a sensory extravaganza of deep satisfying notes. Before you know it you are lost with no way back to the world.
Mme Becker uses cardamom as the core of that spicy opening. She surrounds it with pink pepper and a pinch of cumin. It is the fresher cardamom that dominates but the pink pepper and cumin add some rough edges. Then you move into a rapid-fire sequence of notes, plum and rose come first, incense and cedar next, followed at the end by patchouli and musk. The first time I wore this it seemed almost too fast to catch ahold of but the next two times I wore it I was ready and I enjoyed this fast-paced development even if I wish it lasted a little longer.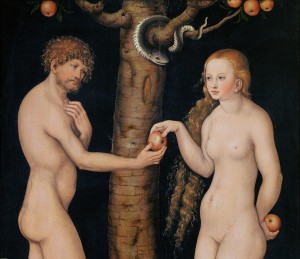 Eve Offering the Apple to Adam in The Garden of Eden by Lucas Cranach the Elder (1520)
Forbidden Games is the other by Mme Becker and it is something on which my opinion keeps improving upon. When I first had it on it felt like an upscale fruity floral and it didn't fully capture my attention. But as I wore it twice more, especially the last time I wore it, Forbidden Games was really growing on me and I can see this eventually being my favorite of these three perfumes. Mme Becker has made a fruity floral with unusual character which, of course, begins with an apple. Forbidden Games is the temptation of ripe fruit there for the taking…but you're not supposed to.
Apple bursting with fresh and juicy facets is matched in that quality with peach. These two notes made me feel like I should be wiping dripping juice off my chin after I had bit into the fruit. If you like these notes the opening moments of Forbidden Games will keep you fascinated. Jasmine, rose, and geranium are the floral part of the fruity floral and this was where Forbidden Games lost me the first time as that grouping of notes didn't add anything and my attention wandered and never fully came back the first time I wore this. It was the second time I wore it, when I really paid attention to the base notes of vanilla and honey, that I realized I missed something. The vanilla and the honey ooze around like the serpent in the Garden of Eden tempting you with the decadent sweetness just here. Mme Becker balances the vanilla and honey so well that it eventually feel like it covers the fruit and the florals in a thick sweet coating. They are still there but in the background. Forbidden Games will tempt many into adding it to their collection, I think.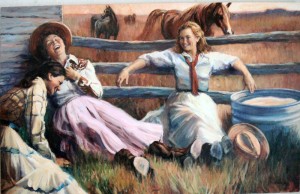 Cowgirls by Philip Wade
My favorite of these fragrances is Good Girl Gone Bad. M. Morillas takes every "good girl" floral note which has had the "bad girl" scrubbed off of it and lets their "bad girl" side come out to play. Of course the original good girl/ bad girl floral note is jasmine and M. Morillas uses that as the centerpiece of Gird Girl Gone Bad. He surrounds it with tuberose, narcissus, osmanthus, and rose. All of these floral notes sneak out of the house and head to the fun side of town where they get bad.
Jasmine greets you and she seems very "good girl" for the early moments but then her friends show up as tuberose and narcissus help her out of her pinafore and into her leather pants. As they strut their way across town they pick up osmanthus and rose. The osmanthus giving off more leather than apricot, unusually. When they get to where they're going a deep amber and patchouli accord is waiting to take them in and let them have some fun. There is a very restrained dirty skin accord, built around musk and vetiver, which comes right at the end and that just shows how bad these good girls can get.
All three of the In the Garden of Good and Evil perfumes have less longevity than you have come to expect from a By Kilian fragrance. That means they will be with you all day but probably not the next morning. They all have average sillage.
After wearing the first three fragrances in the In the Garden of Good and Evil collection I am very much looking forward to the next releases as each of these hold their own temptation's to be taken or refused. Although life is so much more fun when you go with the temptations.
Disclosure: This review was based on samples provided by Bergdorf Goodman in New York.
–Mark Behnke, Managing Editor