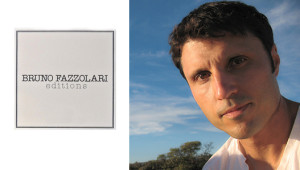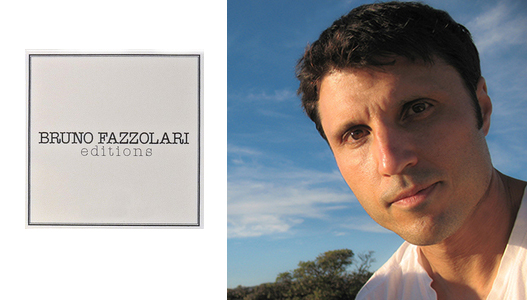 The Bruno Fazzolari Editions line of perfumes had an exceptional debut at the second San Francisco Artisan Salon, bringing in several top awards from the judges. Now that I have sat down with them, I can understand their appeal. Bruno Fazzolari is an accomplished visual artist with a passion for perfumery. He created several of his scents to be used in conjunction with his art exhibitions to heighten the experience of viewing his work. Eventually, he took the plunge and launched a line of these perfumes, which are Monserrat, Lampblack, and Five, adding additional scents inspired by other forms of art, Jimmy and Au Delà.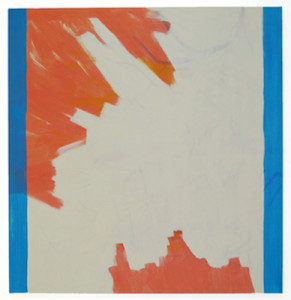 From the New Work Exhibition by Bruno Fazzolari
Originally titled with only a dab of paint on the bottle, Monserrat was ultimately named after the paint color Monserrat Orange. Like the squirting juice of a grapefruit when you stick in the spoon, this perfume gave my nose a good tickle when first sprayed. It settled fairly quickly into a grassy, earthy, and slightly fruity scent. Something in it still tickled my nose, but in a good way, when I pressed my nose to my arm to inhale. It is a bit herbal, and as it develops, the apricot starts to bloom nicely, and lingers through the drydown. Monserrat has minimal sillage, making it an excellent springtime scent for work.
Notes: pink grapefruit, green leaves, carrot seed, apricot, jasmine, white musk, wet plaster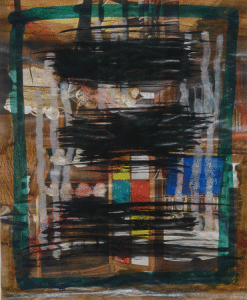 From the Lampblack exhibition by Bruno Fazzolari
When I first tried Lampblack, I thought just off the top of my head that it was a leather scent. On closer inspection, I realize it is not. Lampblack is a pigment made from incompletely burned organic material, used to make ink and paints for artists. Mr. Fazzolari's series of works created with lampblack ink was the inspiration for this scent. The perfume is an interesting mix of sweet, sour, and dark notes that combine to create an olfactory illusion of smoke. It is a complex smoke, as if a building full of exotic foodstuffs was burning down. The undercurrent has a lovely hint of sweetness that keeps it from being harsh. I am a vetiver fan, and I encourage vetiver lovers to try this one. Vetiver can easily take over a fragrance, and although there is vetiver here, Mr. Fazzolarii has done a good job of incorporating it into his scent whilst reining it in. After its initial outburst, Lampblack stays fairly close to the skin, but the aroma there is smoky, herbal, grassy, and compelling.
Notes: sweet orange, black pepper, bitter grapefruit, nagarmotha, benzoin, vetiver, shadow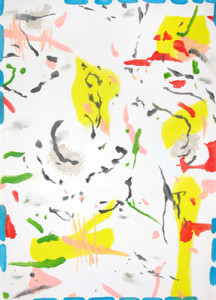 From the Mirror 5 exhibition by Bruno Fazzolari
Created for an exhibit of artworks that were made with a lot of cadmium lemon paint, Five is a bright, citrus-herbal blend that has an intriguing mineral note. It doesn't smell like earth, more like clay; it is a colder smell than loamy dirt. I can smell the citruses when I get closer to my skin, but my scent aura is less organic. It's an interesting dichotomy, and I am having fun with it. Although my first impression was that it veered masculine, I have settled into its concept and can understand the gender-neutrality. I can see wanting to wear this for summertime activities. I resist the temptation to say it's a sport scent, because so many of those smell horrible, but it is one in the best possible way. The drydown is nice; just a clean, almost soapy smell close to the skin.
Notes: lemon, sweet orange, rosemary, petitgrain, sweet Woods, minerals, high altitudes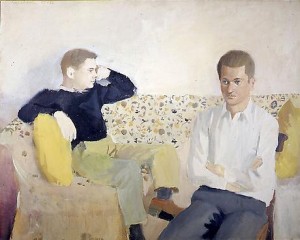 Jimmy and John by Fairfield Porter
Inspired by the works of poet James Schuyler, Jimmy is a refreshing, summery perfume that reminds me a bit of fresh cucumbers at first, and then morphs in to a sunny, violet-laced floral that will be wonderful in warm weather. I detect a bit of triple-milled French soap, then the scent quiets down to become a lightly shimmering green floral. It's very appealing, and people looking for a fresh but unique scent for warmer days should try Jimmy. I am looking forward to trying it again when the weather warms up.
Notes: ylang ylang, rose otto, geranium, violet leaf, heliotrope, sandalwood, daylight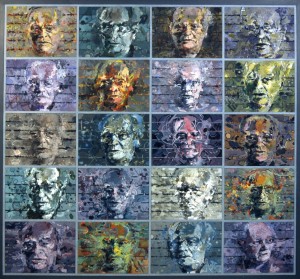 Portrait of Olivier Messiaen by Tom Phillips
Of all the Bruno Fazzolari scents, the one that is the most "me" might be Au Delà. It has an earthy, animalic tone that is quite sexy. Mr. Fazzolari is apparently not afraid of indoles and although this fragrance is not fecal, it is not virginal, either. I enjoy a good dirty floral, and this perfume is one of the better ones I have smelled in a while. It purrs nicely on the skin, with minimum throw. Someone coming in for a hug would get a sensuous surprise. As the fragrance dries down, it settles into a soft warm floral that is just beautiful. Mr. Fazzolari found inspiration in the unique music of Olivier Messaïen to create this perfume.
Notes: coriander, neroli, jasmine, oakmoss, orange flower, amber, immanence
The Bruno Fazzolari Editions line is wonderful for those who want to be scented uniquely but not obtrusively. Most of these are perfect office scents, every day scents, being in a crowd scents. Lampblack and Au Delà are bolder than the other three, but not room-clearing. That this line was popular at the Salon doesn't surprise me in the least; it is very well-done and I anticipate that it will be successful. The fragrances and a sample set are available on the Bruno Fazzolari website.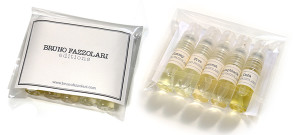 I received my sample set from Mr. Fazzolari, and he has kindly offered a sample set to anyone in the USA. Let us know in the comments which of these scents sound like a winner for you, and let us know you are in the US. Draw ends on April 19, 2013.

We announce the winners only on site and on or Facebook page, so Like Cafleurebon and use our RSS option….or your dream prize will be just spilled perfume.
–Tama Blough, Senior Editor