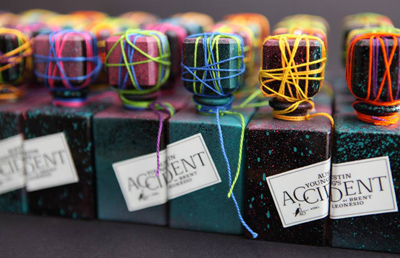 It's no secret that Brent Leonesio is one of my favorite perfumers. This year, he has stepped back from creating his traditional themed series works, and has focused on individual project fragrances, the last one being his Sweet Tyranny comic book and perfume. This time, he has worked with artist Austin Young and Saskia Wison-Brown of the Institute for Art and Olfaction to create Austin Young's "Accident" by Brent Leonesio (which will henceforth just be referred to as Accident for this article). The perfume was created in support of a crowdsourced interactive live production called TBD, and premiered at the final workshop for the production in August at the IAO in Los Angeles.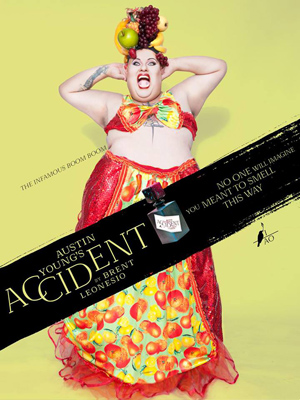 Austin Young's work is subversive, exploratory, gender-bending, and is often focused on issues of identity. The TBD project rejected the idea of Hollywood exclusivity and invited people to come to a series of workshops at IAO to explore identity, coming-of-age and performance.
In keeping with this idea of subversion and identity, Brent created Accident, which has the tag line "No One Will Imagine You Want to Smell This Way." With accompanying gender-bending graphic art, creative packaging, and a commercial that pokes fun at glamorous perfume advertising, Accident is collaborative perfumery at its best.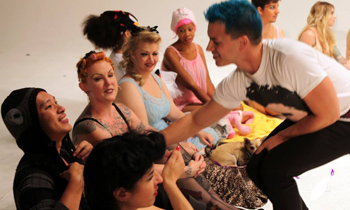 Brent Leonesio applies Accident to participants at launch
I didn't know what to expect from Accident; the notes list is certainly compelling, and also mysterious. Some of the aromas are smells that I secretly love, like gasoline and mechanics. I think we all have those smells that are off the norm. I remember a perfumista confessional where we listed those scents that are oddly compelling for us. Gasoline, motor oil, asphalt, skunk; the scents that make most people wrinkle their noses are the things we want to smell. The question is, do we want to smell like those things? The tagline is right on the money.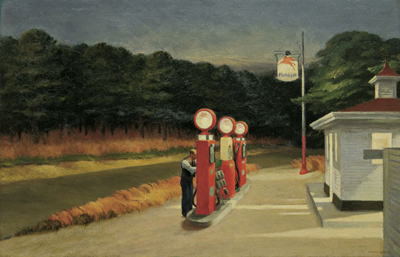 Gas by Edward Hopper
The gasoline vapor that wafted off of my arm after spraying Accident was spot-on, but also had a component of beauty, like there was a flowering meadow next to the gas station. There is a slightly plasticine smell in the heart, but it is oddly comforting, more like a warm car seat than vinyl shower curtain. The sillage is exhilarating, like having an aura of beauty surrounding something a little off-putting. The drydown is soft and smells like the hands of a mechanic who has scrubbed, but can't ever remove that lingering trace of automobile. I have described a lot of perfume, but this one is giving me fits to try to put into words. I have smelled a lot of fragrances that have tried to be utterly synthetic, technological, edgy, or uber-modern. As interesting as they were, and sometimes fairly wearable, they were usually chilly. Accident is a success in that it has that synthetic, strange aspect, but manages to smell completely natural.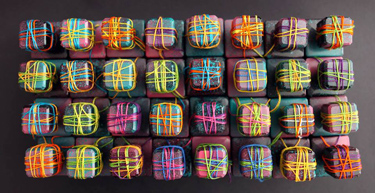 How did this happen? How does a perfume that seems like it would just smell terrible turn out so completely compelling, and dare I say, beautiful? Mr. Leonesio has taken those secret smells and has made me want to wear them by making them smell human. I do want to smell like this. Mr. Leonesio has gone up in my estimation again, and I think his fearlessness and skill as a perfumer is expanding. The work he has done this year is some of his best and most innovative.
Notes: Gasoline vapor, Perfume spilled down a bucket seat, Safety glass, A smoking tire, A last minute dab of face powder, The smell of a mechanic.
I received my samples from The Institute of Art and Olfaction. Austin Young's "Accident" by Brent Leonesio is a limited edition perfume, available through IAO. Each bottle is unique, and the outside decoration is designed to chip and unravel over time. Photos courtesy IAO except where noted.
Tama Blough, Senior Editor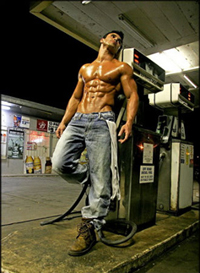 Gratuitous hunky mechanic
Thanks to the generosity of Mr. Leonesio, the IAO, and Mr. Young, we have a sample to give away to one US reader. Let us know your secret smell love! Draw ends September 21, 2013.
We announce the winners only on site and on our Facebook page, so Like Cafleurebon and use our RSS option…or your dream prize will be just spilled perfume.