Perfumer Julie Masse and Shay & Blue Founder Dom DeVetta
I met Dom De Vetta, ex Senior Vice President of Chanel (and until recently, the former Global General Manager of Jo Malone Ltd) at an event three years ago and was struck by his passion for perfumery and natural ingredients. We are thrilled that he has formed a new boutique fragrance company Shay & Blue , which is available at select stockists in England and online www.shayandblue.com.
According to Dom De Vetta, he created Shay & Blue to recapture the lost quality of the great, classic perfumes. "Many of today's perfumes can seem thin, simple, and one-dimensional. Many of today's perfumes are churned out in their millions in anonymous factories. Shay & Blue's defining purpose is the nurture of perfumery's artisanal expertise: The preservation of time-honoured methods of quality fragrance-making; Championing men and women who have learned the patient skills of working with real flowers, fruits and spices employing the people who have carefully and quietly acquired an invaluable expertise; Hand harvesting; Hand weighing; Hand distilling".
To create the six fragrances, Mr.DeVetta enlisted the talent of Julie Massé, a young perfumer who studied under Master Perfumers Christine Nagel and Pierre Bourdon.
Inspired by the great classic perfumes of the belle époque, Shay & Blue's creators have crafted richly textured fragrances that are also strikingly modern.
Atropa Belladonna
Wonderfully dramatic. Inspired by deadly nightshade, dark cassis berries are blended with the heady white flower blooms of narcissus and jasmine, on a base of rich bourbon vanilla and patchouli. Truly different.
TOP NOTES: First impressions of decadent, mesmerizing berries and cassis liqueur. A top note that intoxicates and draws you in.
HEART NOTES: In the heart, the strength of the narcotic full blooms of white narcissus and Grasse jasmine.
BASE NOTES: Into the dry-down, Atropa Belladonna yields her end-of-day secrets of patchouli, sandalwood, rich bourbon vanilla.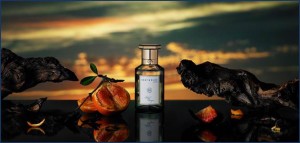 Blood Oranges
Blood Oranges yields the bursting freshness and well-rounded flavour of orange flesh and juice, underpinned by a richly sensual blend of musk, charred woods and passionate, intense leather. Ideal for both men and women.
TOP NOTES: On the nose, instant fresh bursts of blood orange segments and juice. Immediately refreshing.
HEART NOTES: At the core of this scent, a well-balanced note of hot leather. Intense, animalic and attractive.
BASE NOTES: A few hours into the drydown, and Blood Oranges gives off a musky sensuality, with dark woods and amber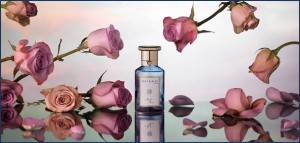 Amber Rose
Amber Rose is suffused with sophistication and expense, composed of majestic May rose with gourmand dulce de leche and refined white amber. Seductively and elegantly poised.
TOP NOTES: The soft opening melody of the fresh petals and moist leaves of rare May rose.
HEART NOTES: Then, an elegant symphony of delicious dulce de leche, an enveloping, voluptuous chord.
BASE NOTES: Now approaching the beauty of sundown, woods and fine white amber radiate the warmth and soft-light romance of dusk.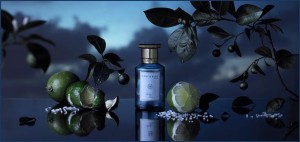 Sicilian Limes
As a finished cocktail, Siciian Limes is the full-liquor hit of a salt margarita, straight-up, no ice.A fragrance designed for men, that sits equally well on women.
TOP NOTES: A rush of salt limes, a sensation of sea air and citrus cocktails.
HEART NOTES: The Sicilian drama continues in the heart, where a Mediterranean tang of rosemary adds to the overall intensity.
BASE NOTES: A solid base of cedar woods and masculine moss draws out the late-stage, fragrant trail of warm summer air.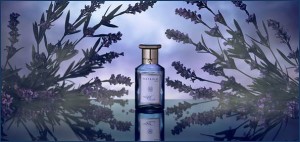 Suffolk Lavender
Lavender, in dramatic rows of purple-y blue, giving off its exotic summer scent of spicy, aromatic flowers. Here, deeper and darker than usual, with the seductive impact of someone who knows their own mind.
TOP NOTES: Immediate lavender tones of aromatic warmth, the spicy, delicate waft of these well-known stalks as a first hit on the nose. Wrapped in a mouth-watering touch of melon.
HEART NOTES: An explosive cluster of a bouquet of spices with smoky incense – and more lavender.
BASE NOTES: Touches of tousled musk with restless pine wood.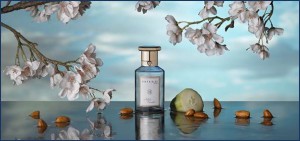 Almond Cucumber
Almond Cucumber epitomises refinement and watery softness. This Ophelia of fragrances leaves a subtle whisper in her wake.
TOP NOTES: Cucumber on the nose, an instant splash of refreshing, green slices cuts a clean, thirst-quenching first impression.
H EART NOTES: Almond blossom warming the blend in its heart, mixed with bursts of delicate mimosa from Grasse and summer-flowering heliotrope.
BASE NOTES: Deep in the dry-down, the almonds ripen into the crunchy scent of nuts, with intensely dense almond wood.
The Collection will be available in 100ml and 30ml natural sprays (approximately $85US for the 100 ml and $45US for the 30ml)and a range of candles, (approx $55) using 100% natural wax are also offered.
Source: Via Shay & Blue Photos copyright
Which fragrance appeals to you, because as you know, you never know !
-Michelyn Camen, Editor in Chief