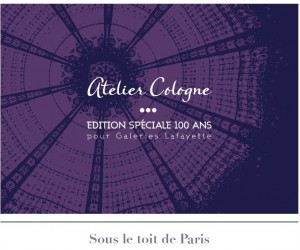 "La Coupole has covered times and fashions, while inside the emotion has remained the same. The wish to reinvent oneself. The pleasure of looking and discovering. The joy of possessing the object of desire.To honor the most beautiful dome of Paris, we created a unique fragrance, with notes inspired by these thrilling moments.Its name: "Sous le Toit de Paris".-Sylvie Ganter and Christophe Cervasel, Creators and Founders of Atelier Cologne
Atelier Cologne has created a special edition fragrance celebrating Galleries Lafayette's Centennial named Sous le Toit de Paris and is signed by Perfumer Ralf Schwieger.
Top Notes: Moroccan neroli, Italian bergamot, African Bigarde
Heart Notes: French violet leaf, South African geranium, Haitian vetiver
Base Notes: Brazilian tonka bean, musk and leather.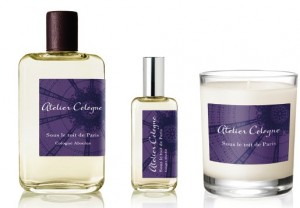 Atelier Cologne Sous le Toit de Paris is available in 30 ($70), ($175) 200 ml Cologne Absolute (15%) and a scented candle ($48) and will be available exclusively at Galleries Lafayette as well as the Atelier Cologne Boutique in New York City and the new Atelier Cologne boutique which will open its doors this December in Paris. It will be available online at www.ateliercologne.com. For more information and to pre-order Sous le Toit de Paris please contact info@ateliercologne.com. .
-Michelyn Camen, Editor in Chief
Source: Atelier Cologne