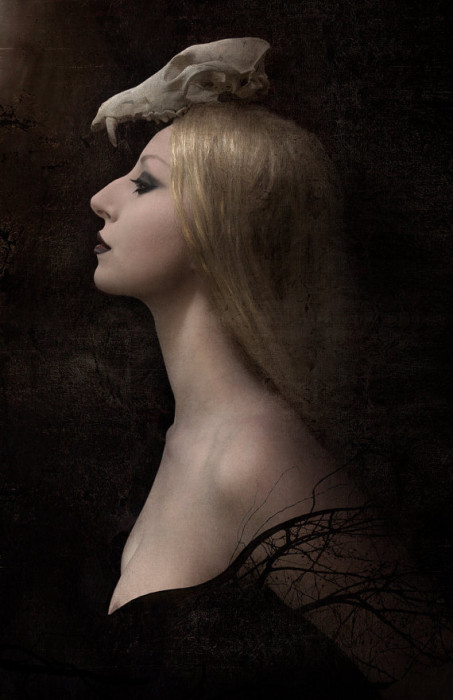 Illumination by Greg Spalenka -Model Jessica Lough
The word "noir", attached to a perfume's name, infers something dark or black and conjures images of the night and mystery. Unlike most perfumes that bear that epithet, Roxana Villa has called out to the night and the Earth and merged them into Roxana Illuminated Perfume Figure 1: Noir. Roxana uses only natural essence oils, extracts and absolutes in a base of grape and grain organic alcohol and it is abundantly clear from the first application everything about this perfume is "authentic". All her perfumes are created with the finest ingredients and are synthetic and cruelty free. Made and bottled in her Woodland Studio in California's Santa Monica mountains, this is perfume that is both natural and artistic.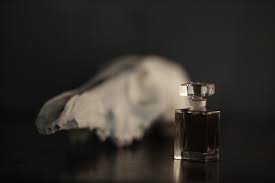 Photo: Lucy Snowe
One of my earliest scent memories is the rich fertile smell of black forest ground where a tree had fallen and returned to the Earth. That "loamy" scent is the first thing to capture my nose, seconds after dabbing it on; only here it is almost dripping with patchouli. No bright citric burst, no pretty flowers…Figure 1: Noir gets down and dirty immediately. Darkly and softly this rises in a sheer shadowy mist from the skin, hinting at things naughty and nocturnal. Without any warm sunset or evening, you are plunged into a warm deep forest at midnight.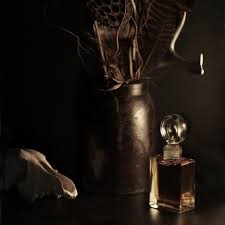 Photo: Lucy Snowe
Patchouli rich scents, for me anyway, are usually a dime a dozen. Most bowl you over with the sheer brute force of the plant's intensity, yet few perfumers have used other notes quite as gracefully as this to bring out and heighten all its aspects. While Mysore sandalwood magnifies its woodiness, vetiver and valerian accent its greener leafier qualities. Its own slightly dank properties are balanced by smooth "rooty" orris, but not lost, thanks to sheer botanical ambrette musk. This scent is not shy, by any means, and is also not obnoxious, overbearing or too "dirty".
Figure 1: Noir captures the feeling of olfactory black and darkest night, for me anyway, by adding such things as boozy green cognac, incense-like buchu leaves, spicy pepper and rich plummy davana to this already potent perfume. Much like opening your eyes in complete darkness and seeing nothing BUT darkness, donning this one cannot smell anything BUT patchouli. As your eyes grow accustomed to the shadows of your surroundings you can perceive shape and form; likewise, as the patchouli calms and mellows the richer more satisfying smoky warm sweetness appears. In the darkness are many things, moving about mysteriously, but just because they are shadowy or unfamiliar does not mean they are not beautiful.

Photo: Roxana Villa
This perfume makes me think of long forest walks during a summer night, hand-in-hand with someone I loved. It is the smell of trees, the earth, leaves and magic. It is the primordial scent on the wind that calls to the deepest most ancient memories of gatherings in the dark to honor a hunter god and a fertile mother. It is the smell of bonfires, ecstatic dancing and fertility rites. It is the scent of the newly plowed field-growth and life springing from decay. This scent definitely lives up to its name, and then some. Sillage: average to slightly above. Longevity: good.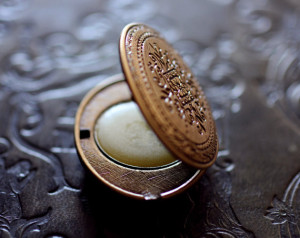 Photo: Roxana Villa
Roxana Illuminated has released this fragrance in two forms: perfume liquid (reviewed above) and a solid perfume hand poured by Roxana into ornate cases made from vintage 1940's molds in a base of jojoba oil, local beeswax and plant extracts. The perfume solid is essentially the same scent but it has a "creamier" floral quality to it and has a bit more spiciness. The solid form does not project as much, making it a more intimate choice when you want to be close to someone special and project am earthy, feral. vibe. It does last quite well for a cream perfume.
Disclosure: Review based on liquid perfume and perfume solid samples sent to me by Roxana Illuminated Perfume.
Thanks to Roxana Illuminated Perfume we have a sample of both liquid perfume and solid perfume to giveaway to one US winner. To be eligible leave comment on what you find beautiful about the dark or your favorite Illuminated Perfume by Natural Perfumer Roxana Villa . The draw will end on May 11, 2013.
–John Reasinger, Senior Editor
Roxana Villa's Illustration above was featured in the LA Times, Women's Health Section, May 8, 2006.
Editor's Note: Roxana Villa of Roxana Illuminated Perfume is one of the Artisan Indie perfumers participating at FRAGments at the MorYork Gallery June 22, 2012. Want to learn more about Roxana and her path to perfumery? Read her CaFleureBon Profiles in Perfumery here -MC –
We announce the winners only on site and on our Facebook page, so Like Cafleurebon and use our RSS option…or your dream prize will be just spilled perfume.