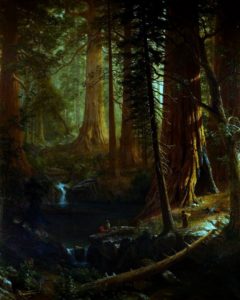 Albert Bierstadt Giant Redwood Trees of California 18741
"Nothing smells better than the forest and that the only way to bring this beauty home is to first strap on your boots and go there." –Juniper Ridge Manifesto
Standing 2600 feet over the San Francisco Bay Area, Mount Tamalpias (hereafter Mt. Tam) is one of the great green lungs and wild playgrounds of the California Coastal Range, with approx. 46,000 preserved acres and over 100 miles of hiking trails and fire roads. Held sacred by the early coastal Miwok tribes, Mt. Tam has been a geographic touchstone and visual blessing for Bay Area residents since the first settlers stumbled upon the region in the late 1700's. The name comes from the Miwok word "tamalpias" (tam-ul-PIE-us) which translates roughly to "bay mountain" or "coastal mountain".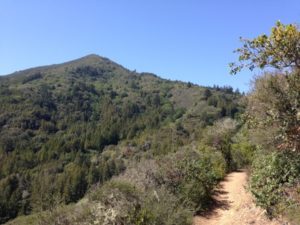 Hoo'-koo-e'-Koo trail photo wikipedia
Having spent the second half of my childhood on the northeastern slopes of Mt. Tam, the redwood forests and dry manzanita and scrub oak lands were my backyard playground, and the various scents of that mountain haunt my dreams even to this day. Warm weekends would find my friends and I following dirt road fire trails up the mountain, one such trail started at the top of our street following an ancient Miwok route known as the Hoo'-koo-e'-koo Trail. Winter weekends too, running and scampering through the mountain conifers and damp fern-lined ravines, trying to avoid the persistent drip-drip of the winter trees, and not succeeding at all.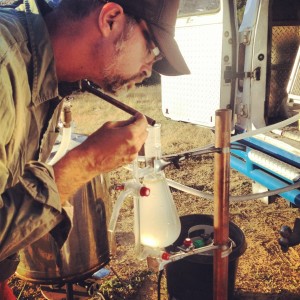 Hall Newbegin, Chief Wildcrafter and Founder of Juniper Ridge Natural Fragrances
For the past twenty years exploring every nook and cranny of Mt. Tam,Juniper Ridge founder and wild craft perfumer Hall Newbegin has made it his company mission to recreate and bottle the scents of various California wilderness areas by producing perfumes whose ingredients are made in situ, with pure essence distillation taking place in a forest, desert, or beach campsite. The perfume ingredients are transformed within minutes of collection, creating a vivid and ultra-fresh scent experience. Quite simply, transcendent olfactory magic. My childhood in a bottle.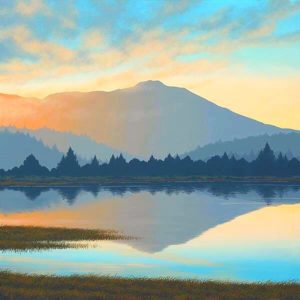 "The steep slopes of the mountain come alive in the winter. It's that feeling. It's that smell. It's beyond that smell – hiking on Mount Tam in the Winter, with the Bay Laurel, the Oaks, the Redwoods, the wet soil, the mushrooms, the sea-salt air, the wood smoke from neighboring fireplaces – all that stuff. The redwoods smell completely different in the Wintertime than they do in the Summertime. There is a lot more richness and is a lot more emotionally evocative to me. The Summer is beautiful too, but the air is more light and "evergreeny" – warm wind coming through the woods kind of smell. Winter air has a marvelous richness in these coastal mountain forests and is very much its own thing." -Hall Newbegin, founder- Juniper Ridge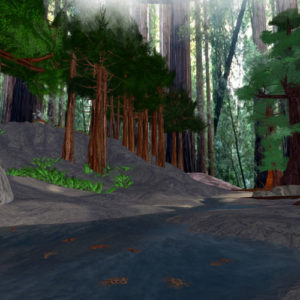 Redwood trees have an almost fuzzy soft bark, and the scent is dry, woody, musty and almost sweet, with a hint of something wild and feral. Winter Redwood Perfume oil is a wild crafted wonder that has managed to perfectly capture this scent, with a wet, rich loamy odor replete with forest mushroom, cold wind and the metallic tang of salt air and fog. The smell is an instant comfort for me, a reminder of cool and damp winter days spent in Mt. Tam's Muir Woods park, in those days blessedly empty in the off-season and the perfect spot for being alone with my thoughts and dreams. Breathing the redwood forest air with its meditative sharp winter sting was the sin qua non for quieting a racing teenage mind. Quite linear in composition, Winter Redwood is a stunning and contemplative scent that wears close to the skin and lasts the better part of a day.
Notes: Redwood needle, composted leaf litter, wet dirt harvested in secret Redwood canyons, oak, sea mist, cold creek water, wood smoke in the cool evening air.
Disclosure: Both the bottle of Winter Redwood and the opinions are my own.
–Robert Herrmann, Contributor
Art Direction:Michelyn Camen, Editor-in Chief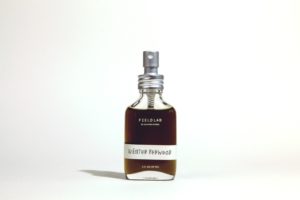 Thanks to the generosity of Juniper Ridge, we have a draw for a one ounce bottle of Juniper Ridge Winter Redwood Everyday Perfume Oil spray for a registered reader in the USA. To be eligible please leave a comment with what appeals to you about Robert's review, if you have walked through a forest during winter and if you have tried any Juniper Ridge products. Draw closes 3/13/2017.
We announce the winners only on our website and on our Facebook page, so Like Cafleurebon and use our RSS feed…or your dream prize will be just spilled perfume