In Arabian legend, a phoenix is a great bird of flame that, upon reaching the end of its life, creates its own funeral pyre and burns itself to death. On the following morning it arises again, new and young, from its own ashes. It has become a metaphor for that which is eternal and enduring. Natural perfumer Irina Adam of Brooklyn, NY has taken this name for her natural apothecary company and it is truly à propos, as it is a newer company that keeps alive the millenia old tradition of natural perfumery. Phoenix Botanicals not only makes all-natural perfumes (85% or more organic, as well) but a wide range of balms, lip balms and body products. These are perfumed OILS (not EDTs or EDPs) and are all in a base of organic jojoba oil.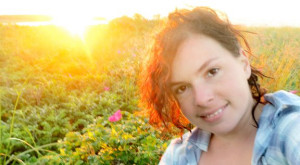 Irina Adam
Ms. Adam started her company in 2005. Trained in fine arts and botany, she has studied under other herbalists and has worked for years doing ethnobotany research and indigenous culture preservation. Her perfumes are lovingly crafted from the finest essences and botanicals and are "wearable journeys inspired by landscapes, story and emotion". Each perfume,and product, is made to feel the healing properties of the ingredients, their fragrance and beneficial properties. The idea behind the name is one can feel reborn from spending time in and surrounded with Nature.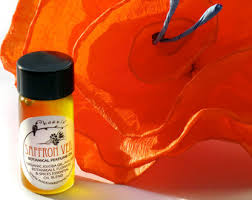 Saffron Veil is a surprising perfume that truly lives up to its name. With notes of violet, saffron, tuberose and sandalwood one would expect something very floral and fairly potent. This truly clings to the skin softly, like a veil. The powdery spicy-herbal opening (violet, saffron and tarragon) is cool yet smoldering. The perfumer wanted to create a balm for the heart and created a floral magnolia-like accord from Hawaiian tuberose (hand distilled) and boronia (flowering vine from New Zealand) that captures that softness…but lasts infinitely longer. The cool opening and warm floral heart descend into a soft base of sustainable sandalwood caressed with soft resins and hints of smoke. The saffron note weaving throughout is truly magical. Sillage: slightly below average. Longevity: average.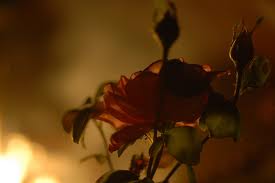 Bonfire Rose captures the scents of summer from green fields and sweet wild roses to evening bonfires. Elemi resin, mugwort and neroli open this, resonating with herbs, woodiness and the delicate warmth of musky blossoms all around. The pervading green settles as the sweet wild rose appears, adding to its rich and floral beauty. Here we smell more than just the rose blossom, we also get her leaves, brambles and woody stems. The airy and enchanting rose framed with wood is innocent and delightfully earthy, as it wafts sublimely about you. As this summer day draws to a close, its finish unites myrrh and incense to recreate the soft kiss of bonfire smoke, adding an even darker more nocturnal feeling. Sillage: good. Longevity: slightly above average.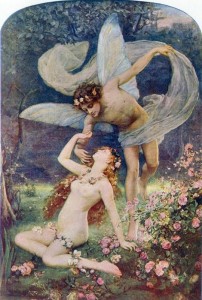 Zephyr attempts to capture the feeling of the warmest and gentlest of the four winds, the west wind. This perfume was inspired by fragrant breezes dancing over the Pacific Ocean. It begins with orange blossoms and hints of zest cuddled in the creamy embrace of gardenias. Warm and luxurious, this unfolds beautifully as the pairing of Hawaiian white ginger blossoms and hints of tuberose become deeper and even more floral; wrapping you in fragrant fruit-kissed breeze that never blows too hard or strongly. The warmth of the finish of sandalwood (sustainable), opoponax and benzoin anchors this, without being overly oriental, and warms the soul and is like wearing "summer" no matter where you might be. Sillage: average. Longevity: above average.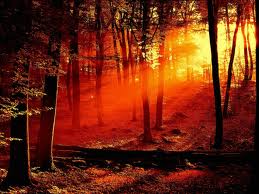 Amber & Blues was inspired by late autumn walks in a northeastern US forest. Warm clean rosewood is balanced by softly shining bergamot and feels like warm golden sunlight cutting through tall dark trees. Amber, soft and crumbly sweet, with an extra dash of vanilla glows beneath warm full flowers like rose and ylang ylang adding to their depth and beauty without getting overly heavy or oppressive. "Crushed leaves, dusk and dark blue velvet" are how Ms. Adam describes this perfume. The weaving of the wood, resins and flowers together captures all this and swirls in golden fading sunlight and hints of crisp clear autumnal air. Summer fades into autumn…in a bottle! Sillage: very good. Longevity: great.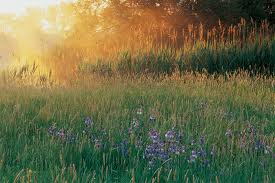 Meadow & Fir is a walk with the perfumer in her favorite meadow in the world. Soft violets, whimsical linden blossoms and a bevy of wildflowers reach the nose and induce a sigh. This truly smells of being in the middle of a meadow of freshly blooming flowers surrounded by grass and sunshine!! Airy and fresh, with just enough amber resin and fir needles to add to the rich forest background (without being suffocated by it), the sun warms your skin and the scent of rich and heady pollen floats through the air. This perfume is a magnificent balance between earth and sky, flowers and sap-rich woods and truly transcends gender as it unites soft and feminine notes with warmer stronger masculine ones, resulting in something truly greater than the sum of its parts. Sillage: average. Longevity: average.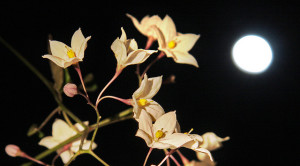 Night Bloom recreates a moonlit walk on a sultry summer night in the Pacific, led by the scent of nocturnal blossoms and the lovely aromas they exude while the world sleeps. Neroli opens the show, but the stage is quickly stolen with the arrival of a gorgeous jasmine accord. Soft and sexy she steps into the light of the full moon stark and pale against the dark night. Neither too sweet nor too creamy, this jasmine is tempered with a hint of rosiness and vanilla adding to her intrinsic beauty. Though there are other notes here, they support and intensify the sensual quality of the jasmine, rather than muddying it. After her nocturnal reverie, she lies down a bed of green resins, soft wood and covers in a light shift of tonka bean; until the sun sets again and she may rise once more new and full to frolic in the moonlight. Sillage: very good. Longevity: good.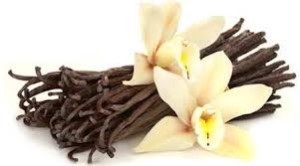 Triple Vanilla is exactly what it says. A triple infused essential oil of Mexican vanilla beans in organic jojoba. Its soft yet strong aroma is warming, calming and uplifting all at once. Some say vanilla is an aphrodisiac and this definitely has a "come hither and cuddle" type of vibe. This is not vanilla extract, far from it, this is about as natural as natural gets. Fans of vanilla will love this, and if you are looking for something to add a warm lovely oriental vibe to a lighter scent, this is perfect for layering. It also makes a great addition to massage oil for a decadent and sensual lover's treat. Sillage: above average. Longevity: moderate.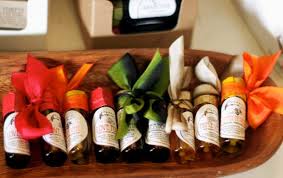 Writer's Note: These are natural perfumed oils, and sillage and longevity are comparable to other naturals and essential oils
Disclosure: Reviews based on samples and bottles sent to me by Phoenix Botanicals.
Thanks to Phoenix Botanicals we have a reader's choice draw for any of the fragrances reviewed in this piece. To be eligible leave a comment naming which one you would choose. This is a worldwide draw and will end on June 21, 2013.
We announce the winners only onsite and on our Facebook page, so Like CaFleureBon and use our RSS option…..or your dream prize will be just spilled perfume.
-John Reasinger, Senior Editor