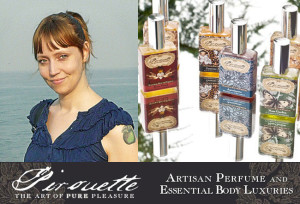 Seattle perfumer Karyn Gold-Reineke has created a nicely diverse line of all-natural fragrances, Pirouette, mostly in the form of Eau de Parfum. Using the knowledge she gained working in apothecaries and as a massage therapist, Ms. Gold-Reineke incorporates aromatherapeutic principles in her array of perfumes. She recommends a Heart Wisdom Ritual after perfume application: "Apply perfume and let settle. Take a deep breath and relax. Place your hand over your heart, close your eyes and ask: What will support me today? Honor this wisdom." I liked all of the scents in the line, but have singled out a few favorites for review.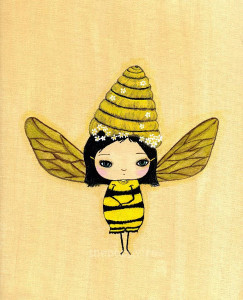 Bumblina Bee by Kelly Ann
Vanilla Honey Blossom really sang to me when I took my first cursory sniff. I had not looked at the notes, but just the name was enough to pique my interest. I was happy to get that lovely burst of dusty apricot from osmanthus along with the deep vanilla. Applying it more enthusiastically really opened the fragrance up and made it shine. This is not a sweet gourmand vanilla, nor does it take the popular alternative route of smokiness. There is a deeper quality to it, as if it is a vanilla extracted from earth rather than pod. The scent is fairly linear, but that's not a bad thing when a scent is interesting and gives pleasure.
Notes: vanilla, amber, osmanthus, citrus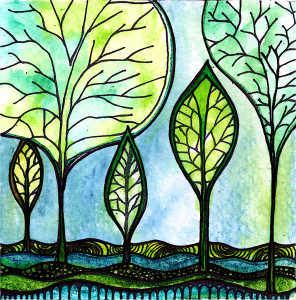 My Green Valley by Robin Mead
It is refreshing to experience an oakmoss-based fragrance that has the almost astringent lift of Moss Garden. Bergamot, citrus, and lavender combine to create a classically refreshing aroma on the skin. I applied this liberally to my arms, and on this somewhat warm day, it is really blooming. I feel like I am wearing a scent that has been devotedly used for centuries. The oakmoss provides a sturdy backbone of earth and greenery to help keep this fragrance from dissipating into the ether too quickly. This is a fantastic unisex spring and summer fragrance.
Notes: oakmoss, bergamot, lavender, citrus, marigold, vetiver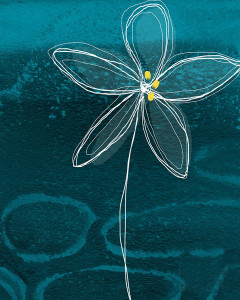 Jasmine Flower by Linda Woods
I am a huge fan of jasmine, and Jasmine Musk is a winner. There is no pussyfooting around with this perfume; it is lush and a little bit indolic (don't be scared, though, it's full-bodied but not fecal). A touch of lavender adds brightness and zing. I received a phone call while I was first wearing this, and kept getting distracted by how good I smelled. The jasmine was wafting all around me in a sublime fashion and I was impressed and pleased by how true the aroma is. After a while, the amber in the bottom notes comes in and warms the scent up, but jasmine is Queen in this perfume and I love it. I am happy to report that this perfue was with me all day; a rarity wih natural ragrances.
Notes: jasmine, lavender, amber, cedar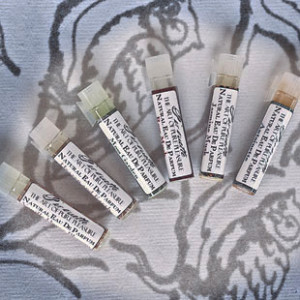 Because they are EDP formulations, these perfumes have great waft and longer-than average longevity. Other offerings include: Antoinette, a sweet, happy profusion of violet and mimosa; Heaven and Earth, a healing scent with citrus and florals; Rose Musk, a delightful, vivid rose soliflore; and Wild Spruce and Tobacco Cologne, a fir-drenched trip to the woods with a lovely drydown. Ms. Gold-Reineke also offers beautifully-packaged soaps and lotions on her website and is a member of Seattle Sniff (Pirouette Essentials was a Gold medal winner at the Seattle Artisan Fragrance Salon 2013, and for good reason).
–Tama Bough, Senior Editor
I received my samples from Karyn Gold-Reineke of Pirouette, and we have a full set of samples for one lucky reader in the USA. Let us know which appeals to you in the line, and MAKE SURE you tell us you are in the US or have a US mailing address. Draw ends July 12, 2013.
We announce the winners only on site and on our Facebook page, so Like Cafleurebon and use our RSS option…or your dream prize will be just spilled perfume