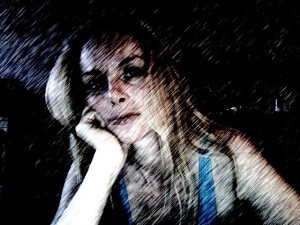 Photography: Tanja Bochnig "self portrait"
April Aromatics was a perfume house that has been on my radar. I had read about the fragrances on CaFleureBon I knew that natural perfumer Tanja Bochnig, who lives in Berlin, uses only 100% organic or wildcrafted natural oils and raw ingredients; this makes her one of very few perfumers who unite the concepts of organic growing, aromatherapy and dynamic perfumery. After wearing her scents, I can honestly say not trying these fragrances sooner has been my loss. Miss Bochnig has managed to (while remaining completely natural and earth friendly) create perfume that smells niche and extremely high quality with rare and exotic components from around the world. Her perfumes are spiritual and artistic at the same time.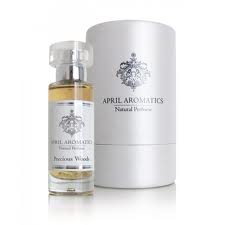 If you were to look through my collection, to see my favorite type of perfume by sheer numbers, it would most certainly be "woody aromatics". Precious Woods is a woody perfume lover's dream come true. Don't expect any tangy sparkling citrus notes in the opening or heady flowers in the heart here. Heavy and woody from the first spray, this envelops you in a warm and earthy cloud of bliss. Inspired by a trip to India and the smell of a deep forest after a rainstorm, it has a most true and delightful sandalwood aroma (originating from Indian and New Caledonian woods) combined with rich and regal cedar wood from the Himalayas and Virginia (USA). The resulting combination is luxurious and opulent, yet comfortable and down to earth. The aroma of this makes me think of a secluded Zen temple built in harmony with the land in high remote mountains. This is not an "incense perfume", per se, but reminds one of high end incense.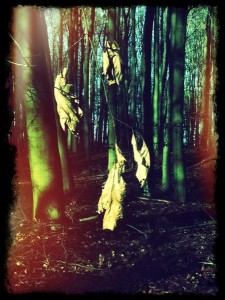 Magic trees 18-Tanja Bochnig

One of the natural essences used in this perfume is Buddha wood (also called bo or Bodhi wood) which is the wood of a semi-evergreen fruit bearing tree in the fig family. It was, according to Buddhist legend, under this tree that Prince Siddhartha found enlightenment while meditating and became the Buddha. One of the most magical features of this company's perfumes are they have been "infused" with energies of certain stones and minerals. This particular perfume has been aged with Herkimer diamond and clear crystal. The diamonds used are actually double terminated very clear high quality quartz that help balance energies and aid in healing, according to new age crystal lore. I cannot pick out the Buddha wood as a single note, but do detect a slightly milky oddly sap-like aroma underneath. Crystalline energy can't be smelled, obviously, but it can be felt when wearing this. I seem to stand taller, feel more confident, think more clearly and am amazingly energized when wearing this scent. Precious Woods has stimulated my nose (with its gorgeous scent), my mind (with images of India and its faraway forests) and my spirit (with its subtle energies and knowing its purity and Earth-friendly nature).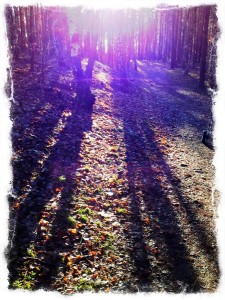 Photo: Magic trees #19- Tanja Bochnig
Deep earthy Indonesian patchouli is united with cistus (rock rose) and adds complexity and depth with a definite slightly floral facet to the majestic forest atmosphere. Like the roots of a mighty tree digging deeply into the fertile earth while rising hundreds of feet into the sky, this scent is (as the website claims) both grounding and stimulating. Vetiver from the Bourbon Islands and white sage add a hint of green aroma, verdant yet grassy and somewhat smoky, like leaves blowing all around you in the warm wind. Wearing this makes me feel like I would if I were in a forest: in touch with Nature and the earth, yet inspired and in awe of all the beauty around me. Some may want to call this a "linear" fragrance; I think to do so would be wrong. Precious Woods is, for the most part, a very rich smelling oriental and woody perfume; however, it has a subtle development over time, much like how you can walk again and again through the same forest and notice something different and beautiful each time.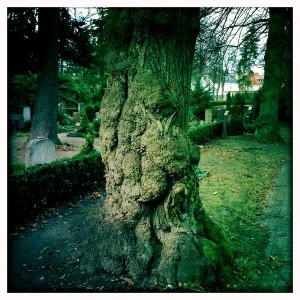 Photography: Magic trees #12- Tanja Bochning
Looking at the notes and essences (9 natural blended extracts and organic alcohol) in this perfume, it should be a pretty straight-forward fragrance, yet each and every successive wearing reveals yet another aspect of sacred and regal woody beauty. Miss Bochnig has seamlessly woven rich and exotic woody aromas with earthy green accents and a warmly resinous scent with dank patchouli that skillfully unites something wild and untamed with a majestic, almost breath-taking, sylvan grandeur. The projection here is very good, it is not overpowering but it does make a definite statement and is not exactly demure. Its longevity is amazing, detectable the next morning still clinging softly to both my skin and my bedclothes.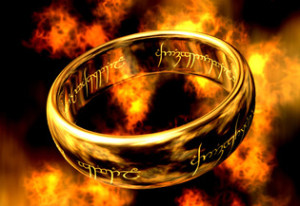 The One Ring

If I were Gollum from the Lord of the Rings, I would call this Precioussssss Woods and guard it better than he did the One Ring!! This perfume, from the very first sniff, has already vaulted into my personal top five woody perfumes. Why? Because it does not skimp on quality ingredients, it is all natural, lovingly made to unite the vibrations of man spirit and Nature and it smells absolutely divine!!
Disclosure: Review based on eau de parfum sample sent to me by April Aromatics.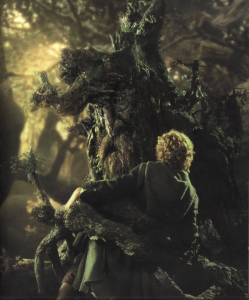 The Ents from Lord of the Rings
–John Reasinger, Senior Editor
Thanks to Tanya Bochnig of April Aromatics we have a very special draw for a 10 ml customized sample of Precious Woods that is not available for sale and was created for CaFleureBon readers. To be eligible leave a comment on your favorite April Aromatics Perfume or one you would like to try. If you are feeling creative, name your favorite character from Tolkien's Lord of the Ring Series, as well. Draw ends March 23, 2013
Editor's Note:Read our reviews of April Aromatics here and her latest Calling all Angels here. Tanja is a recipient of CaFleurebon's Rising Star of 2011 award : One of Tanja's many talents is her breathtaking photography.I have incorporated photos from her Magic trees series and self portraits to accompany John's review. – Michelyn Camen, Editor-in-Chief
We announce the winners only on site and on our Facebook page, so Like Cafleurebon and use our RSS option…or your dream prize will be just spilled perfume.