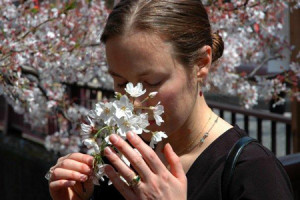 Dawn Spencer Hurwitz Inhaling the Intoxicating Aroma of White Lilacs
While at the San Francisco Artisan Fragrance Salon March 5, Denver based independent perfumer Dawn Spencer Hurwitz previewed her upcoming fragrance La Belle Saison, a 100 percent botanical "impressionist" floral based on the elusive scent of Spring lilacs in full bloom. "I have loved lilacs from my early childhood and have always wanted to create a perfume that felt as fresh and airy as the Springtimes in my deep memory," says Dawn Spencer Hurwitz. She adds, "Creating an all botanical lilac fragrance opened up the perfect Avenue and challenge to bring that very kind of fragrance to life."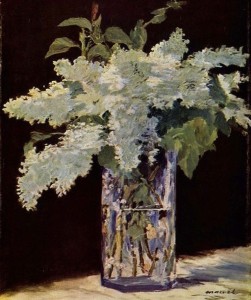 Edouard Manet Lilacs in A Vase 1882
What differentiates La Belle Saison from most lilac fragrances is that Dawn used her skill as a perfumer to capture the blooms, which are usually created from synthetics, since there is no viable method of extraction at this time. According to Dawn, "La Belle Saison is "less a photographic 'portrait' of lilacs but rather like a painting that expresses the feeling as well as the scent of lilac, of Spring's freshness, and incorporates the nuances of other blossoming beauties that are releasing their fragrance nearby".
La Belle Saison opens with fresh and breezy notes of natural cucumber, bergamot, and anise to open into the floral lilac (accord) bouquet in the heart. Hints of neroli, jasmine grandiflorum, Bulgarian rose, and subtle spice notes glow softly in the heart giving a sense of dimension and space to the bouquet as it sets itself down on the dewy ground of vetiver, ambrette seed, and acacia honey.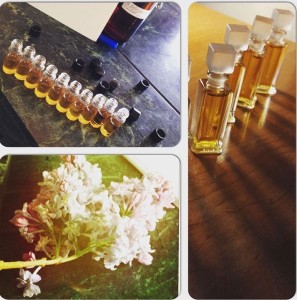 The Bottling of La Belle Saison Collage by Dawn Spencer Hurwitz (instagram)
The raw materials for La Belle Saison are costly, difficult to source and rare, and the perfume is being offered as a signed and numbered limited edition to start. It will be available in Extrait 10 ml Antique French presentations / 30 pieces (retail price: $330) ; Extrait 5 ml Antique French presentations / 50 pieces (retail price: $130).
Via Dawn Spencer Hurwitz
Editor's Note: La Belle Saison was created for purists, it is quite different from her Best Selling mixed media White Lilacs reviewed here byTama Blough in 2014
Michelyn Camen, Editor in Chief