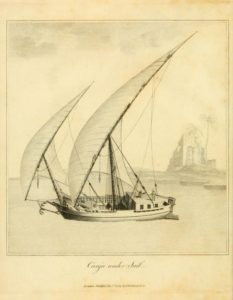 Travels to discover the source of the Nile, – Biodiversity Heritage Library (photo found by MC)
Penhaligon's Trade Routes collection, which launched last year with Lothair, Empressa, and Levantium, inspired by the mythical roads of London trade from the late nineteenth century. In an exotic splendor, the goods reach the most remote corners of the globe are gathering daily on the quays of the British capital. A dizzying abundance of the rarest treasures invade London, which becomes the market worldwide.
The Nile captivates the imagination, evoking images of mystical temples, the land of the Pharoahs and feluccas fleets.Two new trips join this collection: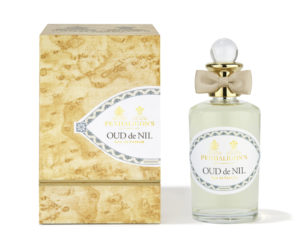 Oud de Nil is a play on words in homage to the emblematic green "Eau de Nil" Penhaligon 's and the majestic river that has inspired so many trips. Diaphanous white dresses like sails on the feluccas on the Nile and the desert wind bringing scents of jasmine and exotic fruits and precious wood recalling the desert.
Top notes: Bergamot, Grapefruit .
Heart Notes: Jasmine, Rose, Geranium, Orange Blossom .
Base Notes: Oud Wood, Guaiac, Papyrus, amber and resins.
Perfumer: Christian Provenzano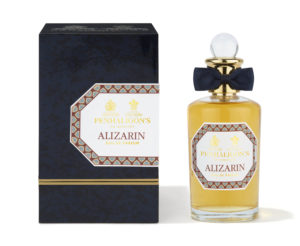 Alizarin is inspired by the red dye, Alizarin, cultivated in Egypt since ancient times. This distinctive red color continues to be worn for centuries by British soldiers, giving them their nickname "Redcoats"
Intense and mysterious, Alizarin evokes whispering of oud , vetiver, precious and rare resin and is a tribute to ancient Egyptian perfumes.
Top Notes : Mandarin, Narcissus .
Heart notes: tuberose, orris, Mimosa .
Base Notes : Oud, Leather, Frankincense, Vetiver .
Perfumer: Christian Provenzano
Oud De Nil & Alizarin will be available in Penhaligon 's boutiques in August 2016 at the price of € 185 /100ml .
via Penhaligon's
Note: I translated from the French press release and chose the opening photo.
Michelyn Camen Editor in Chief