Penhaligon's Lothair, Lavantium and Empressa
Penhaligon's London is one of the historic Fragrance Houses that is always re-inventing itself; keeping its core values of the 19th century when the Company was founded in the late 1860s, but continuing to evolve and stay relevant in the 21st century. Earlier this year they launched TraLaLa for Meadham Kirchoff by Bertrand Duchaufour and soon Bayolea for Men will be released in the US. For September, Penhaligon's debuts The Trade Routes Collection, which is more of a nod to its roots. The collection comprises three new fragrances: each inspired by precious commodities which were traded through London's historic docks at the turn of the 19th Century. Piled high on the quaysides and arriving daily from the farthest flung corners of the globe; the rarest treasures in dizzying abundance; London was the Warehouse of the World.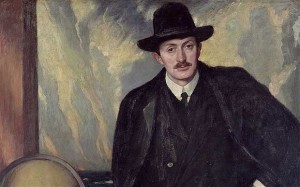 John Masefield painted by William Strang
In 1914 John Masefield, the Poet Laureate, toured the Cutler Street warehouses and marveled at the range of cargoes stored there and wrote these words after his visit:
You showed me nutmegs and nutmeg husks,
Ostrich feathers and elephant tusks,
Hundreds of tons of costly tea,
Packed in wood by Cingalee,
And a myriad of drugs which disagree.
Cinnamon, Myrrh, and mace you showed,
Golden paradise birds that glowed,
More cigars than a man could count,
And a billion cloves in an odorous mount,
And choice port wine from a bright glass fount.
You showed, for a most delightful hour,
The wealth of the world and London's power.
There are three fragrances in The Trade Routes Collection:
Lothair: Inspired by the famous Tea Clipper Ships that navigated the globe to bring exotic wares to British shores. Perfumer: Bertrand Duchaufour
Top Notes: Red Berries, Juniper Berry, Cardamom, Bergamot, Grapefruit, Fig Leaf
Heart Notes: Fig Milk, Lavender, Magnolia, Geranium, Black Tea
Base Notes: Vanilla, Musk, Cedarwood, Ambergris, Wenge, Oakmoss
Empressa evokes the beauty and nacrescence of pearls, precious silks and fine fabrics transported through London to adorn women of power and influence. Perfumer: Mike Parrott
Top Notes: Blood Orange, Bergamot, Mandarin
Heart Notes: Peach, Cassis, Dewberry, Rose, Neroli, Geranium, Cardamom, Pink Pepper, Black Pepper
Base Notes: Vanilla Pod, Cocoa, Frankincense, Amber, Musk, Woods, Patchouli, Sandalwood, Maltol
Levantium: Lavish mounds of rum and spices, flowers, woods and resins all found their way to London, stacked high in the warehouses and around the wharves. Perfumer: Christian de Provenzano
Top Notes: Bergamot, Davana, Saffron, Absinthe
Heart Notes: Rose, Jasmine, Violet, Clove, Cardamom, Ylang Ylang, Peach
Base Notes: Amber, Myrrh, Guaiacwood, Sandalwood, Cedarwood, Oud, Patchouli, Musk, Maltol, Vanilla
50 ml/$160 each
The Trade Routes Collection from Penhaligon's will launch mid October in Saks Fifth Avenue Stores, the Wynn Las Vegas and online at www.penhaligons.com
via Penhaligon's USA
Michelyn Camen, Editor in Chief