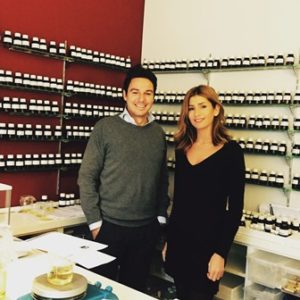 Luca Maffei and Rania Barakat Naim of Panouage
Fath's Essentials, the Collection of Jacques Fath perfumes continues to expand.
The first four fragrances, introduced in 2016, were created in collaboration with perfumer Cécile Zarokian. Mme. Zarokian composed a beautiful and much lauded rendition of the mythical Green Water and also created three other fragrances; all beautifully crafted.
The second part of the collection, four new fragrances with a more feminine direction will be presented in preview during Esxence in Milano. The perfumer is the award winning Luca Maffei who brings his own vision to the new offerings.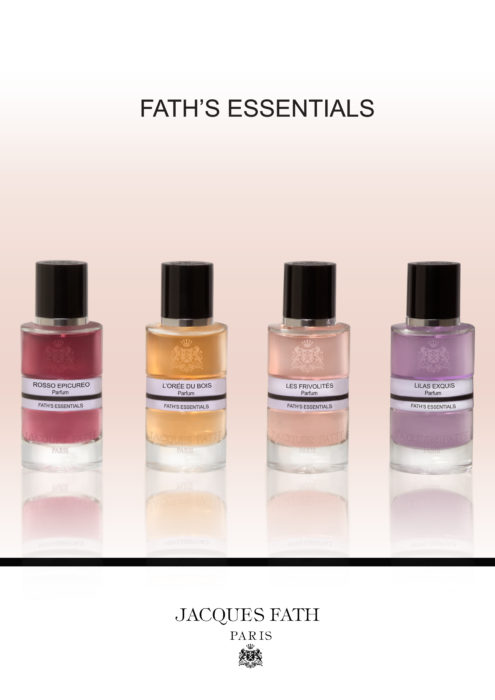 "For this Collection, the main theme translated is "La Joie de Vivre" that designer Jacques Fath expressed in his creations and during his life. To achieve the goals requested by the brand, the perfumer, Luca Maffei, selected innovative raw materials and noble ingredients to match with the violet, pink, red and gold colors chosen by designer Rania Naim to convey the femininity of the collection.
Rosso Epicureo: The Italian name of this fragrance is a hint to the perfumer's origins. With its distinctive plum color, Rosso Epicureo celebrates 'la joie de vivre", it is a way of living, a state of mind, an "Epicurean philosophy "conveyed by this lively fragrance.
L'orée du bois: is a dress Jacques Fath designed for Rita Hayworth's wedding trousseau
Les Frivoltés: is the name of the collection of accessories created by Jacques Fath: Tights and Stocking
Lilas Exquis: is a reference to one of the designer's favorite color and flower, often used for his creations and accessories
Price, availability and fragrance details will be forthcoming
Via Fath's Essentials
–Michelyn Camen, Editor-in-Chief