The great House of CARON Paris, which was founded in 1904 by Ernest Daltroff, will be launching three new fragrances in the U.S. market: Pour Un Homme Sport, L' Eau Pure and L' Eau Cologne.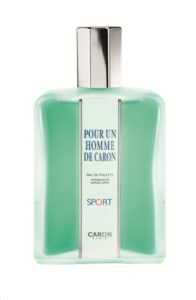 For his debut, William Fraysee, son of in house perfumer Richard Fraysee has composed a new twist on a well-known favorite. Pour Un Homme Sport is a fresh new interpretation of CARON Paris Pour Un Homme, which was originally created in 1934 by Andre Fraysee, his grandfather. This latest iteration refreshes the olfactory and aesthetic notes of the original, enriched with citrusy, spicy and woody raw materials.
Notes: Citrus, grapefruit, Italian mandarin, lemon verbena, lavender, ginger, nutmeg, Virginian cedar, tonka, benzoin, ambergris, musk
125 ml Eau de Toilette /$125.00.
L'Eau Cologne and L'Eau Pure
L' Eau Pure and L'Eau Cologne are scents for men and women and are the first two offerings in the new "L'Eau" collection. L' Eau Cologne and L' eau Pure are invigorating, refreshing fragrances imagined by Richard Fraysse, CARON Paris's in-house nose.
The golden color of L' Eau Cologne's bottle reflects the notes of its citrus, beramot, petti grain from Paraguay, rosemary, cedar wood and musk.
L 'Eau Pure is a novel take on woody colognes with notes of bergamot, lime, nutmeg, coriander, cedarwood and guiacwood. 100 ml/ $120.00
Available at select stockists and online
Via Caron Paris USA
Michelyn Camen, Editor in Chief