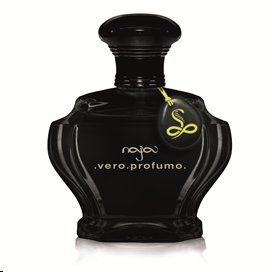 Photo:Vero Kern
While at Esxence, one of the first stops was to see Vero Kern and to sample her newest fragrance Naja, her 10th anniversary fragrance. Vero was on hand to walk me through each raw material used in this surprising twist on tobacco. I wrote in my report, "Excense 2017 marked "The return of Vero Kern", one of the most beloved and iconic artisan perfumers. She debuted her much anticipated NAJA extrait, her serpentine perfume and Vero's 5th in 10 years. Like the snake itself, NAJA is filled with dualities. The snake is a symbol of rebirth and of healing as much as it is a symbol of evil. Osmanthus and tobacco, with a surprising prominent linden blossom note adds drops of honey instead of venom. Shamanic and addictive.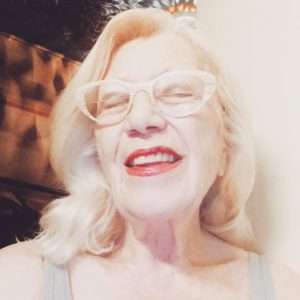 Vero Kern (photo courtesy of Vero 2016)
Vero Kern started from tobacco to develop NAJA which is a limited edition of 650 flacons.Tobacco has been used for millennia in shamanistic rituals and was believed to have hypnotic effects. Naja references the cobra snake – Naja haje, whose eyes mesmerize and venom paralyses, and in many cultures throughout the world the snake is the symbol of the dichotomy of life itself-balance, death and rebirth, cosmos, chaos and knowledge. Also royal and all-knowing Cobras decorated the crowns of Egyptian Pharaohs.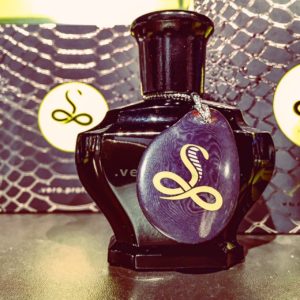 Photo: Ermano
NAJA is an olfactory jewel that marks a milestone in Vero Kern's career. "A rough diamond, contradictory and archaic, a spiritual reflection on being and becoming, Naja is a totality; the healing value of fragrances, which has characterised Kern's journey, as aromachologist and aromatherapist".
Notes: Tobacco Absolut, Linden Flowers, Honey, Osmanthus Absolute and Melon.
Eau de Parfum natural spray 50 ml
Available from May 2017 http://www.veroprofumo.com/parfums
Some info via press release but mostly my own synopsis
–Michelyn Camen, Editor-in-Chief