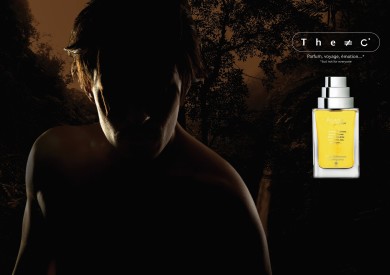 We love The Different Co. for their diverse and inventive fragrances. Debuting at Esxcense 2016, a new fragrance will be launched Adjatay, a collaboration with Creative Director Luc Gabriel and Alexandra Monet (Le 15). Adjatay which reference a powerful Djinn, is the newest addition to Collection Juste Chic which had previously consisted of fragrances only composed by Jean Claude Ellena, Celine Ellena and Christine Nagel.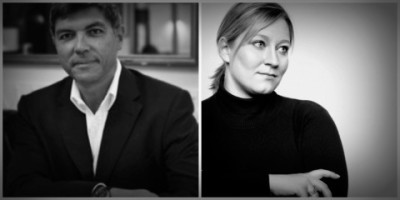 Luc Gabriel and Aexandra Monet of Drom
According to Luc, "I brought this tuberose flower back from Grasse and forgot her in an unpretentious black leather bag. She refused to give in and for days her stubborn warmth strived to bring the leathery silky animal notes of my worn out bag back to life. Alexandra grabbed the idea and turned the white beast into a wild yet elegant, tender yet loud perfume, hypnotic, untamable".
Mme. Monet says, "Tanned, flexible, grain-embossed, full-grain, varnished… I have always loved working on leather notes for their carnal facets and the infinite possibilities they offer. For "Adjatay, " cuir narcotique" I wanted to work on a full, dark and textured leather, a leather that squeaks in your hands, a leather with a debauchery sillage. To obtain these particular effects, I associated dark and spicy notes with Styrax essence, Castoreum essence and Papyrus essential oil. On this leather structure, I dropped off a subversive Tuberose from which narcotic notes get away to engulf the atmosphere".
Available in 100 ml RRP Europe: 160 €: April 2016
Preview at Esxence 2016
via The Different Co.
-Michelyn Camen, Editor in Chief