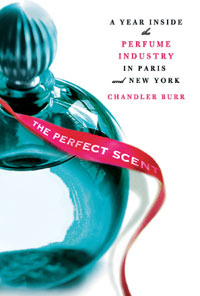 Over the past decade we have seen the rise of niche and artisan fragrance, and the decline of celebrity scents. Before you clap too loudly, there were some notable celubuscents. One was Sarah Jessica Parker's Lovely released in 2005, it actually shares some of the personality of the star on the label and captures a bit of floral sophistication of SJP's alter ego Carrie Bradshaw Sex in The City. For those who remember Chandler Burr's book The Perfect Scent, Chandler Burr follows the development of two fragrances intertwined stories, the first about the year he spent for The New Yorker magazine in Paris behind the scenes at Hermes watching legendary now retired perfumer Jean-Claude Ellena create the Hermes scent "Un Jardin sur le Nil"; and the second about a year (one that started with an article for The New York Times), Chandler called Lovely a "innovative thoughtful work of art"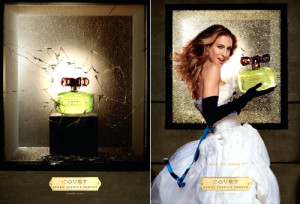 Covet ad campaign
A few mediocre fragrances followed except for Covet in 2007, which was a brilliant fragrance that flopped developed by Frank Voelkl. Its odd notes were ahead of the mainstream. The last scent that bore her name was SJP NYC in 2009 with Coty before taking a seven-year hiatus.
But she's back, with Stash SJP, which will break around the time of her new HBO series Divorce next month.
Stash Bottle via WWD
"It's like 'street,' it's like contraband. It's the cheese that's not pasteurized," she said, holding up the bottle of Stash, which looks more like an old-fashioned, 100-ml. bottle of spirits than an eau de parfum. As it turns out SJP wanted to bring out the formula for Stash before Lovely but it was not deemed commercial enough under COTY. These were the days before social media and Instagram, which are key to many successes of the dwindling number of celebuscents.
WWD writes, "The amber color of the juice evokes the feel of whiskey, and the ripped black gaffer tape label — which mimics a piece of electrical tape — was strategically "slapped on" on an angle. It's packaged in a black box inside a black grosgain bag and a satin black-and-gold rimmed cap is wrapped in twisted black twine. It's edgier than anything she's ever done and while not billed as "genderless," she called it "fragrance for the human being."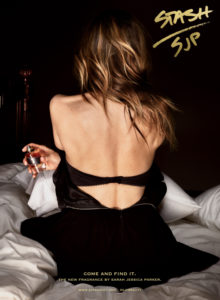 Stash ad Sarah Jessica Parker via WWD
Stash's concept and idea predates that of Lovely, the first scent she created with Coty Inc., her licensee at the time, and International Flavors and Fragrances. She created Covet in 2007 At the end of 2014, the license for Parker's fragrances was taken over by Lovely Distribution Co., created specifically for Parker's fragrance license. She continued to work with IFF to bring Stash to market.The blurred lines continue as the U.S. retail partner at launch is Ulta Beau. Ulta will carry the fragrance exclusively in the U.S. for a year in all of its doors doors starting on Aug. 28 and online at ulta.com (the chain will have more than 970 stores by the end of the year). It will also be sold on Parker's sjpbeauty.com site. SJP told WWD, "Now Ulta is bringing us in. Instead of us fighting, there is a sense of ownership. They are taking more control of it; they have a whole plan and are anchoring this," she said of the partnership"
"While Lovely has top notes of mandarin, bergamot, rosewood and lavender, Stash's are grapefruit zest, black pepper and sage. The latter is decidedly less feminine than its predecessor, with middle notes of cedarwood atlas, patchouli, ginger lily and pistachio and a base of olibanum, massoia wood, vetiver and musk. "I don't know if you have an affinity for body odor, but on some people it's amazing," she said with a laugh. "Part of it, too, is the warmth of a body and how do you capture heat? [Or] how do you capture [the scent of] a sweater that has been worn by somebody that's absorbed musk or patchouli?" She said the words that came to mind when creating Stash were body odor, church and leather. It's inspired by a handful of men's fragrances Parker would wear, with key notes of vetiver and frankincense, which is one of the base notes of Stash.
Another factor that differentiates Stash from previous fragrance projects is social media and the speed at which the digital space allows one to launch product, especially when the person launching it has millions of followers. This is the biggest change since the introduction of Lovely, which took place seven years before Instagram came into existence.
.A good sign is that U.K.-based retailer Debenhams, which rarely buys celebrity scents is all in. according to WWD, "Globally, the scent will be available in Boots, Debenhams and Superdrug in the U.K. and My Chemist in Australia. Industry sources project that Stash can do $25 million in retail sales during its first year.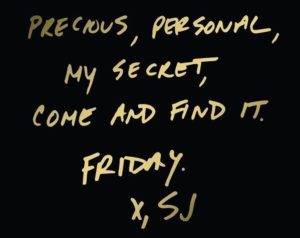 #comeandfindit @sjpbeauty
Sarah Jessica Parker was once again hands on from concept to out-of-the-box promotions such as a global street-art campaign. Street art started appearing around New York earlier in August, with nearly 100 sidewalks in New York City and Los Angeles tagged with #ComeandFindIt in chalk art. Parker teased the street art on her Instagram account.
The eau de parfum comes in three sizes: 30 ml., 50 ml. and 100 ml., which retail for $50, $75 and $85, respectively, as well as a $25 rollerball and $50 elixir oil that can used for hair and body.
Via Instagram, WWD
Michelyn Camen, Editor in Chief