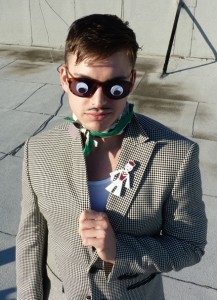 All too often I treat perfume too seriously. When I am chattering on about the sorry state of something or another I get that look from my wife. All of you know that look it says, "Seriously it's just perfume." One of the things I like about Brent Leonesio the creative mind behind Smell Bent is he takes that statement and manages to make serious perfume without taking it too serious. His latest winter collection dubbed The Snowman Cometh is an example of that ethos.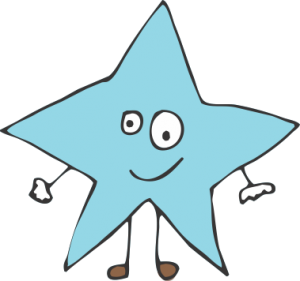 Throughout the two plus years of existence Mr. Leonesio has shown an ability to take musk and allow it to be an untamed beast which makes it a polarizing kind of experience. I am one who loves his musk and so everything Mr. Leonesio chooses to do with that note makes me interested. Usually it is the more musky scents in any given Smell Bent collection that are my favorites. There are two great examples of that in this collection but this time Mr. Leonesio takes another polarizing note and turns that into something special in two of the fragrances in this collection. For those who are musk and/or patchouli averse there is one without either, which is where I'll start.
Pere Noel Coward is the balsamic smells of winter as fir, pinon and cedar create a virtual Christmas tree which is then adorned with a garland of jasmine and maple syrup drops from immortelle. This is a well-done pine with well-chosen floral accents.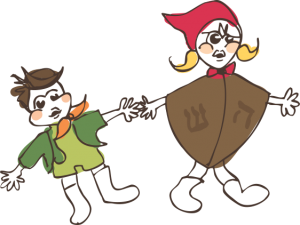 Hansel & Dreidel is Mr. Leonesio at his quirky best as he mixes a potent concoction of honey, wheat absolute, sandalwood, and musk. Imagine your breakfast cereal is in mating season and you'll have an idea of what this smells like. Very animalic and the wheat, honey and sandalwood add contrast to the musk. This will not be everyone's idea of fun but it definitely put a smile on my face.
Dead of Winter makes me think Mr. Leonesio has been watching too many George Romero movies or that series on AMC. The "dead" note in this fragrance is called zombie musk and it is a surprisingly apt title as this feels less alive than the musk used in Hansel & Driedel. It still has a power but it does feel like a musk which has been attenuated by being left for dead. It makes it a perfect base for the anise, vanilla, and heliotrope which make up the beginning of this. By deadening the musk Mr. Leonesio allows the sweeter notes a chance to shine.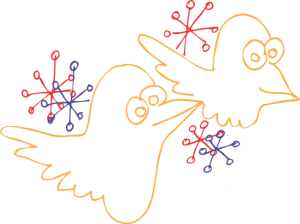 Sno Birds seeks to take you to "someplace warm" and Mr. Leonesio does that with a cocktail of spices and resins to make a winter wonder of an incense fragrance. Orange flower, cardamom and ginger are the spicy component; incense, amber and patchouli are the resinous ingredients. They combine to form a rich dry incense fragrance where the dark patchouli and the incense make beautiful music together.
HO X 3 is the one which brings patchouli and musk together. To amp up the intensity Mr. Leonesio adds fully indolic jasmine, cumin, rose, and sandalwood. This is not a fragrance for the faint-hearted but for anyone for whom that note list sings "Halleleujah!" to it is awesome. This is a dirty fragrance but delightfully dirty and it makes me wonder whether the HO is Santa or its more recently less laudatory use of the word. HO X 3 does feel like a mash-up of all that is skanky and like the best music mash-ups it works because it lets the contrasts add up to a strong complete perfume.
All five fragrances have excellent longevity and above average sillage.
As I said at the beginning Mr. Leonesio manages to make whimsically serious perfume and The Snowman Cometh Collection is another fine example of his style.
Disclosure: This review was based on samples provided by Smell Bent.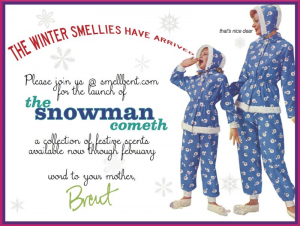 Thanks to Smell Bent we have two 5mL roll-ons to give away. One of Sno Birds and one of Dead of Winter. Leave a comment picking one or the other. Draw will end on December 12, 2011.
We announce the winners only on site and on our Facebook page, so Like Cafleurebon and use our RSS option…or your dream prize will be just spilt perfume
–Mark Behnke, Managing Editor