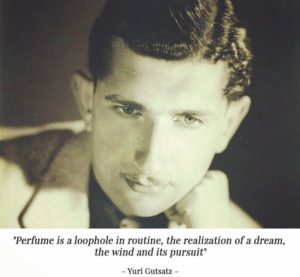 ":Perfume is a loophole in routine, the realization of a dream, the wind and its pursuit"- Yuri Gutsatz
Le Jardin Retrouvé, (roughly translated the garden refound) the first maison de niche was founded in 1975 (a year before Jean Laporte's L'Artisan Parfumeur) by Yuri Gutsatz and has a storied past steeped in fragrance history. I was amazed to learn that in 1952, M. Maurice Lehmann, former director of the Opera de Paris, asked M. Gursatz to perfume the opera house for a sequence of Rameau's Les Indes Galantes (and I thought ambient scenting was recent). Multicultural and a great scholar, Yuri Gutsatz was Vice President of the Société Française des Parfumeurs (French Perfumers' Society), and like his predecessor, Edmond Roudnitska, he advocated the autonomy of the perfume as creator. Yuri Gutsatz worked with Jean Kerléo and other perfumers of that time to lay the foundation of the Osmothèque,(now headed by Madame Patricia de Nicolai) the library of perfumes that was established in 1990.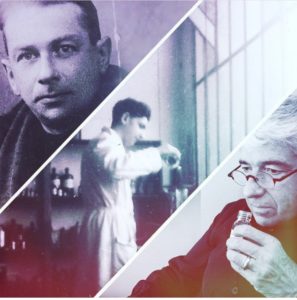 Three generations of perfumers David, Yuri and Michel Gutsatz via @lejardinretrouve
In 2016, Yuri's son Michel and his wife Clara, along with a small team of perfumers, adapted this vision to the twenty first century, bringing back seven of the 30 original perfumes, modified slightly to meet IFRA standards. Knowing Aaron's love of vintage fragrance I asked him to review the first collection –Michelyn Camen, Editor in Chief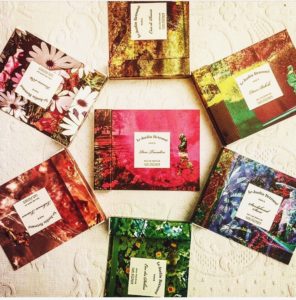 Sample set photo by Contributor Ermano Picco, author of La Gardenia nell occhiello via instagram
When my package arrived I was greeted with a very kind note and wonderfully packaged sprays of each fragrance. Each one was in a gorgeous box of different multicolored designs with absolutely stunning art and brief descriptions of "impressions" of the fragrance. Each sample arrived in stunning presentation and evoked feelings visually and olfactively; a sense of place and time that play in my mind like dreams…reveries, so apropos to Yuri's quote above. Each fragrance truly deserves a separate review, so I will be sharing my thoughts in two posts.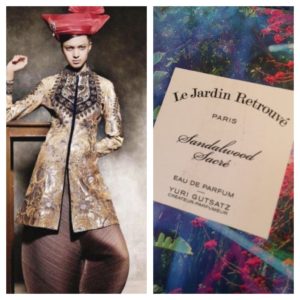 Vogue India and Le Jardin Retrouvé Sandalwood Sacre apped by MC
Sandalwood Sacré I am transported to India upon first spray, I see curls of incense, and the opening seems similar to Nag Champa with a bit more of sweetness emanating an aura of warmth. The intensity of the note slowly builds until you are enveloped in a rich powdery atmosphere of the finest sandalwood that could ever be imagined. For me, this reaches the very core of my Ātman (the inner soul). Soon thereafter we are greeted with very deep, dark, and seductive patchouli, which evokes a luxurious scented fabric from a faraway place worn eons ago. In the midst of this gorgeous cloud the bit of sweetness I mentioned earlier starts to become more recognizable as a tad bit of lily of the valley, other floral notes such as orange blossom and musk. These notes smooth everything out as the warmth and the aura of the powder slowly starts to dissipate. The true star is sandalwood…glorious divine sandalwood that piques the senses and calms the soul whilst purifying the entire atmosphere of being. Perfection.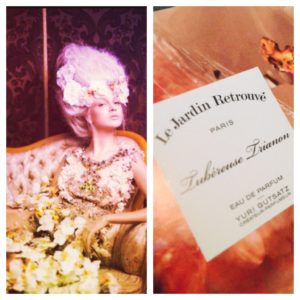 Luigi + Daniele & Iango for Vogue Germany April 2014 Tubereuse Trianon apped mc
Tubéreuse Trianon The scene is set in the gardens of Versailles and a burgeoning love story. To my mind and nose, I can totally see this. The fragrance itself is so very, very regal without being pretentious. Honestly, on first spray was enamored. I was actually pretty surprised by this. Normally tuberose isn't one of my favorite notes. However, here it is a pure delight. It is absolutely sparkling and full of vigor. There is a lovely fruity overtone of my beloved raspberry. Underneath it all is very slightly indolic jasmine which gives adds a hint of seduction. As the hours go on the lush floral duet slowly gives way to the fruity aspect and leaves the skin lightly scented with wafts of raspberry delight. When it's all over, I'm left nearly speechless on how much I love it. It is indeed a perfume to fall in love with. Guys, this would be a perfect gift for your girl – and you don't need to be afraid to wear it either! Delightful.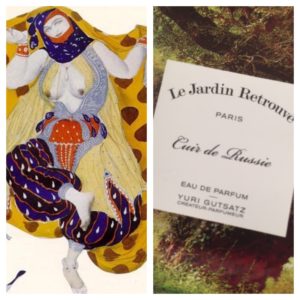 Scherezade odalisque by Léon Bakst and Cuir de Russie
Cuir de Russie. Next we will take a trip to 1920's Russia The scene (as set on the box) is set in an opera hall to view a performance of Ballet Russes. If you are familiar with this ballet, it was truly a work of who's who in the world of art, music, and fashion of the time. Stravinsky, Debussy, and Prokofiev all provided music for this grand affair. Artists Vasily Kandinsky, Alexandre Benois, Pablo Picasso, and Henri Matisse provided set designs. Costume designers included both Léon Bakst and Coco Chanel. Obviously, folks, this is nothing to be sniffed at, but sniff we shall! Cuir de Russie smells of vivid violet that has stood the test of time through the ages. This very well smells as if it could have been one of the first batches of ionone laden violet scents widely popular in the late 19th and early/mid 20th century. I loves this nostalgia. I could spritz this on a million times and never tire of it. Ylang ylang plays a wonderful supporting role and also acts to give this fragrance a very vintage feel What it does is add an eloquent elegance to overall feel of the composition. The composition itself is very light, but does project nicely. The leather note here is a bit different than that of other takes on Russian Leather/Cuir de Russie I have in my collection (Lido, Chanel, Prince Obolenski). I suspect this is due to the use of juniper tar (cade) instead of birch tar. This take on leather is much lighter and more sublime, almost dream like- giving the illusion of leather without it actually being there or, if it is, it is not on your person; rather, it smells as if it is on someone else that is near. What a lovely thought. This is nostalgia reborn.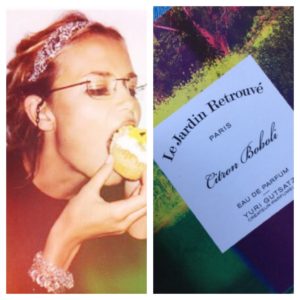 Vogue Paris Le Jardin Retrouvé Citron Boboli
For my next dream I am off to Italy for a visit to Florence's Boboli Gardens with Citron Boboli. From first spray, as soon as the first droplets hit my skin I imagined a wonderful dish of lemon cream gelato, that l spoon slowly enjoying every bit for hours; every type of receptor in my body felt pure ecstasy. The lemon lingers for quite some time and all the while there's something else baking in the background. Yes, there's a hint of something nearly cake like going on in the back. The beautiful hint of spice slowly makes its way into my consciousness. Cinnamon and clove gives the illusion of a cake like pastry, but also summons to mind a gorgeous bunch of carnations which I do dearly love. The presence of pepper certainly adds to the spiciness and truly is a treat to the back of the nose. So, in my little version of the dream, I'm in the garden enjoying a peaceful day in the gardens and am enticed by the smells of a lovely outdoor restaurant specializing in desert. That my friends, is where I find the answer to the question posed on the box – where does it come from? Make no mistake about it, to me this one is best summed up in one word…scrumptious.
–Aaron Potterman, Contributor and Vintage Perfume Expert.
Next week Aaron will review Eau des Délices, Verveine d`Été and Rose Trocadéro
Art Direction, introduction and contributions: Of note is the unique way to purchase these fragrances, Le Nécessaire and La:Resource which is a 125 ml flask to replenish -Michelyn Camen, Editor in Chief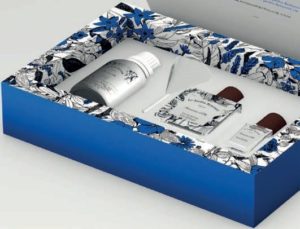 Le Nécessaire is a new concept in perfume
Thanks to the generosity of Le Jardin Retrouvé we are offering a Le Nécessaire ( includes an empty 50ml screen-printed glass bottle, an empty 15ml screen-printed glass bottle, a glass funnel and a 125ml aluminum flask) of your choice of Sandalwood Sacre, Cuir de Russie, Tubéreuse Trianon or Citron Boboli to a registered reader anywhere in the world. You must register here Please leave a comment with what you enjoyed about Aaron's review, what fascinates you about the house's history, which fragrance you would like to win and why. The two combined posts will have two winners; today Le Nécessaire and next week a sample set of all seven fragrances. Draw closes 11/30/ 2016
Follow us on instagram @cafleurebon @maison303 and @lejardinretrouve
We announce the winners on our site and on our Facebook page, so Like Cafleurebon and use our RSS option…or your dream prize will be just spilled perfume