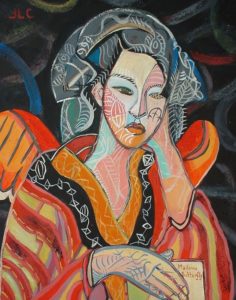 Madama Butterfly (Lidia Jevremovic)
"Tonight, I've finally learned to tell fantasy from reality. And, knowing the difference, I choose fantasy." ― David Henry Hwang, M. Butterfly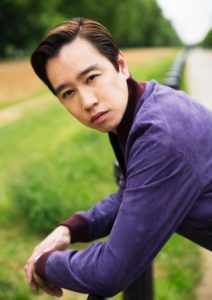 Christopher Chong Of Amouage (Photo AMOUAGE)
Once, he breathed life into art. Now, he breathes fire. Contemplative and deeply personal, each of Creative Director Christopher Chong's creations for Amouage is an introspective journey into self. A 'self' without ego or agenda, this journey is about sharing perspective, sharing an unabashed love for art, music, fashion, history, and ancestry.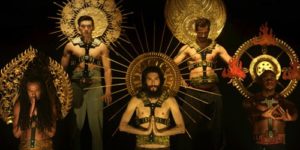 Moving Gods by Lu Yang Photo Courtesy of KAF
With the upcoming releases of Myths Man and Myths Woman, we venture farther into the 'Portraits of a Life' fragrance collection that began with Journey Man and Woman. With the Myths duo, the path emerges from color and smoke and a heretofore unexplored facet of a man's life (and perhaps our own) is revealed.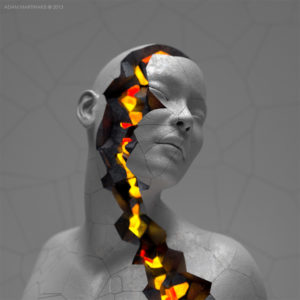 Roots of fire by Surrealist Adam Martinakis
Be it a dream or a collection of memories, seemingly unrelated elements fuse and transition into an experience. We leave a theatre in Beijing and emerge into a Arabian desert. As we blink at the desert sun, it becomes a dragon. The dragon becomes a phoenix. The phoenix, a lost love. "Myths is essentially inspired by surrealism, in which elements are assembled in a dream-like and distorted state in order to create a new interpretation,"says Chong. "Through surrealism, I was able to interpret my life experiences in an artistic way, without reason or convention, to create fragrances that truly represent a combination of the many facets of my past."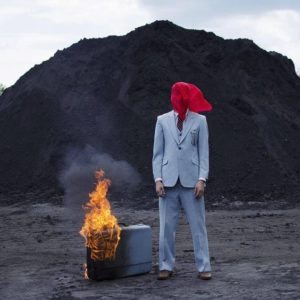 Man in Suit Christopher McKenney
Myths Man is inspired by the mythological Chinese dragon. Powerful, yet benevolent, I've learned that the dragon in Chinese culture serves to inspire rather than threaten. The dragon has morphed into many forms throughout the centuries, but has remained a symbol of heavenly power and good fortune. Its metamorphosis into a liquid is undeniably Amouage: bold and assertive, yet smooth as silk.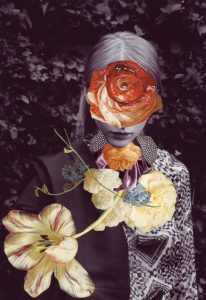 Ashkan Honarvar Fashion collaboration project with photographer Yin Chao
Basenotes of leather infused with incense smoke and ancient resins are soul-stirring and surprisingly approachable. Chrysanthemum, a chinese symbol of nobility, adds a freshness to the opening which both counters and complements the ancient elements. The rum and rose bring out the sweeter side of the orris, which I perceive as closer to an almost-ripe raspberry than a floral iris. This sweetness keeps the "ashes" note from being well, ashy. The vetiver in the heart is rooty without being too earthy or dirty.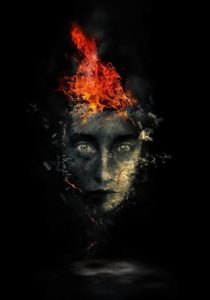 Digitalized Face with Fire
Despite the aforementioned sweetness, there is a dryness which runs throughout and a fleeting, but irrefutable, vestige of melancholy among the ashes. This magnificent sadness can only be felt by those who see beauty in decay.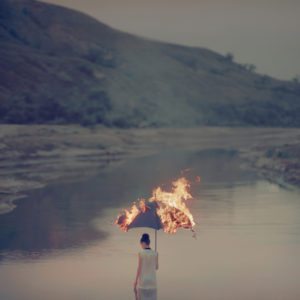 Surrealist Oleg Oprisco
Most will recognize the dusty ray of sunlight which illuminates the entire composition and from which, perhaps, the chrysanthemum grows. I instantly think of sunshine as there is an element here—perhaps an yet-unrecognized shared note—that reminds me of the opening of Sunshine Man. Even from the start, the sweet incense smoke in the base of Myths Man rises and swirls through the middle and top notes. Dreamlike and ephemeral, the smoke leads us along the path. Though there is no destination, there is a conclusion: Myths Man is a remarkable fragrance.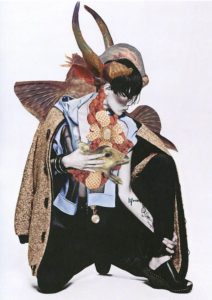 Ashkan Honarvar Fashion Yin Chao
From the ashes comes Myths Woman, inspired by the great sacred phoenix. Traditionally a symbol of peace and prosperity, the phoenix has evolved to represent rebirth and renewal. Anyone who has come out of a dark place in their life—or needs to come out of a dark place—can look to the ashes and the sky. Where Myths Man is golden sunlight through darkness, Myths Woman is ablaze in white light. Gone is the pensive dreaminess of her brother; in its place is a crystalline assuredness. Once again, Chrysanthemum is used as a top note, but to much different effect. Also a symbol of the changing seasons, the flower is now more green, more contemporary, more youthful.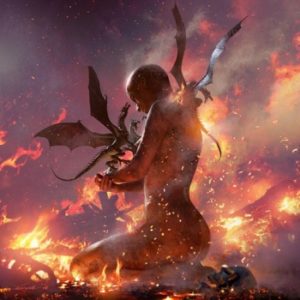 Daenerys Stormborn the Unburnt with dragons (Game of Thrones)
As of a fan of HBO's Game of Thrones, I am reminded of Daenerys Stormborn who, on more than one occasion, has confidently walked through—and emerged from—an immense fire. Never more beautiful, she emerges naked and unscathed, her white-blonde hair covered in ashes.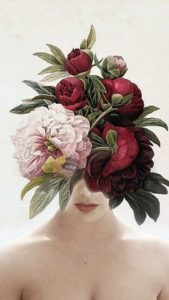 Eva Antonio Mora
Myths Woman seems to recognizes its own luminosity, tempering it with earthy elements of patchouli, ambergris and leather. These darker elements never quite ground the composition, which demands to remain in flight and illuminated. Despite this tete-a-tete, the composition is exquisitely balanced. To many, Myths Woman will be enjoyed and admired as a lovely, floral perfume made from the best ingredients. To a select few, who have emerged from the darker places in this world and in their minds, Myths Woman will be so much more.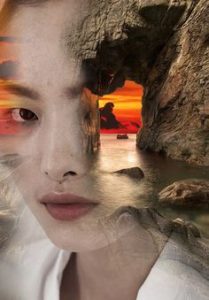 Antonio Mora Caribdis
The abstract tonality of both fragrances is clearly by design. What is ostensibly a journey through one man's personal history is, ultimately, a journey into ourselves.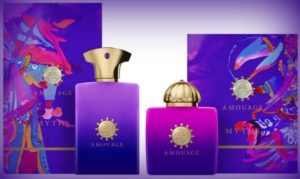 Both fragrances are presented in Amouage's iconic glass crystal bottles in a lavish purple that fades into lighter hues. The caps of both the men's and women's bottles are plated in 24 carat gold and accented with amethyst Swarovski crystals. Purple boxes house the flacons and are illustrated with a dragon and male opera artist on the man's box, and a phoenix and female opera artist on the women's box.
Myths Woman & Myths Man will be available July 2016.
Disclaimer: This review is based on samples provided by Amouage. Opinions my own
Michael Devine, Guest Contributor
Art Direction Michelyn Camen: Surrealism, Conceptualism, Fashion and Fire I hope I did Michael's reviews justice
Thanks to Amouage who sent me press samples, I am offering 15ml of a reader's choice of Myths Woman or Myths Man to a registered reader in the USA or Canada. To be eligible, please leave a comment with what you enjoyed about Michael's review, your choice should you win and your favorite Amouage Perfume. Draw closes 5/29/2916
We announce the winners on our site and on our Facebook page, so Like Cafleurebon and use our RSS option…or your dream prize will be just spilled perfume