Photo of Vero Kern by Alessio Lo Vecchio
There are perfumers who are as prolific as can be as it seems like they release a new fragrance every month. Then there are the perfumers who seem to not be ruled by the calendar and release a new fragrance when the muse has inspired them and they feel it is done to their satisfaction. Swiss perfume Vero Kern falls in this category. She burst onto my radar with three spectacular extraits; Kiki, Onda, and Rubj. That was back in 2007. It would be three more years before she would release EDP versions of all three. These were not just re-dilutions of the originals. Ms. Kern completely changed the substructure of the fragrances. So while they shared a name and some of the same notes these were completely different perfumes; nobody would think one was related to the other if the label didn't point that out. Based on the time gap between the extraits and edp's I wasn't expecting a new Vero Profumo until next year. Imagine my delight when Ms. Kern told me in January at the Elements Showcase she was almost done with a new fragrance that would be ready for this fall. So ahead of schedule her seventh fragrance Mito was previewed in mid-June and will be available in September. Here's a preview of what will be on the shelf sometime after Labor Day.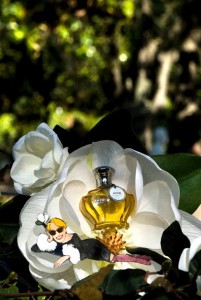 .Mito is the Italian word for Myth
Mito EDP shares the expansiveness of the EDP versions of Ms. Kern's original three extraits. One of the things that struck me most about the EDP versions was their ability to feel more alive. They felt more like a caged animal trying to get out with an almost static kinetics at play. Mito EDP has that same olfactory exuberance as it is an aggressively green fragrance magnolia, galbanum, and moss that form the verdant axis at the core of Mito but it is the other notes which keep the forward green quality from being in your face. All of the Vero Profumo fragrances require some patience to fully appreciate the subtle layers Ms. Kern works in; Mito EDP is all of that.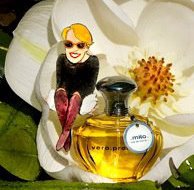 I don't know what it is but Ms. Kern manages to coax a special quality from citrus. In the fragrances where she has used it as a top note it comes off softly acidic instead of overly sweet or tart and the citrus at the top of Mito EDP is like that. Magnolia in its woody floral glory begins the green theme and galbanum ups that ante as it accentuates the green facets of the magnolia. Jasmine tries to get into the game but the galbanum shoves it to the side making it a tempering note instead of the focal point. The light cleanliness of cypress is a lovely transition to the very green moss in the base and as the galbanum backs off as this lightly green woody accord finishes Mito on a high note.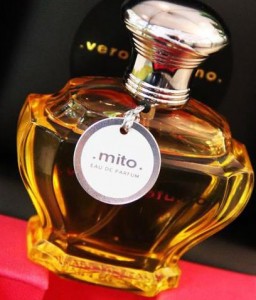 Mito has above average longevity and average sillage. Even in EDP form Mito does not leave a very strong vapor trail.
So if it was three years between her first three fragrances and two years to Mito can I hope it will only be one year until the next new Vero Profumo release? That's just me being selfish; as long as Vero Kern continues to add to her already impressive oeuvre she can take as long as she wants because the care shows in every facet of Mito.
Disclosure: This review was based on a sample of Mito EDP supplied by Campomarzio 70 Distribuzione.
Thanks to Campomarzio 70 we have a small spray sample of Mito EDP to give away. To be eligible leave a comment naming which Vero Profumo perfume is your favorite or is likely to be your favorite. We will draw one winner via random.org on Sunday June 24, 2012.
We announce the winners only on site and on our Facebook page, so Like Cafleurebon and use our RSS option…or your dream prize will be just spilt perfume.
-Mark Behnke, Managing Editor