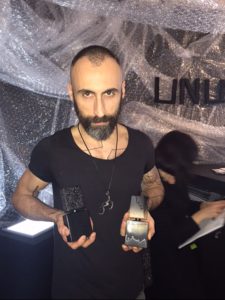 Fillipo Sorcinelli at Esxence 2016 (Photo Darryl Do for Cafleurebon)
Ennui Noir was composed by Italian perfumer Fillipo Sorcinelli, a renowned post modern artist, musician and creator of the highly acclaimed LAVS perhaps the best incense scent of recent years which debuted at Esxence 2015, (Unum was named one of CaFleureBon's break out Houses of 2015 ).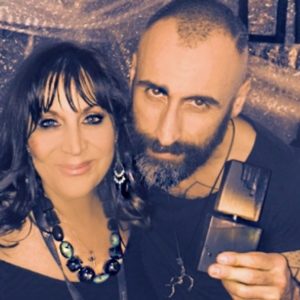 Michelyn and Fillipo (holding Symphonie Passion)
This year, Editor in Chief Michelyn Camen was able to spend a good amount of time with Sr Sorcinelli at Esxence 2016 where he introduced new flacons and two new fragrances Ennui Noir and Symphonie Passion. Titlesof fragrances can be deceiving. Translated from the French "Ennui Noir" means black boredom or dark lethargy, the subtleties of the word "ennui" is a bit lost in English. No matter because we are anything but bored by Ennui Noir, which is not another "noir" nor evokes black but varying shades of purple; but the top notes of lavender and heliotrope give an impression of ombree shades of purple light piercing through an overcast sky; the vetiver in the dry down keeps the scent uplifting while the patchouli and vanilla add mystery.
Deep Purple Strange Kind of Woman
After a few wearings, we realized just how very seductive Ennui Noir is; we found ourselves spraying it over and over again, just to experience it from top to bottom notes – it has become The Nosey Artist's scented addiction replacing Tom Ford Black Orchid as his favorite late night fragrance. Elegance with an edgy contrast, Ennui Noir is a beautiful and singular kind of woman in an evening gown, but once her coat is removed her arms are covered in tattoos full of stars, ancient runes, and Heavy Metal lyrics. Ennui Noir wears very close to the skin, like a lover's scent and is gone by the morning, a full 8 hours, until The Nosey Artist reapplies it again and await her return. –Michelyn Camen, Editor in Chief with contributions by The Nosey Artist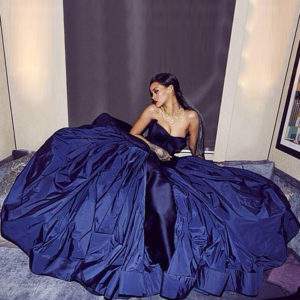 2015 Rihanna's Met Gala gown by Zac Posen
Strange Kind of Woman by The Nosey Artist
Light radiates from her smile,
Puts all my plans on trial
Even made me think,
To slip my ring in my pocket
I stared at her for a while,
Examining her beguile
My mind conjured up fantasies,
And I just couldn't stop it
Her tattooed skin,
Covered in high end fashion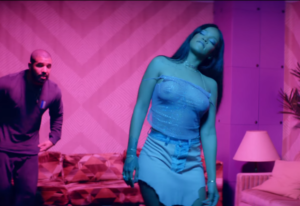 Rihanna in a sheer top from her video Work with Drake
Her sheer top was inviting,
And I was in for the ride
I proceeded with caution,
But not cautious enough
I tried to play cool,
But she saw through my bluff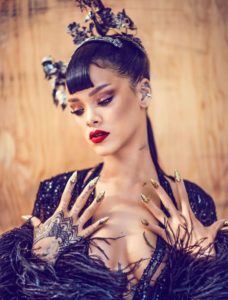 Rihanna in Harper's Bazaar China April 2015.
She had me,
Like a spider who waits for their entangled prey to tire
She had me,
Like a moth hypnotized by the fire
She had me,
And she knew I could no longer retreat
I forgot the one I loved,
And succumbed to defeat
She had me…
Disclosure: I received my sample of Ennui Noir courtesy of Twisted Lily and Michelyn from Sr Sorcinelli
Atr Direction, Contributions and Theme MC Rihanna all the way and song title and music by Deep Purple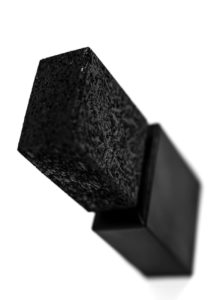 Courtesy of Filippo Sorcinelli we have a world wide draw for a full bottle Ennui Noir for one of our registered readers. To be eligible, comment below what intrigues you about Ennui Noir, based on our joint review, where you live, what you enjoyed most about The Nosey Artist rap and what strange kind of woman might wear Ennui Noir. Draw closes May 30, 2016
We announce our winners via the blog and our FaceBook page so be sure to Like Ca Fleure Bon and follow our RSS Feed or your dream prize will just be spilled perfume.