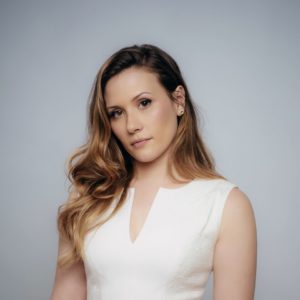 Jennifer Botto of Thorn & Bloom
Natural Perfumer Jennifer Botto of Thorn & Bloom, a 2016 Art and Olfaction Finalist for Bird of Paradise has just released a new fragrance and a bit of a departure with Limestone. What could be mistaken for a cologne is a fossil fueled (mind the pun- choya nakh is the fossil here) citrus creation which brings me pause every time I inhale it.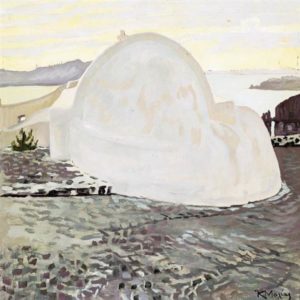 Church at Santorini Konstantinos Maleas
Limestone starts with lime, although subdued and somehow ensconced in the immediate presence of choya nakh. What results is the limestone walls of a cavern, or the forgotten walls of an abandoned homestead you keep secret. The lime is dried, not juicy and yet even the more uplifting by the addition of cilantro and green pepper. Gourmand it is not, despite its ingredients, it is an olfactory structure, a safe haven- a fortress of solitude.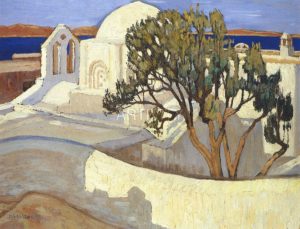 The Church of the Pantanassa-Naxos, Konstantinos Maleas
The heart of limestone is jasmine and champaca, both demure and refusing to take anything but the smoky, rough edges off of choya nakh and cilantro. Vines of jasmine climb the limestone exterior, a brief blooming- the skin is sweetened, although indolic or narcotic has been left for another time. There is a sense of serenity, albeit not aromatherapy. Limestone contains what some may call a masculine edge, although for myself, it is merely the scent of fortitude. All rests in frankincense and muhuhu (African sandalwood, providing the perfect bark on these plastered trees) as the stone wall imagery fades. Left behind, a mineralized, slightly citrus aroma on the skin which until Limestone, I never realized I coveted.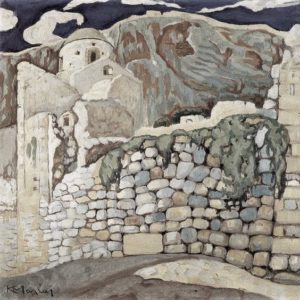 Konstantine Maleas – Castle at Monemvasia
Although a wall kept coming to mind, as I am one to sniff walls, the association seemed pointless. Much later it came to my attention the Greeks used a mixture of seashells and limestone to 'white wash' the trunks of trees; providing both an antibacterial covering and in essence, a sunscreen for their citrus groves. I cannot imagine Limestone to smell anything short of exactly this. Given Jennifer's beautiful aesthetic and accord building genius,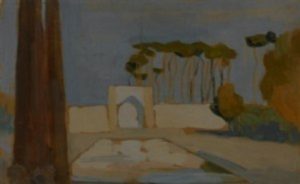 Landscape with Reflection Pool Konstantine Maleas
Limestone is a powerful perfume even in its cologne-esque style. Perhaps this is what caught me so off guard- I do not often choose scents which conveys a sense of strength (emotional, not sillage), yet it is one I will return to both on days when I need bolstering and in the winter days when sun cannot be found.
Notes: key lime eo (rind), kaffir lime leaf, bergamot, green pepper, coriander, jasmine, champaca flower, cilantro, choya nakh (roasted seashells), frankincense, sandalwood, muhuhu
Disclosure: I received my sample from Thorn & Bloom, thank you
–Einsof, Natural Perfume Editor
Art Direction MC: I used the paintings of Konstantine Maleas, perhaps the most important Greek Post Impressionist painter who was born in Istanbul and was influenced by Van Gogh, Cezanne and Gaugin. 1879-1928.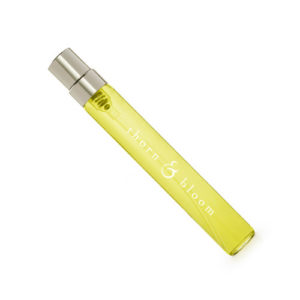 Thanks to Jennifer Botto we have a draw for two US and Canadian registered reader as follows your choice of a deluxe atomizer of 7.5 ml of Limestone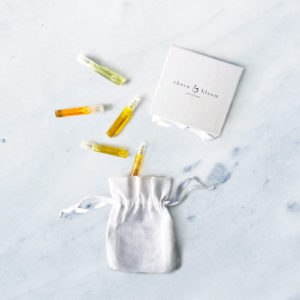 or a deluxe sampler of our five Thorn & Bloom favorites including Limestone, Savage Garden, Bird of Paradise, Stranger in the Cherry Grove and Wild Rose (the best seller in the line)
Our reviews: Stranger in A Cherry Grove here, Bird of Paradise here and Savage Garden here
To be eligible please leave a comment with what you enjoyed about Einsof's review of Limestone, a quote or comment, and your choice should you win of the sprayer of 7.5 ml of Limestone. Draw closes October 2, 2016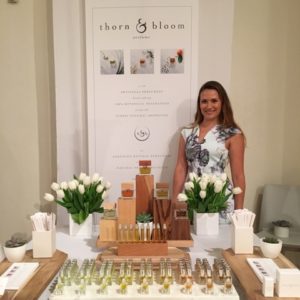 Best of Show Best Bottles and Natural Fragrance: Jennifer Botto at the Indie Beauty Expo in NYC photo Maggie
Editor's Note: At the Indie Beauty Expo, Maggie Mahboubian and I fell in love with Limestone which was pre production. Currently Limestone is available in 7.5ml 4ml immediatelyon Thorn & Bloom, and will be available in 30ml (with wood cap) in November 2016.
We announce the winners on our site and on our Facebook page, so Like Cafleurebon and use our RSS option…or your dream prize will be just spilled perfume