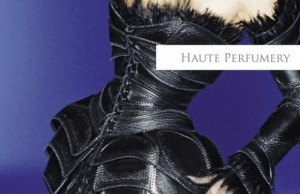 Long before Fifty Shades of Grey began introducing an audience to fetishes Thierry Mugler was doing it on the runway as his models made his audience deal with their inner feelings of dominance or submission. Now to celebrate twenty years of haute perfumery Thierry Mugler has brought a bit of fetish to their signature fragrances with The Scent of Leather Collection.
As you can see in the video above Pierre Aulas the Olfactory Artistic director of Thierry Mugler chose to age four Thierry Mugler fragrances in specially made casks for four weeks with Alien, Angel, A*Men, and Womanity. The leather used was specially made for this project by France's Centre for Leather Techniques. I'm not sure what to call this collection as it is sort of a set of flankers but it also seems like a bit of a perfume cocktail. As the video makes it seem like these classic Thierry Mugler perfumes were stirred, not shaken, with leather and then decanted into the bottles. What there is no doubt about is each of the fragrances I received have a significant leather facet to them and it shows up differently in Alien, Angel, and A*Men.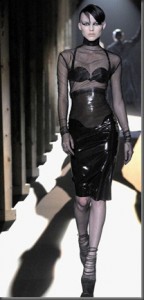 Alien Les Parfums de Cuir
It is hard to believe that Alien has only been around since 2005 as it has become an instant classic and seems like it has been around for much longer. Dominique Ropion and Laurent Bruyere's dried fruit and jasmine touchstone was not for everyone but for those of us who love jasmine it was a wonderful new addition to our wardrobes. What does aging Alien with leather do to it? For starters the jasmine is much more attenuated as the leather comes through very aggressively in the early going. Initially I wasn't pleased by the jasmine having to play the submissive but over the last two-thirds of Alien Les Parfums de Cuir the dominant leather did bring out something unusual from the dried fruit and wood heart and most especially from the amber in the base. The leather lashes the dried fruit and the fruit stands up to it and gives some backtalk to the leather. The amber gives off a satisfied glow as the leather surrounds it and embraces it almost tenderly but still with a bit of strength.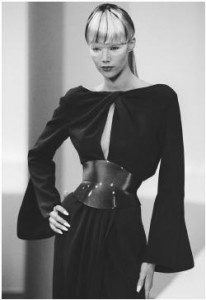 Angel Les Parfums de Cuir
In truth this anniversary is celebrating the 1992 release of Angel by Olivier Cresp and Yves de Chiris. Angel is arguably one of the signature fragrance creations of the last twenty years and it created the gourmand segment of the perfume firmament. It also showed what could happen when you choose to overdose a note as the patchouli in abundance found in Angel is often the deal breaker for many a perfumista. What I know was the feeling I had when I sniffed Angel for the first time and knew this was something I had not encountered before. When you take something this classic and soak it with leather it seems like it should become a hot mess but instead it becomes a feast for the senses. The sweet sugary opening is enhanced with the discipline of a leather glove. The leather here in the early going seems more refined and it is probably due to the sweet notes in the beginning of Angel amplifying the sweeter facets of the leather. It is in the fluttering heart of Angel Les Parfums de Cuir where the heat of leather adds a smoky slap to the fruity floral core and I think it improves it for that addition. Finally the patchouli, chocolate, and caramel which divides so many people into Angel lovers or haters arrives. This iconic base cannot be contained by the leather and it rears up and pretty much overwhelms it. If the Angel base is the reason you stay away then Angel Les Parfums de Cuir will not solve that problem as the leather just can't make itself heard over the original Angel base.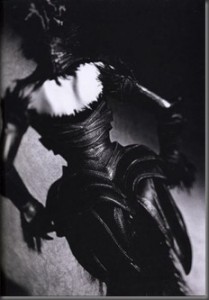 A*Men Pure Leather
If Angel is iconic, 1996's A*Men is no less so for being a male marketed scent. Jacques Huclier introduced men to the gourmand sensibility that Angel ushered in four years earlier. A*Men has gone on to be one of the most popular men's fragrances year after year. Recently the A*Men Pure series has been, in my estimation, the most successful flanker series ever. Each iteration has added a note to or overdosed a note present in the original A*Men and illuminated something new about the A*Men DNA. In the previous releases the extra note would enhance a specific facet while the rest of the fragrance would remain recognizably A*Men. In A*Men Pure Leather the leather doesn't really do this as in this case it seems like the aging with leather does something unusual as it makes something that was strong, stronger. If they had named this A*Men Extreme it would also have been apt as the only place the leather makes an appearance is in the very opening moments and it is a raw processed almost chemical kind of accord. I think that that early harshness is going to be difficult for some. I liked it and was hoping for more of it throughout the development but instead the leather fades fairly quickly and the familiar structure of A*Men takes over but it seems much stronger more focused than in the original. I wore A*Men Pure Leather and A*men side-by-side and the A*men Pure Leather was definitely more powerful but not different in architecture than A*Men. A*Men Pure Leather does not reach the heights of Pure Malt or Pure Havane but it is just below those in my estimation because after wearing A*Men Pure Leather I realized I wanted an Extreme version of A*Men after all.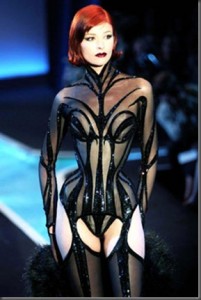 All three of The Scent of Leather collection fragrances have overnight longevity and way above average sillage.
Thierry Mugler has to be the most successful perfume brand at creating flankers of their iconic fragrances. I have rarely found them to be boring and very often the care shown these flankers provide a guide to other perfume lines on how to do it right. The Scent of Leather Collection is another chapter in that how-to manual.
Disclosure: this review was based on press samples provided by Clarins USA.
Note: I did not review Womanity Les Parfums de Cuir because I was not provided a sample. Based on the three I did try I am fascinated to eventually try it once it makes its way to the US. Womanity Les Parfums de Cuir is currently available in Europe only. The other three are available on the Thierry Mugler US website.

Thanks to our friends at Clarins USA our readers can choose which shade of The Scent of Leather Collection you would like. We are offering a reader's choice giveaway of a full bottle of Alien Les Parfums de Cuir, Angel Les Parfums de Cuir or A*Men Pure Leather. To be eligible leave a comment naming your choice and we will draw one winner on September 19, 2012.
We announce the winners only on site and on our Facebook page, so Like Cafleurebon and use our RSS option…or your dream prize will be just spilled perfume.
-Mark Behnke, Managing Editor