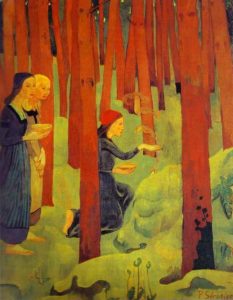 The Incantation (The Holy Wood) by Paul Serusier, 1891
"Pale as the sacred trees that colonnade
the heights to the high temple where
incense past mid-night rises
burns and goads
the dancing spirits farther
up the skies." — Emmanuel George Cefai, "Pale as the Scared Trees"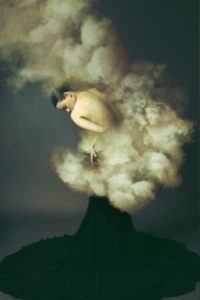 Comfort in Chaos, photo by Josephine Cardin©
Shamanic ritual-inspired perfumes have been cropping up quite a bit lately (including fragrances created for ÇaFleureBon Project Talisman)– indicating, perhaps, a growing, plangent desire for equilibrium in what feels like a world spinning off its axis at times. Many of these scents have mined resinous, milky, mineral and incense accords, offering a range of incantatory brews and comfort scents as talismans. Creative Director Luc Gabriel for The Different Company's newest fragrance, Santo Incienso – Sillage Sacre, departs from these richer, more pensive perfumes, and heads heavenwards, combining the citrusy-woods smell of palo santo with bright, fresh notes like shafts of sunlight breaking through a thicket.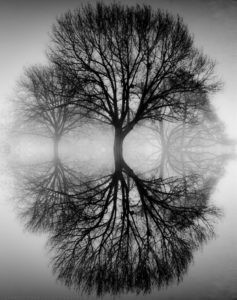 Tree, photo Ansel Adams©
At the heart of Santo Incienso is palo santo, a member of the citrus family native to Peru with unusually fragrant wood. Its unusual aroma has aspects of lemon, conifers and that softest of mints, wintergreen. Burnt in smudging ritual to chase out evil spirits and unhappiness, palo santo's use in shamanic ceremonies dates back to the Incas. Perfumer Alexandra Monet relates: "I like the idea that we must burn it to reveal its scent, I see a return to the perfumery's fundamentals, at the time of "Per Fumare", the fragrance that was as a steam for the Gods offering … I wanted this fragrance to be surprising and reassuring as a prayer turned toward the heaven."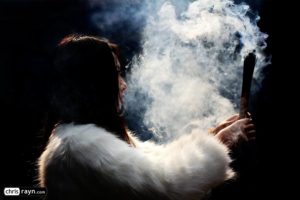 Young woman clad in white fur, photo by Chris Ryan©
Bergamot and petitgrain spark bright, acidic notes as Santo Incienso hits the skin.The citrus accord sharp, almost green, like underripe tangerine. Next, sourish, aromatic cypress filters in. Then, mint and woods combine as palo santo emerges from beneath the bitter tree fruit. A reedy note of frankincense, more subtle than this potent incense tends to be, floats into the mix. At some point during this stage, the diamond fizz of hedione becomes apparent, as it lifts the composition from the woods into its treetops.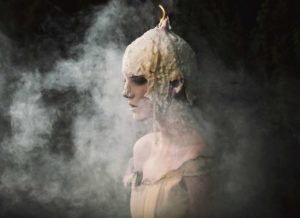 Photo by Alex Stoddard©
When the palo santo note has opened fully, Santo Incienso begins a balancing act where the citrus and woods notes teeter as if they were on a children's seesaw. One moment, bitter orange dominates; a moment later, the wood polish and mint aroma of the palo santo comes forward again. The up-and-down motion of the fragrance creates a wave of fresh and arboreal notes that keep the perfume feeling light, fresh but substantial.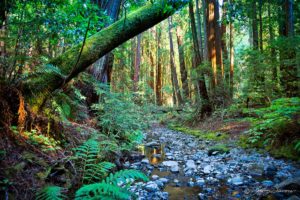 Muir Wood, photo Jeffrey Favero©
As Santo Incienso dries down, the gummy, leathery loveliness of myrrh and lactonic nutmeg add a soothing aspect to the fragrance. This reassuring quality is magnified by the addition of a milky note that becomes more pronounced over time. Fresh, sharp citric notes of the beginning linger in counterpoint to the wood and incense notes, giving Santo Incienso the effect of being at once lively and comforting.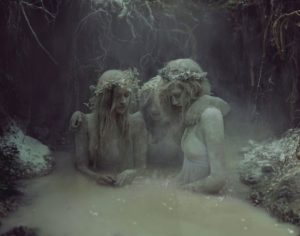 Amazing Grace, photo by Kyle Thompson©
Incense fragrances often beckon, invoke, exalt; Santo Incienso-Sillage Sacre takes you by the hand and leads you to a quiet wood where the world's furore has no sound. Completely unisex, its projection is moderate.
Notes: Calabrian bergamot, petitgrain, nutmeg, Atlas cedar, palo santo, hedione, frankincense, myrrh, milky musk. Longevity is good, about 6-8 hours.
Disclaimer: Sample received from The Different Company – many thanks. Opinions are my own.
– Lauryn Beer, Editor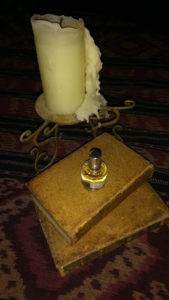 Santo Incienso Sillage Sacre 10 ml bottle (photo Lauryn)
Thanks to the generosity of The Different Company, we have an avant premier 10ml travel bottle (not available for sale until June 2017) of Santo Incienso-Sillage Sacre for 1 registered reader in the U.S., Europe or Canada. Please register here. To be eligible please leave a comment with what appeals to you about Santo Incienso based on Lauryn's review, where you live and if you like incense perfumes and find them calming. Do you have a favorite The Different Company fragrance? Draw closes 5/19/20167.
We announce the winners only on site and on our Facebook page, so Like Cafleurebon and use our RSS Feed… or your dream prize will be just spilled perfume