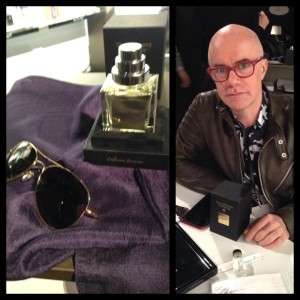 Bertrand Duchaufour at Esxence 2015 presenting I miss Violet to Michelyn
Perfumer Bertrand Duchaufour really doesn't need much of an introduction to fragrance lovers. At his best he creates stunningly beautiful perfumes and has established an ever growing empire of scent. His ability to work with contrasts and conjure interesting accords is legendary. I tend to gravitate towards his more lush compositions such as Seville a l'aube and Vanille Absolument (L'Artisan Parfumeur), Rose Cut (Ann Gerard), as well as all of his work for Neela Vermeire.
Photo: Alexis Limousin, Model Cecile
"When I was about to leave, he told me I miss you already Violet"
M. Duchaufour's new composition for Creative Director Luc Gabriel of The Different Company was launched at Esxence last week and is named I miss Violet. The story behind the fragrance is as interesting as the perfume itself. Violet, is a fictious character (Je m'appelle Violette) who travels the world and this scent is her narrative. It is a diary to her lover as she jet sets from Paris, Hong Kong, Java all the while gifting this perfume to him for remembrance. This is not his first scent for TDC, Bertrand Duchaufour has also signed Aurore Nomade, Oud for Love and Oud Shamash all for the Collection Excessive. Under the exacting direction of Luc Gabriel, M. Duchaufour worked on and refined I miss Violet for three years to ensure that it was crafted with originality, strength and beauty.
I must mention that leathers were rock and rolling all over Esxence 2015. Each range seemed to have leather, and the memo for a new collection obviously instructed brand owners to pop one in the collection – pronto. I was wondering if there was leather that would satisfy my quest for a unique take on the genre, that I hadn't smelt before. Anything had the potential to take my fancy – from subtle suedes to butch smoky birch tar bombs and everything in between.
The Making of I miss Violet
I miss Violet is without doubt one of the best leather perfumes I smelt, not only at Esxence but in many a year. This is a divine iteration, smooth, polished and wallowing in luxury. More importantly this leather, for me provides a solution to the somewhat vexing situation that I'm sure every scent lover faces at some point. I'm finding that many of my perfume favourites are unwearable on an everyday basis. I passionately love, desire and yearn for their fragrant charms, but sometimes they're just not suitable, they can overwhelm or envelop me in their sensuousness; they smell great on paper but not on my skin. This lushness of being is not always a welcome guest.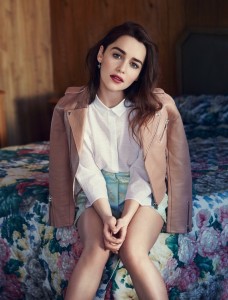 Game of Thrones actress Emilia Clarke (Daenerys) Vogue France
Imagine the softest, most expensive leather jacket that you can get your hands on. It's supple, and dances in synch with your rhythm. It moulds to your form. It oozes a quiet confidence, and loves to adorn skin. This is not a black perfecto or a roughed up old favourite. It's coloured a delicate shade, maybe a pastel hue. The clincher is that it works with everything you have in your wardrobe. It's the quintessential leather jacket with the perfect fit. This is how I miss Violet charms me.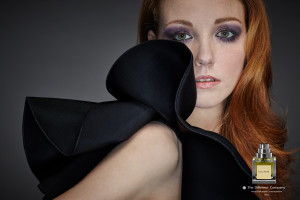 The Different Company I miss Violet ad photographed by Alexis Limousin
Yes the fragrance does use violet, as the name suggest but its miles away from a violet soliflore if you're feeling wary. The green facets upfront are a mix of violet leaf, basil and a little citrus. There's a fizz of champagne and quite quickly the floral hearts sings to me calling my name. The violet flower waltzes in and is not too powdery or sweet, rather green. It's simply an intriguing modern interpretation that resurrects this somewhat polarising note. With a liberal spray the iris is amped and it's swoon worthy. What lures me is the osmanthus, a note that I have often struggled with, but here it takes on a beautiful velvety apricot tone for just a moment; then the leather facet starts to become more apparent, and the blend becomes addictive. There's a slight oily texture but somehow this all works. Other florals in the mix include mimosa, and cyclamen (while in Milano, M.Duchaufour showed all the raw materials to Michelyn and although not listed cassie flower is part of Violet's entourage). The dry down is equally as special, reminiscent of leathery suede, vanilla, amber and musk. Gentle reminders of violet's presence continue to reveal themselves on occasion.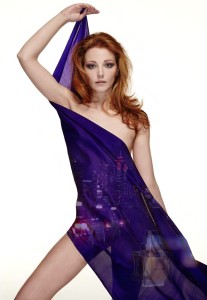 I miss Violet Photographer Alexis Limousin, model Cecile
I miss you already Violet
There were many great fragrances at Esxence but I miss Violet is one of my favourites. It's a perfume that works as an everyday wear but is also gorgeous enough to spray liberally for special occasions, or for late nights in.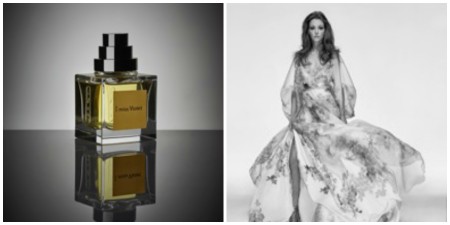 I miss Violet Collection Excessive (images courtesy of TDC) Photographer Alexis Limousin
Each time I wear I miss Violet I notice different elements dancing on my skin. It's nuanced and elegantly beautiful. It has overnight longevity but modest sillage; an elegant presence that dances at a leisurely pace. This keepsake is modern floral leather characterised by its smoothness, flow and above all, a luxurious aroma is unforgettable.
Official Notes: Violet leaves, Basil of Vietnam, Mandarin, Ambrette seeds, Champagne, Nutmeg, Osmanthus, Violet, Iris, Cyclamen, Mimosa, Ozonic notes, Leather, Mahogany, Musks, grey Amber
Disclosure: Sample provided by the Different Company
–Megan, Sr Contributor and Author of Meganinsaintmaxime.com
Editor's Note: The Diffferent Company's Booth at Esxence was one of the busiest at the show. Although I was able to meet with Bertrand Duchaufour for nearly a half an hour, Luc and I just waved at each other as he went from meeting to meeting. A word on the images; Alexis Limousin was trained by legendary photographers including Helmut Newton, Mario Testino and Gilles Bensimon.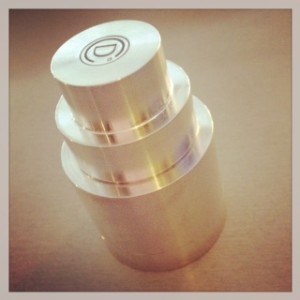 Thanks to the generosity of Luc and Sophie Gabriel of The Different Company, we have two 10 ml mini bottles to giveaway to two readers anywhere in the world. To be eligible leave a comment with why you would like to try I miss Violet, where you live and your favorite The Different Company perfume. Draw closes 4/6/2015
We announce the winners on our site and on our Facebook page, so Like Cafleurebon and use our RSS option…or your dream prize will be just spilled perfume