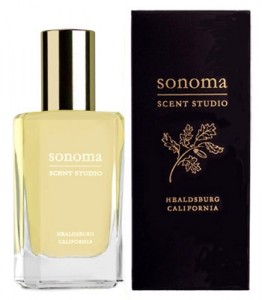 Laurie Erickson has been bee-busy [isn't she always?] , as she releases a line of products which summon the Mistral.
that's me
Fig Tree is Laurie's latest project.




In an already fig-saturated market, it's been her mission to create a fragrance which is concomitantly delightful, true to its natural character, and unique.
I was excited when I received my tiny mod for Fig Tree; I can only imagine what a treat it will be in a body silk lotion, and shea body cream.
Notes : fig, plum, cedar, vanilla, creamy lactones, tonka.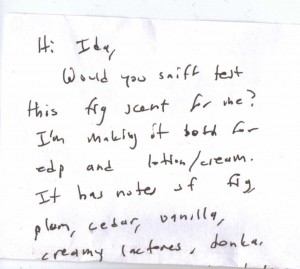 Fig Tree feels both fresh and warm while possessing a genuinely seasonless woody verdancy.
For me, it is a very pensive and comforting scent, redolent of time spent in the Camargue and Provence, where I first encountered the glorious fig in its happy habitat.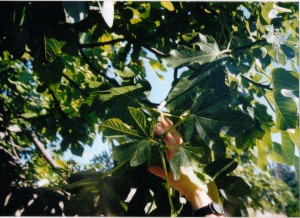 Where do we begin?
Adam and Eve, perhaps, and the Garden of Eden…where they clothed themselves in fig leaves in order to hide their shameful nakedness 😉 ?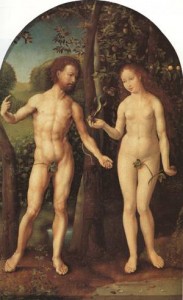 [While that is a fetching concept, I don't wish to touch it with a ten-foot-pole!]
My personal preference is the affinity I feel with the fig tree and its natural resilience.
I am awed by its ability to grow where it will, in spite of pre-suppositions regarding what is "right and proper".
Enter the Pont du Gard, magnificent Roman vestige spanning the Gardon River in the south of France.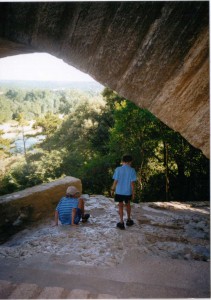 Our young family was conscious of a rare opportunity to travel abroad in the summer of '98. We had to grasp it eagerly, knowing full well that it was not likely to be repeated.
One of my fondest wishes was to share the treasures of ancient Rome – and the exquisite pleasures of Provence- with our young sons, who were then six and nine years old.
As we explored the Pont du Gard, we discovered venerable olive and fig trees, hundreds of years old.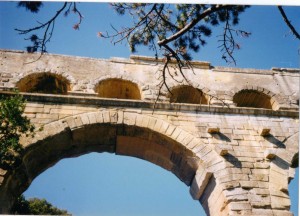 The figs, in particular- seemed to sprout out of everything!
What struck me was how they were beginning to grow out of the antiquated aqueduct itself …
No one had said: "Birds, don't you DARE defecate, now.
NO fig seeds near the Pont du Gard; it's sacred, for goodness' sake!"
How wondrous, beautiful, and organic that was.
That life will spring up as it will, as it chooses, because that is its nature.
Figs growing out of the Pont du Gard, figs thriving in the Palais des Papes in Avignon!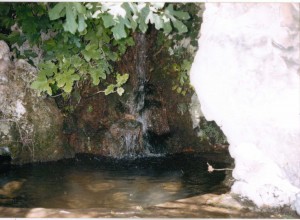 Like the moss I cherish, the very moss which will insinuate itself between sidewalk cracks and stone walls- the fig chooses its own sweet locus.
Laurie's Fig Tree celebrates the entire fig.
She chooses to de-emphasize the creamy, coconutty nuances one often finds in fig fragrances; her use of plum is intuitive and welcome, as it fleshes out the succulent aspects of the fruit while adding a more curvaceous profile.
Creamy lactones, vanilla and tonka bean 'absorb' the astringency of fig and cedar.
Fig can feel stridently green if not tempered; cedar can soften and ground a fragrance, but without counterbalance, it grandstands as a magnificent, overwhelming pencil-shaving note.
Gratefully, this is not a concern in Fig Tree.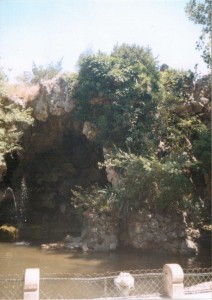 In Laurie's composition, balance is all.
She gifts us with her usual sillage and tenacity, all the while providing us with a very complete, realistic fig- wholesome, lovely, refreshing yet subtle.
It is full of sweet juice, red pulp, and gentle woods- with just enough creaminess to complement the natural acidity of the other notes.
This is a Fig For All Seasons, I find.
Many thanks to Laurie for granting me the pleasure of sniffing!
She is also offering a 5 ml. bottle of Fig Tree to one of our readers.
Tell us: which of Laurie's scents have you sampled? Enjoy?Or would like too

What are your fig associations … and why would this one tempt you 😉 ?
Draw will end October 21, 2011.
We announce the winners on our site and on our Facebook page, so Like Cafleurebon and use our RSS option…or your dream prize will be just spilled perfume.
Senior Editor's Note: Rather than utilize other folks' photographs, I've used our own Meister family pix.
–Ida Meister, Senior Editor