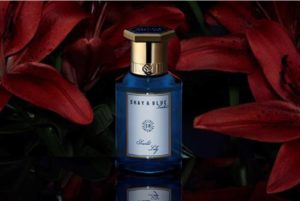 Over the years the florist, the grocer and my own garden have been my only sources for a fresh, lily fragrance. I have never been able to find the lily scent I crave inside of a bottle, until just the other day, when I received Shay & Blue London Scarlet Lily , the new collaboration between Dom De Vetta and Julie Massé', which, for me, is a floral masterpiece.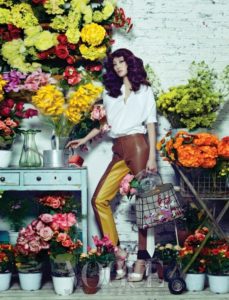 Flower House, Vogue Korea March 2013
No matter how small the establishment, how tiny the room, when I step over the threshold of a florist shop I find myself lost in another world, a place outside of time where even minute details becomes larger than life. Buckets of blossoms – bright yellow sunflowers, deep pink peonies, tulips, exotic orange Heliconia and Protea – crowd the floor and seem to extend their textures and colors beyond forever. The refrigerated cases against the wall preserve bouquets of long stemmed red roses, gardenia corsages and the frilly fragrant purple and white blossoms of Cattleya orchids. Baskets of living lipstick vines (Aeschynanthus) float from the ceiling and miniature African violets and maidenhair ferns are tucked into every corner.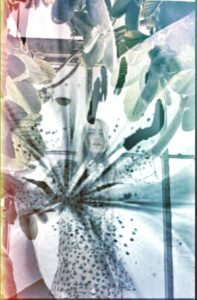 Astrid Eika by Sean McMenomy for Elle Denmark May 2016 fused with a stargazer lily
The atmosphere is moist, cool, dewy and laced with the scent of tuberose, freesia and stock. Suggestions of moss and hints of green leaves, growth and decay carry the weight of the predominant floral perfume that saturates the humid air – the scent of the "Stargazer" lilies. This is the fragrance that inevitably draws me, like a large pollinator, to the florist! The scent of these lilies is irresistible to me, spicy, green, waxy and freshened with a breath of slightly tart berries and watery lotus.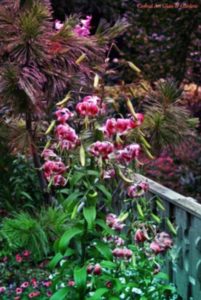 Ariadne Lilies in a Scottish Garden apped MC
Scarlet Lily, is a brilliant rendition of the scent of the famous Asiatic hybrid lily "Ariadne", created in the 1960s by the Scottish horticulturalist Dr. Christopher North. The original "Ariadne" lily was an inter-species hybrid with a tall (up to 6 ft) sturdy growth habit, dusty rose colored, re-curved pendulous flowers with creamy peach centers and the marbled spotting pattern and enticing light fragrance of its L. lankongense parent. In 1976 the Czech hybridizer Vaclav Jost created his "Eurydice" lily, the raspberry/scarlet red daughter of "Ariadne". Both of these hybrids are able to produce abundant panicles of long lived, shimmering flowers that adorn and scent the summer garden for weeks at a time.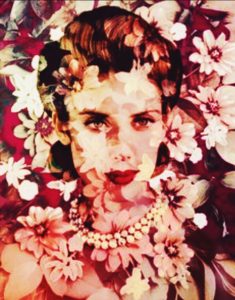 Vàlerie Belin©
Like Christopher North and Vaclav Jost, the hybridizers who brought the best of each chosen species to the creation of something new and robust, Shay &Blue creative director Dom De Vetta and perfumer Julie Massé have been able to transform the ideal of classical perfumery and infuse it with "a fresh and contemporary sensibility." Dom De Vetta is "a man with a personal aesthetic that is strongly guided by the visual, disregarding the austerity of minimalism for the richness and depth of decadence in all its forms, savouring the edge of creativity that comes through contrast and contradiction. Light and dark, innocence and eroticism, boldness and softness all play against each other in ever-inspiring and original new ways." – shayandblue.com. The new Scarlet Lily fragrance is a perfect example of what the Shay & Blue mission and aesthetic can bring to a perfume.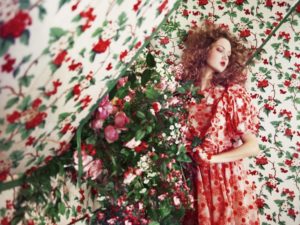 Harper's Bazaar UK May 2017
Scarlet Lily begins with the unmistakable scent of a newly opened "Stargazer" lily bud, spicy, green and waxy, but brighter and lighter than the original "Stargazer" and more like the perfumes of the "Ariadne" and "Eurydice" lilies. This very realistic scent envelops and entices with a floating dew-like transparency and the freshness of lotus that keep any indolic tendencies under control. The sunny "Ariadne"/"Eurydice" effect mingles in the heart of the fragrance with the rich, luxuriant and sedative profile of ylang-ylang, creating a relaxing, ardent glow that lasts on the skin for many hours. As Scarlet Lily dries down, a touch of amber (with a little of vanilla perhaps) replaces the freshness of the lotus with an effect of warmth and seduction. This final phase of the perfume, which can last several more hours, is reminiscent of the original lily fragrance – but now in full bloom.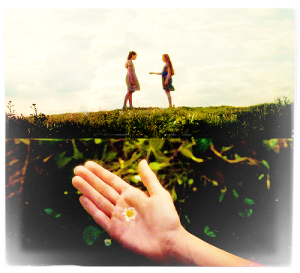 Lily Potter Holding a Flower ©
The life of this perfume could be compared to a lily opening in time-lapse photography. The sillage envelops the wearer with an almost narcotic effect, and entices those within arms length to come closer and smell the flowers. Shay & Blue Scarlet Lily is my new lily love. Perhaps it will be yours too!
Fragrance notes: "Ariadne" lily, lotus blossom, ylang-ylang and amber.
Disclaimer: I would like to thank Shay & Blue London and Dom De Vetta for the bottle of my new love, Scarlet Lily. Opinions are my own.
– Gail Gross, Editor
Michelyn Camen, Editor-in-Chief and Art Director

Thanks to the generosity of Shay & Blue London and Dom De Vetta we have one "avant premier"(not released until later this summer or early fall) 30 ml bottle of Scarlet Lily for one registered reader in the US, the EU or Canada. (be sure to register or your comment will not count). To be eligible, tell us where you live, what appeals to you about Gail's review, your favorite fragrance by Shay & Blue and if you have a favorite lily varietal or perfume. Draw closes 5/5/2017
We announce the winners only on site and on our Facebook page, so Like Cafleurebon and use our RSS feed…or your dream prize will be just spilled perfume.