Providence Perfume Co ProVanilla
Vanilla. Normally used to describe something dull or run of the mill, Perfumer Charna Ethier of Providence Perfume Co turns the concept on its head with her latest release, Provanilla ('prah-vah-nil-ah' – a combination of "Providence" and "vanilla".) While definitively vanilla; it is decidedly not boring- but what does one expect from the innovative natural perfume house? I love the smell of this and I am surprised because, in a way, it is so commercial… and yet… the BRILLIANCE it takes to achieve this naturally really proves our shared thought at ÇaFleureBon that Charna is one of the movers and shakers in the naturals game- pushing the boundaries of ordinary perfume ingredients and exploring the horizons of what materials are available to a natural perfumer.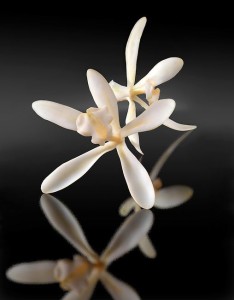 Vanilla pod and Flowers
Vanilla can be a rather one trick pony, and its usual routes of expression are in an amber accord or to lock down some gourmand blend. It is not an easy note to feature naturally, simply because it refuses to take the spotlight. Add a top note, say bergamot, and its character is lost. Charna addresses this in part by variable extractions of vanilla- Co2, absolute and one of her notable talents: tincturing. Vanilla comes in so many forms, nationalities and (dare I say it?) flavors, its not even immediately recognizable which vanilla is coming from where. Part of the perfection is the 'alienation' of the vanilla as one is aware of but not immediately dismissive of it. As the note morphs through its own variations, your olfactory system refuses to shut it out, but continues to focus on the shapeshifter. A hard won blend of rose and myrrh adds flourishes of smoke and flower, whisps and wafts of encouragement.
This is all before I mention the biggest surprise of them all with this perfume… and I feel a bit like I am giving away a spoiler…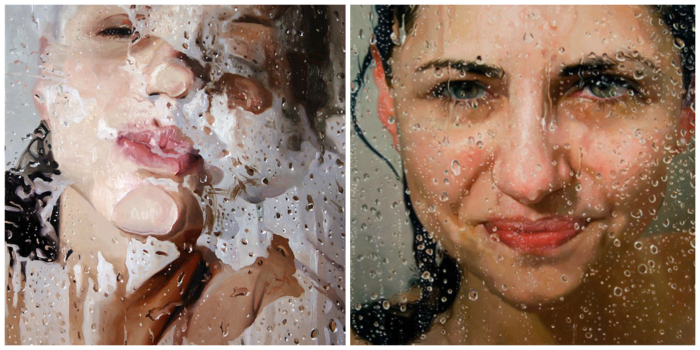 The aquatic accord is a natural melon isolate which gives the experience of Provanilla a sense of aesthetic arrest. Quantum leaps in natural perfumery is simply what Charna does- look at Hindu Honeysuckle. The perfume is immediately unique and nearly universally appealing. Charna is one of the most accessibly abstract of artists- this is a vanilla mosaic- a montage of pictures which then, when you stand back, are a giant picture of the same subject. Warhol would say it's vanilla's "15 minutes of fame"; the ordinary elevated, it is the art of vanilla. Provanilla is the long-awaited crossover between commercial and artistic perfumery as not only is it in an aroma family practically unknown in natural perfumery, it takes a ho hum note and blasts it out of the water! Projection and vanilla; it's a real thing.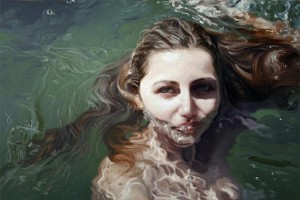 PaintingAlyssa Monks
Aquatic and neon green aldehyde diffuses vanilla into a misty cloud hovering above the skin, giving flight to the humble bean. The longevity it provides is no laughing matter- from dinner until morning with continuity through dry-down- the vanilla still adrift in pale but present seas, the incredible beauty and oddity of aquatic vanilla crested with floral capped waves breaking on island shores of sun-bleached myrrh.
Notes: five varieties of vanilla including madagascar and Mexican, balsam, coconut pulp, rose, myrrh with an aquatic accord.
-Einsof, Natural Perfume Editor
(disclosure: my sample was provided by Providence Perfume Co. for review
I chose the work of Allysa Monks, born in New Jersey and studied in Boston and New York. She is one fo the emerging stars of contemporary art and her paintings are so realistic you have look twice to see that they are not photos. She lives in Brooklyn. She is not in any way affiliated with Providence Perfume Co. I chose these images because they spoke to me as I read Einsof's review. Ms.Monks' official website is here
Travel sprays are meant to travel, and thank to the generosity of Providence Perfume Co. we have a 7.5mL travel atomizer of Provanilla for a reader anywhere in the world. To be eligible please leave a comment with why you want to try Provanilla and your favorite Providence Perfume Co. perfume. Draw closes 4/10/2015
We announce the winners only on site and on our Facebook page, so like Cafleurebon and use our RSS option…or your dream prize will be just spilled perfume