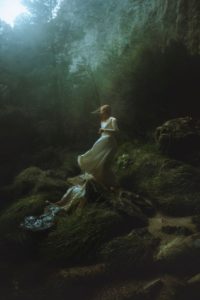 TJ Drysdale – Come away, oh, human child©
I was extremely impatient when samples of Liz Moores of Papillon Artisan Perfumes Dryad became available to my friends in the U.K. fragrance community. I did NOT want to wait, so a dear friend from Wales muled me a sample from Liz via the mail; it thrilled me to bits. I am by nature a sylvan individual; I make neither bones about it nor apology. I am happiest in a cool glade, lying beneath a cathedral canopy of conifers, deciduous trees, or both. Since I have lived by the ocean much of my adult life, Walden Pond has had to take pride of place, followed by various New England monasteries, the White Mountains of New Hampshire and the Green Mountains of Vermont. I wish I lived in the woods of Dartmoor with author Terri Windling. That is my fondest daydream.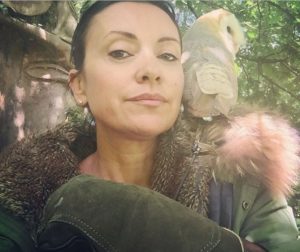 Liz Moores via instagram
Liz is fortunate to call Salisbury home, in southwest England – not far from legendary Stonehenge, as it so happens. So steeped in myth, oral tradition and history itself, our perfumer feels all of this in her waters. Her love of nature is well-known: she has five children, lives on a working farm – complete with chickens, her beloved horse Perry (and others, as well), the Bengal cats she breeds and raises, the animal rescues in which she engages (her latest nurturing is a barn owl, Ghost) and heaven knows what else. How she finds the time to create perfume is beyond my ken.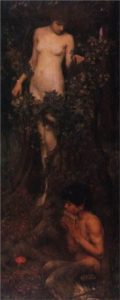 The Hamadryad, John William Waterhouse
According to Liz, "My interest in both mythology and pagan history came together in the creation of this fragrance. To put it simply, it was inspired by the earth. When walking through the forest it is impossible not to breathe in the incredible and entirely natural scents in the air. It is magical, and naturally lends itself to the exploration of mythical and otherworldly inhabitants."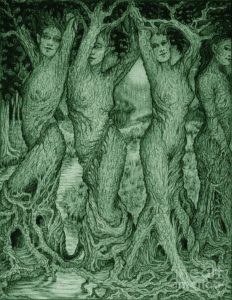 via flickr
Papillon Perfumery Dryad prevails: luxuriantly verdant Chypre as Goddess. Nothing of recent memory in the independent perfume category comes close: I cut my milk teeth on chypres, and Dryad gives me gooseflesh. Green appears in abundance and runs riot in many guises: it's herbal, floral, animalic, balsamic, earthy, mossy. Tart and sweet fruit greet the greedy nose: bergamot and cedrat (citron) tanginess juxtapose with fleshy apricot like dappled sunlight between the trees. Faeries lie amidst oakmoss, clinging to venerable trunks like lovers. They're girdled by an herbal wreath festooned with thyme, tarragon, and clary sage while lavender straddles floral / herbal territory.
Via deviantart.com
Incorrigible galbanum sings with sonorous soprano; she must be heard and paid all due reverence, for she is greenest of all – and well she knows it. Narcissus – both floral and profoundly animalic – imparts her barnyard beauty while cousin jonquil accompanies her, trailing behind a sunny disposition. Orange blossom is indolic and open-hearted; she proffers a lush, fragrant breath as she chaperones shy orris. Daylight wanes, and dusk falls upon velvet vetiver heels which tread so tenderly upon vegetal animalic costus and the resinous ambery-leathery-vanillic-woody notes provided by Dryad's instinctively gracious base, soft as a sigh.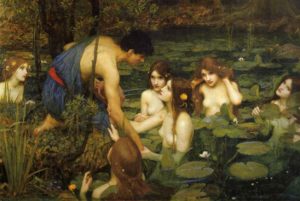 John Williams Waterhouse Hylas and the Nymphs
So much sun and shadow in the woodlands of myth.
"To the shady woods now wend we
To the shady woods now wend we
And there the midday spend we
Fa lalalala lalalala lala.
Fa lala lalala lala lala.
There Phoebus' dart is colder
And we may be the bolder."
~ Thomas Thomkins (1572-1656)
Notes: Bergamot, Narcissus, Oakmoss, Jonquil, Cedrat, Clary Sage, Orange blossom, Lavender, Orris, Vetiver, Thyme, Galbanum, Costus, Tarragon, Apricot, Benzoin, Peru balsam, Styrax
Sample graciously provided by Lisa Jones and Liz Moores; opinions, my own.
~ Ida Meister, Senior Editor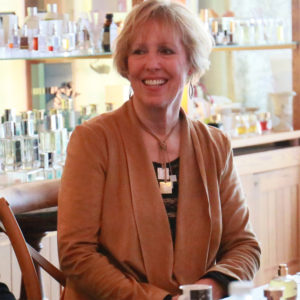 Ann Onusko of Indigo Perfumery
Editor's Note: Dryads are specifically nymphs of oak trees; the most famous from mythology is Eurydice (Orpheus' wife). Ann Onusko and Indigo Perfumery was Papillon's first US stockist in August of 2014. Ann always follows her nose and finds what's new and noteworthy.-Michelyn Camen, Editor-In-Chief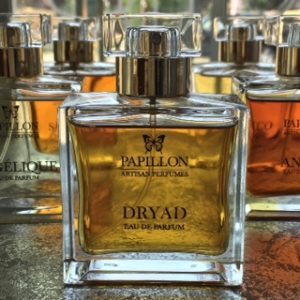 Papillon Artisan Perfume DRYAD Eau de Parfum Photo by Ann
Many thanks to the very generous Ann Onusko of Indigo Perfumery for offering a 100 ml bottle of Dryad for draw for one registered reader in the USA ONLY! To be eligible, be sure to register here. Please leave a comment with what appealed to you in Ida's review, and if you have a favorite Papillon Artisan Perfume. What mythological creature inspires you? Draw closes 7/18/2017
We announce the winners on our site and on our Facebook page, so Like ÇaFleurebon and use our RSS feed …or your dream prize will be just spilled perfume.