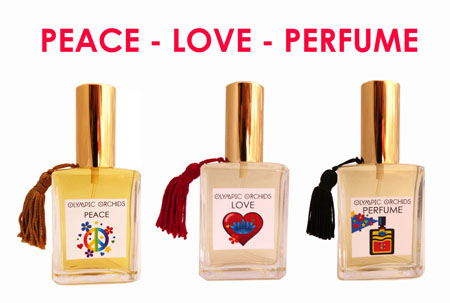 Peace, Love, and Perfume bottles
There is a perfume focused group on Facebook called Peace, Love & Perfume (PLP for short), a lively community of perfumistas with Administrator and Goodsmella Carlos J. Powell at the helm. To help celebrate the third anniversary of the group, Carlos reached out to several perfumers to see if they would be willing to create perfumes on the themes of Peace (meditative incense), Love (sexy animalic) and Perfume (classic cologne with a twist). As Carlos notes: "Ellen Covey of Olympic Orchids was one of the first to jump on board, and I couldn't have been more thrilled as I have loved many of her creations. When the samples arrived in my mailbox and I got my nose on them, I knew that The PLP Project had gotten off to an amazing start" Ellen's take on the project:"I decided that the general approach should be a 1970s peace-love-and-flower-child theme, which is probably the most obvious and conventional inspiration possible, but that's not a bad thing given the limited time I had to work on the project."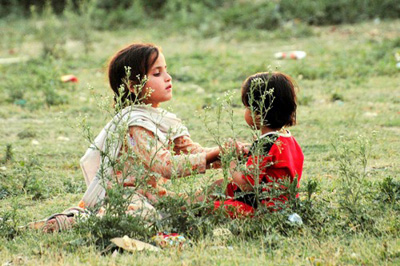 Photographer not known/uncredited website
When I first apply Peace, I get a very green, fresh fennel, which is similar to anise in flavor. We have a lot of fennel growing roadside here, and if some is crushed, the aroma is crisp and deep, almost juicy. Since there is nothing remotely licoricey in the notes, I have to suspect that it is just the way the notes play in my nose. The resinous incense is calming, and, indeed, meditative As the perfume matures on my skin, it becomes more woody and has a lovely touch of sweetness. Ellen's concept was that Peace is the oldest sister in a trio of 1970's love children, the serious and introspective one.
Notes: Frankincense, cedar, New Caledonian sandalwood, vetiver, double-distilled patchouli, benzoin, vanilla, tarragon, and Oregon lavender.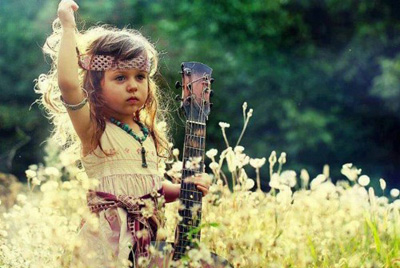 Photographer not known/Pinterest
Love is an intriguing perfume, with a similar base as Peace, but a much more floral opening. Blue Lotus is a note I haven't had much experience with, but it has a lovely waft. I smelled quite glorious as this note sang on my skin. The wood notes got a bit animalic, but in a slightly harsh way. I do admit that it is a rare wood perfume that doesn't turn sweaty on my skin, while my friends smell amazing in the same thing, so I can't blame the composition at all. The drydown loses that sharpness, and the whole perfume settles nicely. This is the earthy middle child, exploring her world.
Notes: Blue lotus, sandalwood, frankincense, benzoin, humid air, vanilla, musks, tarragon.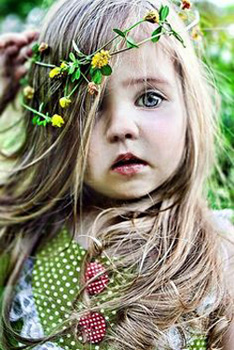 Photographer not known/Pinterest
Perfume is the cologne with a twist, and twist it does. It goes on the skin transparently, and defies gravity by lightening the woods and resins so they float above the skin. A little squirt of grapefruit tickles the nose and like pink grapefruit with a bit of sugar sprinkled on, adds a nicely fruity sweetness. An aromatic lavender, barely a ghost of scent, helps to keep the whole composition lifted. The youngest child is the most free-spirited. This one is sure to beat the heat of Indian Summer, and Ellen says she wore it frequently during the warm August of Washington State.
Notes: Cedar, benzoin, vetiver, frankincense, pine wood fraction, myrtle, airy notes, Oregon lavender, pink grapefruit.
This set of perfumes are made to wear alone or combined. I have all of them on, and I can say blending would be fun. They are all unique and well-made, although my favorite could be Perfume, and I suggest trying them all.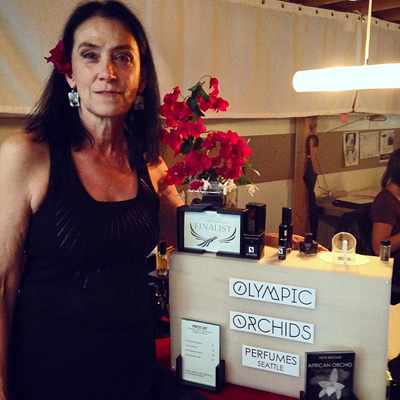 Perfumer Ellen Covey of Olympic Orchids
My samples were graciously provided by Ellen Covey at Olympic Orchids. These limited-edition fragrances will be offered as a 30 ml EdP spray for $50 (a set of all three for $120) and as 5-ml travel spray parfum for $18 (a set of all three for $45). The 30 ml bottles will be issued as a numbered set of 50 or as many as are sold in one year, whichever point comes first. The 5-ml travel sprays will also be sold for one year from the date of release.
Tama Blough, Managing Editor
Thanks to Ellen Covey, we have a great draw : For a reader in the US you can win a full 30 ml bottle of your choice or a 5-ml parfum travel set of Peace, Love and Perfume. Our internation readers are eligible for the travel set only. Please leave a comment stating which of these you would want to win, where you live and which Olympic Orchids fragrance you enjoy. Draw ends September 9, 2014.
We announce the winners only on site and our Facebook page, so like CaFleureBon and use our RSS option…or your dream prize will just be spilled perfume.