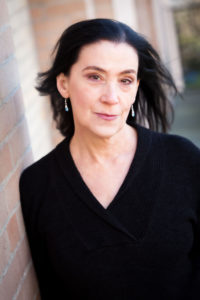 Ellen Covey of Olympic Orchids
2 x Art and Olfaction Award winning perfumer Ellen Covey of Olympic Orchids is well known for her beautifully evocative "Scents of Place". Sonnet XVII, Mardi Gras and Salamanca are three of my favorites in this genre. These fragrances, with no more than a single spritz or dab, instantly transport me to a real or imagined locale, nearby or faraway.With the new Chevalier Vert fragrance, the perfumer not only whisks me to another geographic location but also guides me into another world, an enchanted land, all but lost in the mists of time.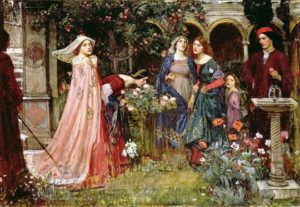 John William Waterhouse The Magic Garden
Chevalier Vert "…is inspired by the "Green Knight" of Arthurian legend, a sort of ambivalently magical chivalrous hero intermixed with an ancient Celtic god. This rhubarb-themed scent started out as a bespoke perfume made for a customer who has been kind enough to give permission to release it into my line. The scent contains the green, slightly melancholy notes of a spring garden…" Ellen Covey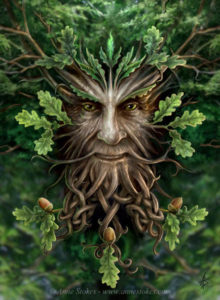 The Green Man Celtic Deity
The Green Knight personifies the enigmatic character of the Celtic Green Man – the consort of the May Queen. This Green Man/Green Knight character is also found in many other cultures and is related to the appearance of various entities representing wisdom and re-birth; Osiris, al-Khidr, Viridios and Puck, to name but a few. I find it significant that CaFleureBon introduced Olympic Orchids Chevalier Vert to the public on May Day (Beltane) 2017.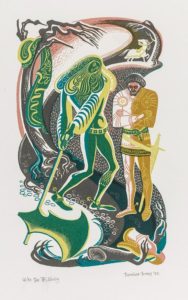 Illustration by Dorothea Braby for Gwyn Jones' translation of Sir Gawain and the Green Knight, 1952
Sir Gawain and the Green Knight, one of the most well known of Arthurian Legends, is a timeless tale of chivalry; of death and dismemberment, purity and temptation, resurrection and regeneration. Today the story continues to capture the imaginations of students, poets, artists and even movie producers. Over the years, this 14th century romance, originally written in Middle English, has been translated time and again by many scholars, including the late author and medievalist JRR Tolkien, considered by some to be the father of modern fantasy literature. Tolkien's "Ents" in The Lord of the Rings seem to be drawn, in part, from descriptions of the Green Knight in the text of this Arthurian romance. I don't want to delve into or retell the old story, but I do have time to describe how the Chevalier Vert perfume might "scent" two of the characters in the tale of Sir Gawain and the Green Knight.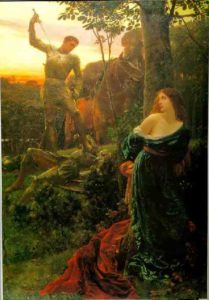 Chivalry by Sir Frank Dicksee
Olympic Orchids Chevalier Vert sets the scene with a larger than life green presence. The poem describes the Knight's color, as "a hue as grew green as the grass and greener it seemed, than green enamel on gold glowing the brighter…" This is the green of May, verdant, intense, mouthwatering and oozing with wet, spring-fed life.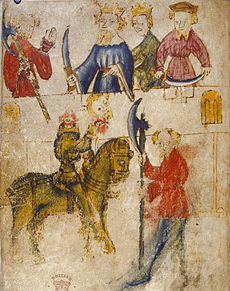 Lord Bertilak de Hautdesert via wikipedia
The tart and tang of citron and pucker-y rhubarb, compliment a pungent tomato leaf. Artemisia, adds a magical, crisp, silvery sparkle to the mix. I envision the character of the formidable Chevalier Vert himself (AKA Lord Bertilak de Hautdesert), dressed in green from head to toe, offering the honest, courageous, somewhat self-effacing, hero Gawain an extraordinary challenge. The Chevalier's hair and beard are the color of evergreens and emeralds, his skin the chartreuse of newly leafed-out maples. Mysterious and melancholic, the perfume that bears his name seems to burst with chlorophyll while remaining as tender and soft as budding fiddleheads on a bed of moss.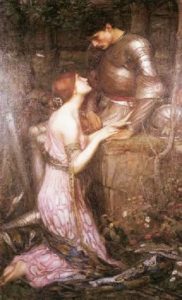 Lamia, John William Waterhouse (1905)
As the fragrance unfold it retreats closer to the skin and develops a much more feminine character. The cool scents of violet flower and leaf and sweet violet pastilles suggest the calculated innocence of the seductive Lady Bertilak. "The loveliest on earth in complexion and features, in figure, in colouring and behaviour above all others, and more beautiful than Guinevere…" – Sir Gawain and the Green Knight.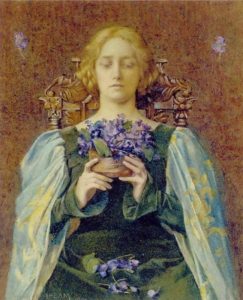 Violets Henry Meynell Rheam
I imagine Lady Bertilak to be a violet-eyed temptress, scented with the youthful freshness of wild wood violet, powdery orris and peony. Spiced and fortified with Sichuan pepper, she attempts to seduce the not quite clueless Gawain. The scent of violets also recalls the appearance of these little weeds in my spring garden and brings to mind verses of the 19th century poet Robert Browning, some of the favorite "laurels" of my maternal grandmother: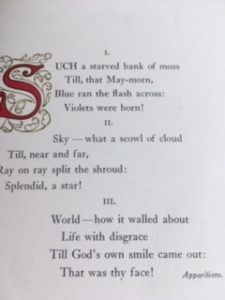 Photo from Gail's personal book
"Such a starved bank of moss
Till, that May-morn,
Blue ran the flash across:
Violets were born! …" – Robert Browning, "Apparitions"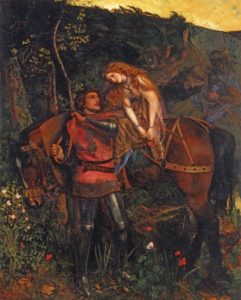 Arthur HUGHES La Belle Dame Sans Merci
The fresh floral heart of Chevalier Vert remains in place for six hours or more, eventually fading, but reborn in the dry-down, covered in sweet woods, tinted with citron, sparkling with Artemisia and the vanishing memories of violet leaves. Chevalier Vert is one of the greenest floral fragrances I have ever experienced. I love the color progression from intense deep emerald shot with threads of chartreuse moss to a muted, budding violet, finishing with translucent jade and golden green, sweet woods. Always fresh, lively and invigorating, Chevalier Vert is a cool, scented memory of long ago, perfect to wear on a warm spring day – or any time of the year.
Notes: Citrus, rhubarb, tomato leaf, armoise, violet leaf, violet, orris, and peony, Sichuan pepper and soft woods.
Disclaimer: Many thanks to Ellen Covey and Olympic Orchids for the generous tester of Chevalier Vert. Opinions are my own.
Gail Gross, Editor
Michelyn Camen, Editor-in-Chief Art Director who loves Legends of King Arthur and all things Pre-Raphaelite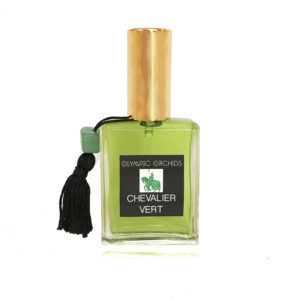 Thanks to the generosity of Ellen Covey and Olympic Orchids we have one 30ml bottle of Chevalier Vert for one registered reader worldwide (be sure to register or your comment will not count). To be eligible, tell us where you live, what appeals to you about the new Chevalier Vert fragrance, based on Gail's review and your favorite perfume from Olympic Orchids. Also let us know if you have a favorite character from Arthurian legends or love Pre-Raphaelite art. Draw closes 5/11/2017
We announce the winners only on site and on our Facebook page, so Like Cafleurebon and use our RSS feed…or your dream prize will be just spilled perfume.