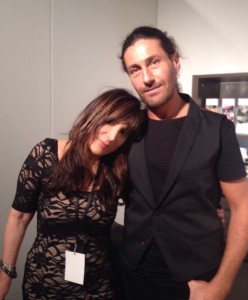 EIC Michelyn Camen and Olivier Durbano's at Esxence 2015
Olivier Durbano is a jeweler and creator of an inspiring collection of scents – Bijoux de Pierres Poèmes (Perfumes of Poetic Stones). Ancient texts, numerology and mythologies surrounding the stones play a part in M. Durbano's creative oeuvre infusing his creations with both spirituality and mysticism reflecting the artist's own persona, he has a calming and grounding effect on all who meet him. Olivier was the inspiration for the perfumer Robby L'Etoile in The Book of Lost Fragrances by M.J. Rose. M. Durbano's scents most often are named for the gemstones that inspire each fragrance, such as Pink Quartz, Turquoise, Citrine, Heliotrope, and the beloved Black Tourmaline. Last year, Prométhée was a departure and took its inspiration from the legend of Prometheus, who stole fire from the Greek gods to give to man, his 10th perfume also stole Michelyn's heart as it was a CaFleureBon Best of Scent 2014.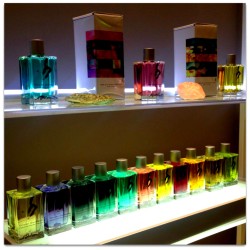 Olivier Durbano Perfume Display at Pitti Fragranze 2015
We met Olivier at Esxence in March and then I had the pleasure to see him again at Pitti Fragranze September 11th. Oliver Durbano's perfumes when displayed collectively stand out from all others , the soulful influences of the gemstones were nicely juxtaposed by the slim line bottles with their elegant edge. The coloured jus tempt and seduce with their brightly hued gloss and shine.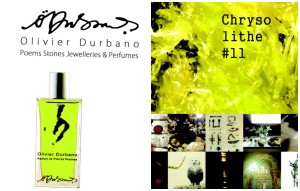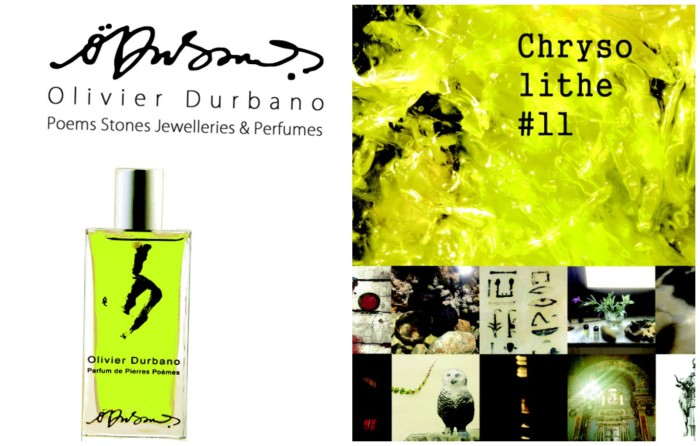 Chyrsolithe is Olivier's 11th fragrance in 10 years as a perfumer
It was at Pitti Fragranze that Durbano launched Chrysolithe his eleventh perfume. The name comes from the Ancient Greek word khrusolithos meaning gold stone. The actual gem no longer exists but it is a holy gem and signifies divine wisdom, appearing in the Kabballah, the Bible, and the Qu'aran .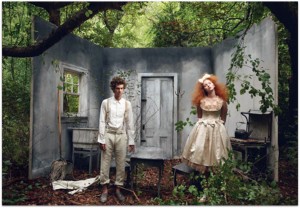 Photo by Annie Leibowitz for Vogue – Hansel and Gretel featuring Andrew Garfield and Lily Cole
M. Durbano forgoes his signature elemi incense in Chrysolithe. Chrysolithe opens with plenty of black pepper brushed with spice. The notes list cinnamon, ginger and cumin so it reads like it could verge on a souk like Moroccan styled scent. Yet on my skin this translates to a scent that is more aromatic than spicy yet it's blended in such a way that not one spice stands out. On my skin, verveine lingers providing contrast and illumination. Part of the fascination of perfume for me is learning about raw materials. Hyssop, one of the listed top notes was new to me and I'm now interested to smell this in its raw state. It's an herbaceous plant, native to the Mediterranean with small blue flowers which are used in the liquor Chartreuse and to color Absinthe (the hue reflected in Chrysolithe). It is also known as the holy flower in both the Old Testament and New Testament and was used for ritual cleansing. Clary sage and white sage oil (known to purify the spirit and to clear the mind of negativity) are key ingredients and impart a transcendent thread that runs throughout this enigmatic fragrance. It cannot fit a scent profile; herbaceous, fresh, earthy, fruity, woody, sweet and warm.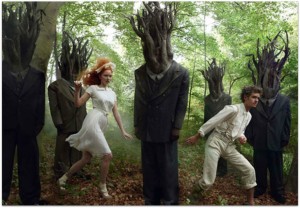 Photo by Annie Leibowitz for Vogue – Hansel and Gretel featuring Andrew Garfield and Lily Cole
At the heart, there is an herbal flourish from the white sage and rosemary that adds additional depth and texture. There is a warm floralcy from jasmine that is peaks through for a moment but unfurls on the skin. The woody base is unusual, multi-dimensional with a sense of something deeper almost leathery and more profound emanating from within. Neither heavy or transparent, Chrysolithe achieves the perfect balance.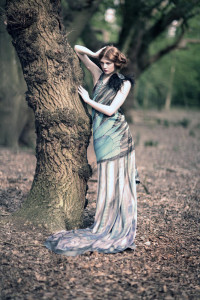 Holly by Natalie J Watts for Vecu Spring 2011, The Enchanted Forest 05
My magical moment with Chrysolithe feels like a vision quest; I am out of my body and transported to a place that may not exist but in my mind. I find myself in an enchanted forest, where trees speak and their voices whisper yearning to be heard; message carried by a gust of wind swirling under a gold burnished sky. I head towards a large rock that juts out from the landscape and beckons. The view is breathtaking, will you walk with me?
Guest Contributor: Megan Paki, and Editor Megan In Sainte Maxime
Disclosure : Sample received from Olivier Durbano at Pitti Fragranze. Opinions my own.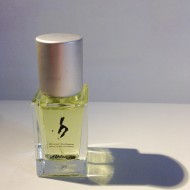 Thanks to Olivier Durbano we have three 15 ml bottles of Chyrsolithe for two registered readers worldwide. You must register folks, and use your registered name or your comment will not count.To be eligible please leave comment with why you would like to win Chrysolithe, if you have a favorite Olivier Durbano fragrance and where you live. Draw closes October 3, 2015
We announce the winners on our site and on our Facebook page, so Like Cafleurebon and use our RSS option…or your dream prize will be just spilled perfume