Fashion Designers Yves Saint Laurent and Norman Norell talking outside restaurant in New York.1965 — Image by © Condé Nast Archive/Corbis
Norell. The name that symbolizes an ideal in classic American high fashion. The man behind the label was Norman Norell (1900-1972). Norman came from humble begins in Nobelsville, Indiana, USA to become fashion legend.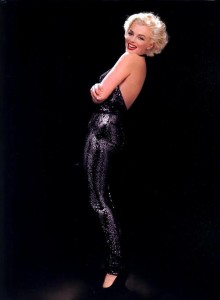 Marilyn Monroe wearing a Norell sequin gown: Photographed by Richard Avedon
Norman made his way and became an icon of the fashion industry by working hard, studying and his innate gift of a never ending eye for quality, simplicity of form and function. His designs were sought by wealthy women and he was the Couturier to American Movie stars; Lauren Bacall, Gloria Swanson, Marilyn Monroe and five First Ladies (Jackie Kennedy to Laura Bush).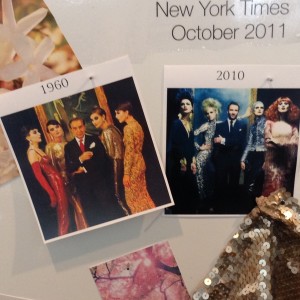 From the Norell New York Event showing 1960 Norell fashion and 2010 Tom Ford designs (Photo:Hernando)
That eye led him to become one of the most revered names in American fashion. Even though he is long gone, his influence is still felt and he was ahead of his time compare to French Designers like Courreges and Yves St Laurent. Tom Ford certainly was influenced by his signature style. Where fashion goes fragrance almost always follows In fact, he is responsible for bringing to the market the first fragrance by an American designer, Norell in 1968.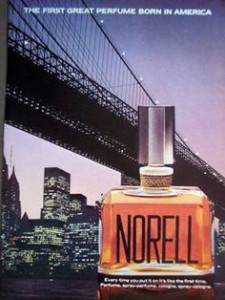 Vintage 1968 Norell Perfume Ad showing the New York Skyline
The original Norell was made in conjunction with Revlon by perfumer Josephine Catapano of IFF (Estee Lauder Youth Dew). It is a fantastic example of the green laden scents that would come to dominate the 1970's. Its composition made heavy use of galbanum accentuating a lovely mix of florals that included iris, carnation, hyacinth, jasmine, gardenia, rose, and last but not least, ylang-ylang. The base was very seductive mix of vetiver, oak moss, sandalwood, and touch of vanilla. Those years were pre IFRA and although rife with politics, the key ingredient. Iranian Galbanum, with its sharp "Love it or Hate it" knife's edge was easily sourced. In 1968, the scent was modern, sophisticated, stylish, and almost over the top without being too flamboyant. Upon its introduction in high end department stores it was met with immediate success and remained popular for many years. Unfortunately as time marched on, the fragrance left the public mindset and faded into near oblivion. .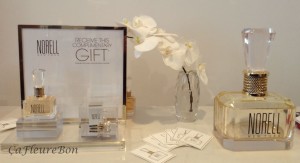 Norell New York Display (Photo: Hernando) August 19, 2015
Fast forward to 2015 and the Norell brand has been revived with a new perfume set for the lofty heights of two of the best luxury stores in America (Bergdorf-Goodman and Neiman Marcus) entitled Norell New York (EDP) by another IFF perfumer, Cèline Barel.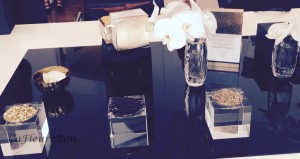 Norell New York Press Display of Raw materials including Iranian galbanum, jamine, Orris Butter, Madagascar vanilla and Vetiver: Photo Michelyn
Michelyn attended the Press event with Contributor Hernando Courtright and was shown that Norell New York used a few key ingredients that were found in the original including Galbanum Jasmine, and Orris.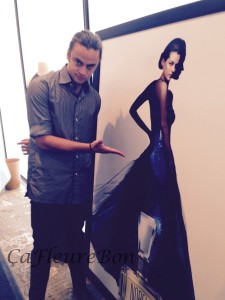 Photographer Micheal Avedon shot the Norell New York ad featuring Riley Keough in a vintage Norell gown (photo: Michelyn)
It's a completely new perfume- targeting a 21st century customer. It is indeed modern, well put together, and very feminine. The celebrity element was brought in with spokeperson and model Riley Keough, the grand-daughter of Elvis Presley. In fact, the Norell legacy lives on in the ad campaign photography of Michael Avedon who is the grandson of Richard Avedon, who worked closely with and personal friend of Mr. Norell.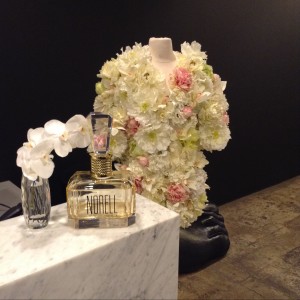 Norell New York Floral Display (Photo Hernando)
The initial blast of Norell New York is a barrage of flowers and pear with a hint of citrus drenched in a nearly gourmand toasted sweetness. Now, right off the bat, even though galbanum is listed (and a huge part of the original), I am not getting it out of this at all. For many people, this will be a very good thing as the note isn't considered "modern" anymore. As for the floral character, surprisingly, no particular flower stands out. The first to make its presence is peony. I do get the jasmine, but it is a bit – no…a lot – more subdued than the 200 petals per bottle advertised. I don't detect gardenia or orchid at all. Overall, it's more like an "impression" of flowers rather than any particular floral accord of individual constituents. The most striking part isn't even the florals…it's the aforementioned sweetness as it develops into a more distinct vanilla"ish" accord.
The mid to base stages of the perfume carry on from the top in a fairly linear fashion. After several wears, I'm still not getting a vetiver note. About an hour into it is when I notice the orris butter. The gorgeous scentof orris butter is upstaged by an almost nutty/vanilla accord (a person actually told me it smelled like hazelnuts). The end of the fragrance is a slow fade away into a very clean and pleasant musk.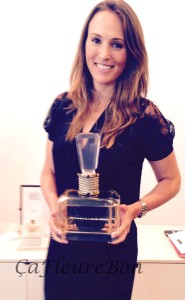 Perfumer Cèline Barel of IFF (photo: Michelyn)
Overall, I think that the perfume hits the mark for the group the company wishes to attract. It does smell very 2015. The $1500.00 baccarat bottle is breathtaking using a baudruche gold cord that harkens back to another era. There is no doubt that good quality raw materials were used and that Cèline Barel is a talented young perfumer and one to watch. For the modern young woman who wants a beautiful feminine scent, in a gorgeous bottle, certainly the brief was fulfilled. Another thing is for sure, there's nothing "vintage" about Norell New York . It was never intended to be for Grandma or Great Grandma. And perhaps that is a good thing for many of our readers.
Norell New York notes: bergamot, pear, mandarin, jasmine, orchid, gardenia, galbanum, peony, musk, orris butter, sandalwood, vanilla, and vetiver
Disclosure: I received my sample from Norell New York; Editor in Chief Michelyn sent it to me
–Aaron Potterman, Vintage Perfume Columnist and perfumer for Maison303
Art Direction: Michelyn Camen. All Photos were taken by Michelyn and NY Special Event Contributor Hernando Courtright. August 19, 2015 at the Norelll New York Press Event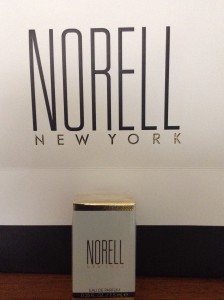 NORELL NEW YORK Eau de Parfum mini bottle (Photo: Hernando)
Thanks to Norell New York we have a 7.7ml mini bottle of the EDP for a US registered reader. To be eligible please leave a comment with what you might like about the Norell New York and if prefer modern or vintage perfumes, Draw closes 9/8/15
We announce the winners on our site and on our Facebook page, so Like Cafleurebon and use our RSS option…or your dream prize wil be just spilled perfume