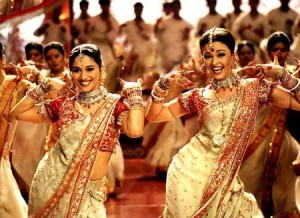 Bertrand Duchaufour is at his best when he is inspired by an exotic place. As EIC Michelyn Camen mentioned in her recent Editor's Letter our best perfumers can transport us on an olfactory vacation when they get it right. M Duchaufour has successfully transported me many times in the past and is one of my most trusted perfume travel agents.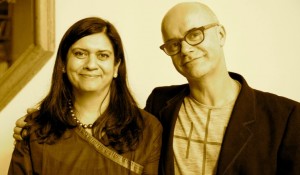 In this latest excursion M Duchaufour collaborated with Neela Vermeire to create a collection based on India for the new niche line Neela Vermeire Creations. The three fragrances had a sneak preview during the Paris exhibition, Rives de la Beaute. The collaboration was described in the program like this:
Neela Vermeire Creations presents an olfactive
journey inspired by India.
Neela conceived these perfumes dedicated to
India, her birth country from her hometown Paris.
A trained lawyer, she promotes art and is fascinated
by everything sensorial. Neela brings a purist's
approach to the components that make up her
essence of India, combining childhood memories,
Vedic rituals, Mogul splendour, influence of British
Raj and vibrant modern India.
Bertrand Duchaufour, the famous perfumer and an
admirer of India created the fragrances. His creative
process follows two principles; he believes that
balance is achieved when opposites attract and
nothing is lost nor is created, everything is transformed.
He distorts and deconstructs nature, playing
with contrasts such as vegetal and animalic notes.
Different in style, each perfume reflects the
traditions of an era and encapsulates its essence,
bridges that era with the present and is dedicated to
the eternal India.
The three fragrances are Trayee which is meant to represent the Vedic Period, Mohur which represents the India of the Moghul- Raj, and finally Bombay Bling! which describes modern India. Mme Vermeire allowed M Duchaufour to create with the best raw materials so he could realize her vision completely. For those of you who love the exotic in your fragrance this collection feels like a Bollywood film in three acts.
Act 1 Trayee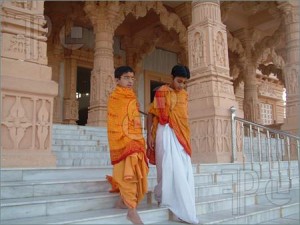 Trayee is meant to evoke the Indian spiritual landscape and so M Duchaufour creates a smoky temple milieu. It is full of spicy smoke as cinnamon, saffron, clove, and basil ride on a cloud of ganja. The opening of Trayee is immediately transformative as from the first moments on my skin it takes me to a meditative place. As Trayee evolves, a mix of Jasmine Sabac and Egyptian Jasmine add an opulent floralcy and then we move into a base of real Mysore sandalwood and Laotian oudh. I believe the Laotian sources of oudh are the most interesting and it is almost a given that real Mysore sandalwood is the most special version of that note. These two notes together create a special coda to Trayee which evolves further as myrrh, vanilla and amber create a slightly sweet finish. This is an amazing example of what great ingredients can accomplish.
Act 2 Mohur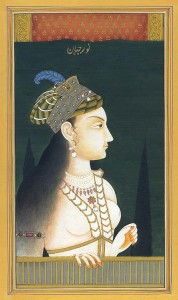 Mohur is inspired by Mehrunissa, an Empress of the Mughal Dynasty. After the Emperor passed away she spent the remainder of her life devoted to perfume making. M Duchaufour imagines her fragrance to be a mix of very feminine rose and strong leather. An elixir befitting a woman who showed her power in a time where that was rare. Mohur opens with spice but a different shelf on the spice rack from Trayee. Mohur uses coriander, ambrette seed, cardamom and black pepper to start. The spicy kick of the pepper leads to rich Moroccan rose absolute which is supported by orris and jasmine. The rose here drips with elegance and sophistication. Then Mohur shifts to a strong leather accord and now feels like rose crushed in a fine leather glove. Mohur finishes on a sweet mix of tonka and vanilla along with some light woods. Mohur is a fragrance for those of you who love roses it is a deep and full-bodied delight.
Act 3 Bombay Bling!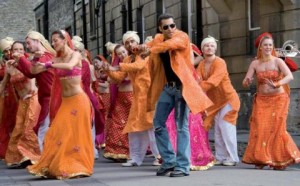 Bombay Bling! is the most fun of the three fragrances and my favorite. Bombay Bling! is supposed to represent modern India and Bollywood. It is undoubtedly fun to wear although there is still some serious perfume composition happening here. The simplest way to describe this is as a fruity floral and that is true. I found Bombay Bling! had more life to it than most fragrances in this sector. It felt so full of life I felt like I was singing and dancing down the streets of Mumbai while wearing it. Bombay Bling! uses a wonderful tart green mango to get underway; currant and lychee join in to keep this a unique fruity opening. The heart is a kitchen sink of great floral notes and what could have been a floral miasma is instead turned into a floral harmony of many voices. Rose, jasmine, ylang-ylang, tuberose, frangipani, and gardenia create a floral accord full of indolic splendor. This is the part of the Bollywood musical number where everyone is dancing on the street and the air is filled with flower petals. As everyone goes back to what they were doing before they burst into song Bombay Bling! settles down to a mix of sandalwood, cedar and vanilla to finish on a clean lightly sweet woody accord.
All three of these fragrances have excellent longevity and average sillage.
All three fragrances in the Neela Vermeire Creations show what talent, vision, and the best ingredients can accomplish; art in a bottle.
Disclosure: This review was based on samples provided by Neela Vermeire Creations.
Thanks to Neela Vermeire Creations we are able to offer a sample set of 2mL samples of all three fragrances. To be eligible leave a comment telling us which one of these three fragrances will be your favorite. Draw will end on November 8, 2011.
We announce the winners only on site and on our Facebook page, so Like Cafleurebon and use our RSS option…or your dream prize will be just spilt perfume
–Mark Behnke, Managing Editor