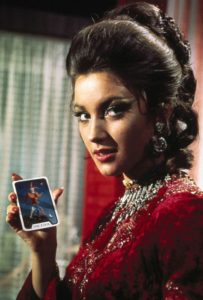 Jane Seymour Live and Let Die Solitaire James Bond The Fool Tarot Card 1973
'..But the fool on the hill
Sees the sun going down
And the eyes in his head
See the world spinning round..'
From The Fool on the Hill by The Beatles.
There are only a few brands that have really impacted on the Fox and his scented work. People ask me why I write on niche and artisanal olfaction. The answer is the people. The handsome boys Alessandro Brun and Riccardo Tedeschi at Masque Milano, Gabriella Chieffo, Victor Wong of Zoologist Perfumes, the ravishing Liz Moores at Papillon, the empress of sensuality Vero Kern, Jeroen Sogtoen at Mono di Orio, Mr Wonderful Carlos Huber at Arquiste, Dom de Vetta the amazing Creative Director of Shay & Blue and perfumers Luca Maffei, Cécile Zarokian, Pierre Guillaume, Hans Hendley, Antonio Gardoni and Josh Meyer. Just some of the extraordinary people who now enrich my aromatic days and whose work has inspired plush and manifold words from the Silver Fox.
Mendittorosa Odori d'Anima Stefania Squeglia Photo Mendittorosa Odori d'Anima
To this list I must now add Mendittorosa Odori d'Anima and its charismatic Creative Director and brand owner Stefania Squeglia, one of the most intriguing people in contemporary perfumery in this humble Fox's opinion. She openly indulges in her passions for astrology, olfactive runes, fate and spirituality, pouring these desires into her collaborative odiferous work with perfumers, glassmakers, jewelers, poets, dancers, designers and a coterie of likeminded friends. She is a woman of huge heart and creative voltage. So many niche brands talk of soul and aromatic perception and make it sound excruciatingly twee and self-serving. Stefania's Mendittorosa is different; there is honesty amid the occasional arch phrase and broken English, a genuine sense of yearning connection directly from Stefania to us, our skin, emotions, fate and desires. She is a woman who understands difference.
Stefania is not the perfumer, her background is in event management but she always wanted to use her creativity to make scent. However do not make the mistake of imagining she is in any way hands off or doesn't understand her chosen medium. She works very closely indeed with her perfumers as ideas and mods go back and forth, intently examining the genesis of her visions and abstractions take scented form.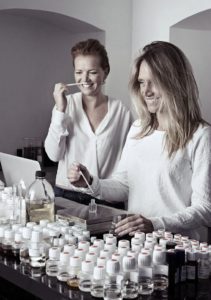 Amélie Bourgeois and Ann-Sophie Behaghel of Flair (photo Flair)
The actual perfume making duties are shared by the talented duo of Amélie Bourgeois and Ann-Sophie Behaghel of Paris-based FLAIR. As well as Mendittorosa, Amélie and Ann-Sophie have created work for Jovoy, Frapin, Room 1015, and Les Liquides Imaginaires. However the essence, design and overall ambience of the brand is pure Stefania. You can feel it in the unique way the juices have been interpreted by Flair, echoing Stefania's preoccupations with faith, fate and soul maintenance. Using a rather eccentric and personal palette of materials to create a range of perfumes that have oddity, familiarity mingled with shards and whispers of the unexpected. Lava, bread, nuts and sea urchin entwine with herbs, flowers, leather, woods and creamy, dreamy musks.
Mendittorosa Odori d'Anima perfumes collage and photo TSF
There are eight Mendittorosa fragrances; a trio – Alfa, Id and Omega; a duo – North and South, Le Mat the magnificently bizarre Sogno Reale, and most recently the galactic wonder of Nettuno. The name Mendittorosa is suggestive more than anything, a constructed word from the imagination of Stefania hybridising Mediterranean and rose perhaps, two highly evocative images for anyone interested in scent, travel and love.
The intriguing subtitle – Odori d'Anima, 'scents of the souls', refers to Stefania's profound belief in the importance of the soul, caring, feeding it and I suppose scenting in it a leftfield kind of way. Her criss-crossing in and out of philosophies, tarot and faith has instilled a firmly held belief that finding the right perfume for your soul can fill a void or provide a piece of a puzzle that may have been missing. Stefania has woven her personal creed and sparkling ideas into a range of forceful and compelling fragrances.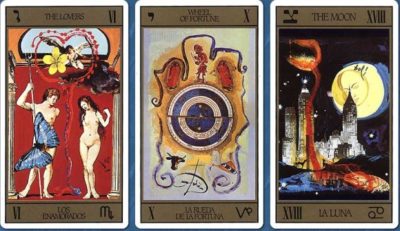 Tarot Cards designed by Salvador Dali. There is a rumor that Albert Broccoli comissioned this deck for Live and Let Die but they were not ready so he kept them as his own
My three favourites though are the plush, velveteen expanses of Le Mat, the fruits de la mer contradictions and surrealism of Sogno Reale and the spinning cyan sanctuary of Nettuno. (I do have a soft for the weird volcanic boom of Id…)
Mendittorosa Odori d'Anima Le Mat photo TSF
These three are the jewels in Stefania's collection of olfactory eccentricity and now form a separate collection entitled Talismans Collezione Preziosia, a premium high end line of extrait strength concentration perfumes. They are her Talismans, her totems, rabbits' feet, fetishes and rosaries in all their myriad redolent complexities. I think Le Mat is the most perfect starting point for anyone who wants to sample this innovative and sensual line. It was the first Mendittorosa perfume I ever put on my skin from samples sent by Jakub the lovely guy who deals with Stefania's press and PR and it the beautiful impact of it has stayed with me.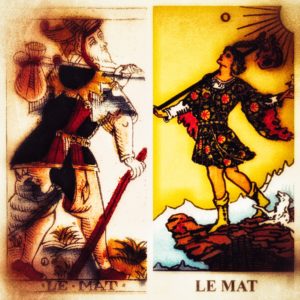 Le Mat Tarot Cards (The Fool) collage by TSF
Le Mat is the French name for The Fool in Tarot Card Major Arcana; indeed the packaging for Le Mat is decorated in a classic old style interpretation of the Le Mat from the Tarot of Marseilles genre of design. The Fool is an odd and enigmatic card in Tarot lore; it is the only unnumbered card and seems unencumbered by the often-queasy fatalism and dubious romanticism that affects the other cards. I am no Tarot expert and hardly the right person to really hold forth on such things; I believe we make our own fate and live our days towards it as best we can.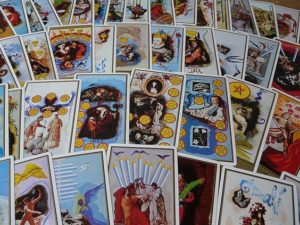 El Zodiaco de Salvador Dalí
But I have met many people who have put their faith in the choosing and turning of these divisive decks, so who I am to judge? The Fool is a journeyman to many, setting out perhaps ill prepared, afraid, perhaps over-confident. There is a scent of change, a buzz of optimism as situations shifts, faces changes, love grows. We may always have the right spiritual equipment for the tasks at hand, but we have intent and belief.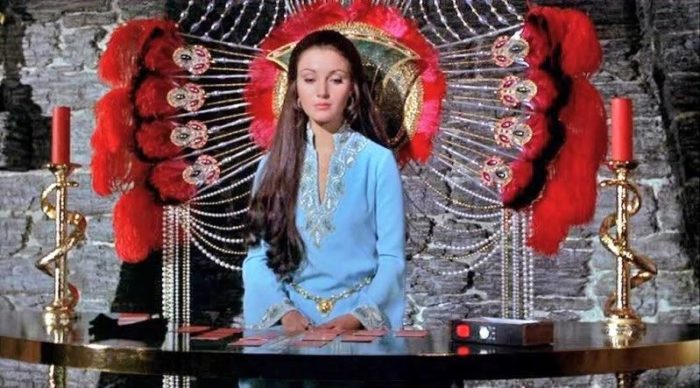 Jane Seymour as Simone Latrelle aka Solitaire for the James Bond film, Live and Let Die. 1973
It is an alluring name and idea for a scent. Stefania was interested less in the future-telling aspects of Tarot, more the complex set of symbols and multiple meanings layered into the cards and their depictions. Le Mat is a thrilling creature, deceptively balsamic, warm and sensual. It begins aloof, suspended even. Then you can sense the immortelle powering up, igniting like bushfire beneath a lush rose and roasted patchouli. Now I had huge flashbacks and just general flashes as Le Mat opens its hot tenderness. Its oriental haze feels like a clever and haunting nod to the Mousse-de-Saxe-based beauties of classic Caron, the house founded in 1904 by Ernest Daltroff. I know that so many of the great Carons have been altered by reformulation; I have been lucky enough the years to wear some original juice: Nuit de Noel, Poivre, Bellodgia, En Avion and my beloved obsessive Tabac Blond. In pure extrait form, this is almost unbearably sublime, a scent of leathered, lipsticked time, swathed in the nostalgic haze of movie tobacco and sexual desire.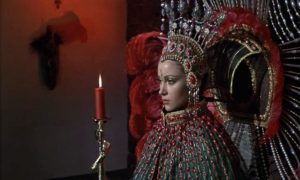 Jane Seymour as Solitaire for the James Bond film, Live and Let Die
As soon as I first inhaled Le Mat off my skin, I knew it echoed in my vintage cortex these damaged Caron odours. Many of the great Caron classics contain a lot of the same materials, motifs if you like. Carnation, rose, black pepper, oppoponax, sandalwood, jasmine and clove. These are muttered like an incantation over that secretive Mousse de Saxe base and then subtle yet recognisable notes such as mimosa, vanilla, vetiver, amber, licquorice and violet might be added to create another riff on the luxurious Caron quintessence. Le Mat echoes to the Caron floral-flushed chyprés. Technically a true chypré should have oakmoss and labdanum in the formulation, neither of which occurs in Le Mat. However the potent rise of Grasse rose and geranium, spiked with pepper and sweet clove over the carefully considered triptych of patchouli, cashmeran and anisic immortelle do create a flickering homage, a warm-hearted neo-chypré. The base triptych I mentioned above do an interesting job of suggesting the dry, tinder-like formality of oakmoss and labdanum whilst forging their own rummy, umber-toned identity. It wears beautifully on skin, stretches out into the night, glowing like embers.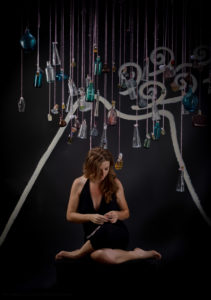 Stefania's world
Le Mat and the other Mendittorosa Odori d'Anima perfumes are all very special; they all have elements of their creatrix Stefania Squeglia woven through them. This is an important point; the juice is scent as protection, incantation, olfactive rue and a mirror or sorts of you the wearer that chooses it. Stefania would not have it any other way. They are beautiful fragrances and deserve a wider audience…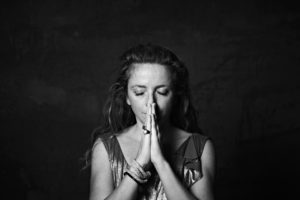 Stefania Squeglia
Perfume as soulfood. Whether or not you buy into this depends on how much you believe fragrances can affect/alter how we feel on a much deeper level than perhaps we are used to. All I will say is that I have deeply in love with these Mendittorosa Odori d'Anima perfumes and the teams behind them are people I like to think of as friends. They have wowed me with their heartfelt creativity, eccentricity and non-conformity.
Disclosure: I received samples; opinions my own
–The Silver Fox, Guest Contributor and Editor of The Silver Fox
Art Director Michelyn who was taught to read cards as a young girl by her grandmother
Editor's Note: Good news for NYC … Mendittorosa Odori d'Anima is available Twisted Lily Fragrance Boutique and Apothecary now. I met Stefania at Esxence 2016 and Sniffapalooza Spring Fling, all too briefly but she has such charisma and an open heart I had wished we had more time together. –Michelyn Camen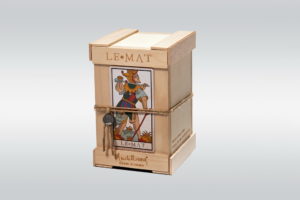 Thanks to the generosity of Mendittorosa Odori d'Anima and Stefania Squeglia we have a 100 ml bottle of Le Mat Extrait from the Talisman Collection for a registered CaFleureBon reader worldwide (you must register or your entry will not count)
OR a sampler of all eight Mendittorosa Odori d'Anima fragrances from both the Talisman and Anima line. To be eligible please leave a comment with what you enjoyed about TSF review of Le Mat, if you have ever have had a tarot reading, or carry a talisman, where you live and your choice of the sampler or the 100 m bottle of Le Mat Extrait. Draw closes 7/17/2016
We announce the winners on our site and on our Facebook page, so Like Cafleurebon and use our RSS option…or your dream prize wil be just spilled perfume