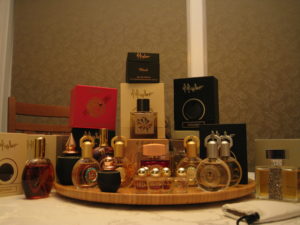 Gail's collection of M.Micallef Parfums (she purchased almost all)
I am an inveterate collector. I admit it! A few years ago, when it became trendy to collect "experiences" instead of "things", I began to feel somewhat embarrassed about all the stuff I had amassed over the years – the stamps, rocks and minerals, jewelry, jade, pottery, porcelain and glassware, shoes, first editions of 19th century music, vinyl recordings, sea shells…The only collection that fit in with the "experience" trend (and the one I never felt I had to apologize for) was and continues to be my collection of perfumes. Collecting fragrance is very different from, say, collecting seashells. Bottles of perfume can be works of art or nostalgic reminders of the past. The scents in the bottles can evoke very personal or more broadly cultural memories related to places, people and events. Also, perfumes are experienced directly as notes and accords that color our lives with vivid and immediate olfactory messages and impressions that are new and fresh with every wearing. Collecting perfumes is about collecting dreams, memories and immediate experiences as well as the bottles themselves, to be displayed on shelves or stored in cool, dark cupboards.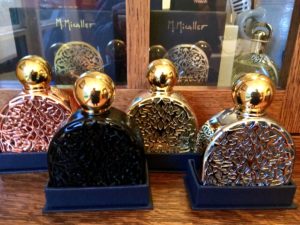 Secrets of Love Collection by Gail
In my large collection of fragrances the creations of Parfums Micallef stand out, not only for sheer numbers but also because the scents themselves are favorites that I wear often and the bottles are some of the most beautiful I own. Martine Micallef, Geoffrey Nejman and Jean-Claude Astier continue to tempt me with their visual and olfactory arts. One of M. Micaleff's newest creations(there were 9 shown at Esxence 2017), Secrets of Love Gourmet, the latest in the Secrets of Love Collection, is described by Parfums Micallef as: "Gourmet and Sensual. The warmth of unfurling incense woven with the brightness of chestnut, mingling with the intense leather and lush vanilla notes. Noble, intoxication, an irresistible love declaration. Love is for epicureans – be GOURMET".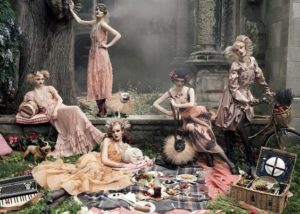 Tim Walker for Vogue UK©
The word "epicurean" is a perfect description for the new M. Micallef Gourmet fragrance. "Epicurean" originally referred to the philosophy of the Greek Epicurus, identifying good with pleasure but recommending a quiet, withdrawn and moderate lifestyle. Over the years the word has come to be identified with the connoisseur and the cultivation of refined tastes in food, music and art.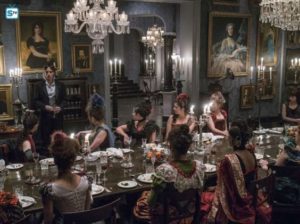 Dorian Grey presiding over an evening of hedonism and fine cusine (Penny Dreadful SHOWTIME )
The word has also morphed into a meaning akin to hedonism and a devotion to excessive luxury and indulgence.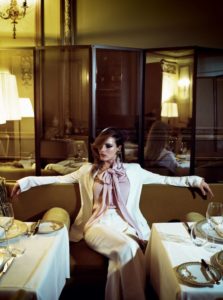 Leva Laguna by Regan Cameron for Harper's Bazaar UK April 2016©
I associate the new Secrets of Love Gourmet with the epicurean notion of pleasure, refinement, luxury and sensuality but especially with the philosopher's idea of "ataraxia" – the experience of optimal, enduring pleasure and inner tranquility – never in excess (like many of my collections) but always balanced. Secrets of Love Gourmet opens with leather and a hint of something nutty, sweet and smoky – the scent of slightly burnt sugar caramelizing in a pan or perhaps the creamy sweet smell of toasting chestnuts (I have always liked the smell of roasted chestnuts better than their taste).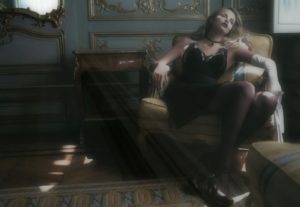 Natasha Poly by Willy Vanderperre for Vogue China November 2012​©
This initial smoke, nuts and sweet leather develops after a few minutes into a buttery and glowing vanilla chestnut torte. A touch of something phenolic – the residual leather perhaps – or the effect of aoud, incense and burning frankincense, remove this Gourmet from the realms of the Gourmand and create a sensual and intoxicating oriental fragrance. Secrets of Love Gourmet is a rich and bold perfume with a hint of violet and a slightly tart raspberry that keep the fragrance bright and airy enough to wear any time of the year. The sillage is pronounced but polite and the longevity is at least eight hours on my skin and days on clothing. Secrets of Love Gourmet dries down much like it begins, with burnt sugar, vanilla and leather and finishes with labdanum, woody notes and aoud. M.Micallef Gourmet is pure pleasure, recalling the words of the philosopher Epicurus: "Pleasure is our first and kindred good. It is the starting point of every choice…"
Notes: Incense, raspberry, violet, leather, chestnut, labdanum, aoud, vanilla.
Disclaimer: I would like to thank Parfums Micallef for the beautiful bottle of Secrets of Love Gourmet. My opinions are my own.
Gail Gross, Editor
Art Director: Michelyn Camen Editor-in-Chief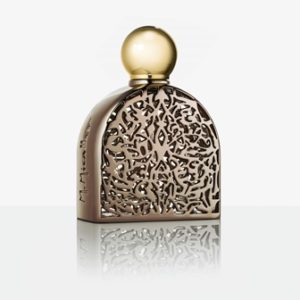 Thanks to the generosity of Parfums M. Micallef we have one 75 ml bottle of Secrets of Love Gourmet available to one registered reader anywhere in the world. (Be sure to register or your comment will not count). To be eligible for the draw, please let us know where you live, tell us what appeals to you about Gail's review of Secrets of Love Gourmet, what you collect, and let us know which M. Micallef fragrance brings you the most pleasure. Draw closes 4/14/2017
We announce the winners only on site and on our Facebook page, so Like Cafleurebon and use our RSS feed…or your dream prize will be just spilled perfume.