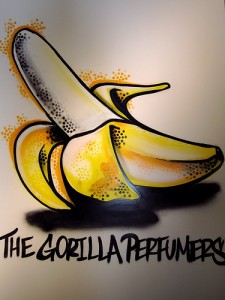 I have been a champion of Gorilla since my violent love of The Smell of Weather Turning (from Vol 1), and the polarising piscine & brimstone of Lord of Goathorn (from Vol 2). This second collection was especially good, a tapestry of scents examining a sense of landscape and pagan spirituality virtually unheard of in contemporary scent.
Photo: LUSH Gorilla Perfumes
Now we have Volume 3 of Gorilla Perfume's olfactory journey. This has been a tricky library to read; 'Death, Decay & Renewal' is the overall moniker for this dissonant gathering. There are intriguing motifs at play here: family, death, parting, growth and erosion. It's an ambitious brew of concepts that does not quite cohere but amid the fractious odours pieces glitter and glower.
Death & Decay Gorilla Perfume
There are too many scents in this collection, I would have released three or four and gauged opinion. But what is done is done and Gorilla fans must make up their own minds. The obsession with garden as sanctuary… a place of remembrance is in theory a worthy and emotive idea. Simon Constantine has mined this green-fingered abstraction with Kerbside Violet, Chamomile & Honeysuckle, Princess Cottongrass and Dad's Garden: Lemon Tree, none of which really quite hit that eccentric Gorilla mark. They feel a little empty. Smugglers Soul is calm and sadly fleeting exploration of sandalwood, accompanied by a bonkers comic strip style book, inspired by Simon Constantine's global sourcing trips. The intriguing premise of The Presidents Hat is lost amid the anisic fug of patchouli and a bitter tang of something that smells like singed sleeve. Nonetheless there are some arresting aromas amid the cacophony of notes. My personal favourites are Death & Decay, an acerbic funereal lily scent and All Good Things, a melancholy essay in aftermath and sweet emptiness.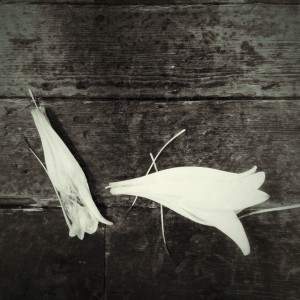 Photo: The Silver Fox
Death & Decay is a bold name for a scent; marketed as a lily soliflore, Death & Decay is in fact an ylang scent, thick with jasmine, tonka and rose. There is a strong campheraceous furcoat-in-the-wardrobe note in this mix that drives me crazy. I just love that vintage, rummagy smell. Lilies swing languidly between carnality and purity. They are wicked blooms, but lordy they have such alabaster form and curve. I like the dropper bottle for this perfume too, it makes the application seem medicinal and murderous. Death & Decay smells like poison, glittering and dangerously alluring. It is not a comfortable floral but one with De Medici cunning and vintage echo.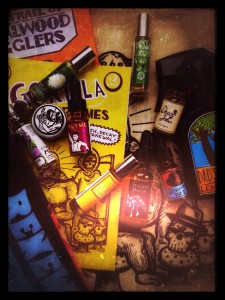 Photo: The Silver Fox
Rumour has it that All Good Things is quite the personal portrait of someone who worked for Lush/Gorilla for many years and only recently parted company with them. It is a scent of goodbye, of endings and the memories of scented times shared. (But what if the two sides remember differently?) Anyway this is a bittersweet Gorilla gourmand; cade oil, cedarwood, rose and a sticky and honeyed tonka note have been assembled over a disconcerting base of sooty clove and woodsy vanilla. It's a strong scent, complicated and demanding. To me it smells like the morning after in bars before the smoking ban kicked in, tacky floors, the whiff of ashtray and the leftover swirls of cheap fruity scent. There is definitely an after-hours hipster vibe to All Good Things. It comes into its own, like many late night venues, hours later as the cade oil beds down and the tonka sweetens the air. The label is plain, but the scent is rich in imagining.
Check out Volume 3 for yourselves, Lush and Gorilla have a fiercely loyal following and rightly so, they have transformed our experiences of ethical beauty. Gorilla scents are not everyone's cup of tea and this is a good thing. They are esoteric and fervently loved by a vast network of diverse and passionate individuals. I will always have Gorilla scents in my collection as I like them and they remind me that scent can be so different; fine fragrance is good, but sometimes hand-drawn scent is better. It's a mood thing.
Disclosure – Review based on collection kindly provided by Gorilla Perfume. Many thanks to Vickie for arranging
Editor, The Silver Fox and the Editor of The Silver Fox
Editor's Note: At this time Gorilla Perfumes Death, Decay and Renewal has not launched in the USA, but you can order online at Lush UK.