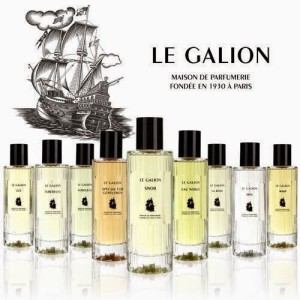 When asked to review the new Le Galion colognes I was ecstatic. Why? I LOVE the history of the house. One of the very first perfumes that started my fever for vintage was none other than Sortilege. My how I was smitten by that fragrance. As time went on I collected more of anything Le Galion that I could find. A couple more that struck my fancy in particular were Jasmin and Snob. Both are absolutely lovely but vintage isn't the focus of this review.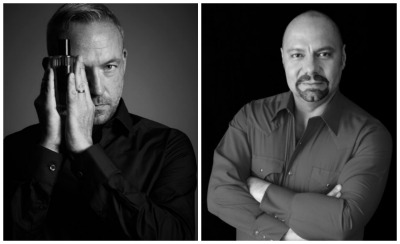 Creative Director Nicolas Chabot and Master Perfumer Rodrigo Flores-Roux
2016 brings us two new colognes to add to the illustrious line of Le Galion. Both are the creation of Master Perfumer Rodrigo Flores-Roux of Givaudan in close collaboration with Creative Director Nicolas Chabot. Rodrigo Flores Roux is one of the world's most respected perfumers and is responsible for more than a few of my favorite creations of the recent past. With the new editions (Cologne and Cologne Nocturne) he continues to provide another piece of the story in perfume history for not only himself, but one of the most important houses of all time.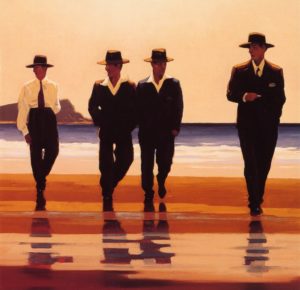 Bully Boys Jack Vettriano
I'm going to come right out and say right from the get go…Cologne Nocturne is an absolute pleasure to wear. It is one of those colognes that fits just about any occasion with a sense of style from a somber night at home to the most regal gathering one could imagine. When I first sprayed this I was overcome with a very big wow factor. It really is striking, but not in that annoying department store grab them by the throat type of a way. This exuded confidence. The first note I recognize is Cedar. It is quickly tempered by a spice like accord that that marries other more indescript woody notes to the cedar while a slightly camphorous lavender ties everything together masterfully. After about 10 minutes lavender and cedar are undoubtedly the focus of the fragrance, but then something happens. Shortly thereafter the aspects of traditional cologne comes roaring out of, quite literally, the woodwork.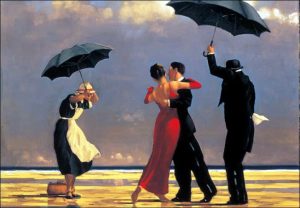 The Singing Butler Jack Vettriano
It is truly remarkable. It's like all of a sudden a lemon cologne bomb explodes with the most sweetly tart juice you could ever dare imagine yourself being doused in. I kid you not; this bomb decimates EVERYTHING in a glorious cloud of nostalgic wonderment. At this point there is no arguing that this is definitely a citrus cologne in structure, period. I almost hear it saying, "I am cologne, hear me roar!" The thing is, it does it in a most dignified manner. Again, I repeat, truly, truly remarkable. As the bomb's effects give way the aftermath shows that nothing was destroyed, but things were indeed changed. The tartness of the citrus is coalescing with sage to further accentuate the lavender and cedar notes from before. Here I get the impression of fresh cut Russian Sage in a cedar soaking barrell full of water. For a guy like me, this is glorious imagery. It's at this stage that I also notice something that reminds me of Rodrigo's previous work. In particular Inverse done for Kylie Minogue. While the two are very different, there's something in the DNA that ties them together to their creator. To me, there's a signature, or shall I say autograph?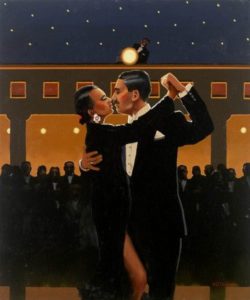 Starry Starry Night Jack Vettriano
The final drydown leaves us with a hint of patchouli in an ambery cloud of slightly wet woods. Very classy and refined. When it's all said and done around 7 hours has past and I can not help but feel that I just witnessed something very, very special. It's a cologne that's rustically handsome for the ladies and elegantly beautiful for the gents. I think of it myself like this…this is the kind of stuff that makes memories and, fortunate me, I just witnessed history in the making.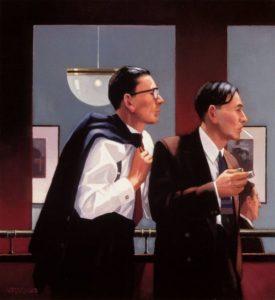 Jack Vettriano Men in White Shirts
For the 2nd half of the week I wore Cologne as my office scent. Cologne was the outcome of an imagined visit with Le Galion's original perfumer (Paul Vacher) with Rodrigo enjoying the gardens at of the mansion house of Le Galion. I must say, it was a lovely visit as I observed it virtually as a movie in the mind. The main attraction of the scent is certainly oranges and the flowers that beget them. The sun is shining brilliantly and the air is just the right temperature to permeate the breeze with the scent of a million orange blossoms.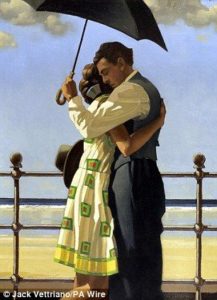 The Secrets of My Success Jack Vettriano
Amongst the trees are other fragrant delights that titillate the senses at certain moments acting to support the neroli/orange blossom, but never undermine her supremacy. It's very easy for me to see a flash of vivid colors in this cologne; hues of green, white, orange, blue dance vividly, albeit calmly, in my head. Most of all, it makes me realize what is special about the art form of cologne; it serves as a reminder that what was, can still be…classic is still elegant.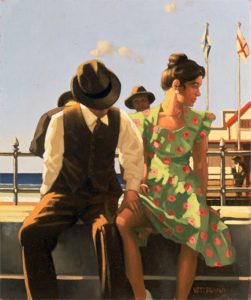 A Voyage of Discovery Jack Vettriano
With Cologne I think we can come to the realization that some stories will never get old, it's just the characters and the medium that change (yet, somehow, stays the same) over time. Almost as if the authors, actors, and actresses have learned and built upon everything that came before them and then super infused their characters with charisma all while being shot in ultra high definition. Another thing, this isn't over in a couple hours. Oh no….this goes on for way more than that (about 6 hours in, it is still very apparent on the skin). Even after it is nearly gone (8 hours or so), it's still slightly present. So, yet again, I have witnessed history in the making.
Disclosure: Samples sent by Rodrigo Flores Roux on behalf of Le Galion, opinions my own
Aaron Potterman, Contributor and Vintage Perfume Expert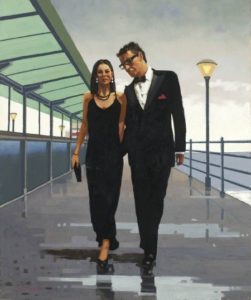 The Morning After Jack Vettriano
Art Direction Michelyn Camen, Editor in Chief. I chose the contermporary artist Jack Vettriano, born in Scotland with a purpose. His work stresses craft over concept, neo-relaistic and depict nostalgic encounters and for me a great fit to Aaron's reviews. Just as Le Galion had a celebrity clientele including Marilyn Monroe, Judy Garland, Ava Gardner, Brigitte Bardot and Bette Davis, Jack Vettriano's paintings (which have sold for extraordinary prices) are collected by Tim Rice and Jack Nicholson.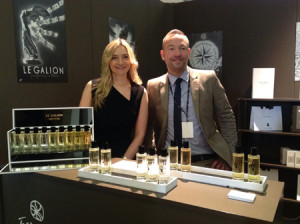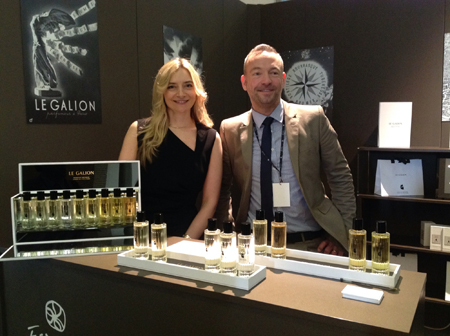 Nicolas Chabot at the Launch of Le Galion Esxence 2014- Photo by Tama Blough
Editor's Note: Le Galion, Nicolas Chabot and Rodrigo Flores-Roux will always be very special to CaFleureBon. The first reviews of the newly restored House were written by our beloved and much missed Tama Blough who met Nicolas at Esxence in March of 2014, (Nicolas is featured in our Creative Directors in Perfumery series.) In addition Rodrigo Flores-Roux is not only one of the best perfumers on the planet, a friend who I have known nearly a decade and a vintage perfume lover. John Varvatos' Dark Rebel ( youtube review by Sebastian Jara) is a top five finalist in the upcoming Fragrance Foundation Awards in the Men's Prestige Category.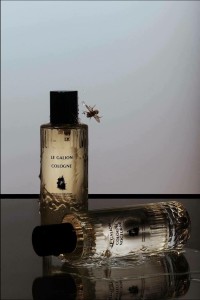 Le Galion Cologne and Cologne Nocturne (photo Roberto Greco)
Thanks to Nicolas Chabot we have a worldwide draw for a registered reader for your choice of COLOGNE NOCTURNE, OR COLOGNE. You must be registered To be eligible, please leave a comment about what appealed to you about Le Galion Cologne Nocturne and Cologne from Aaron's review, if you have experienced Le Galion, where you live. Draw closes 5/20/16
We announce the winners on our site and on our Facebook page, so Like Cafleurebon and use our RSS option…or your dream prize will be just spilled perfume