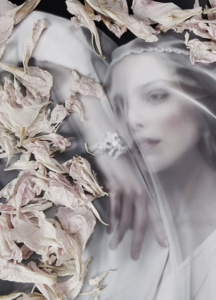 Tanya Dziahileva in "Ave Maria" by Danil Golovkin, Harper's Bazaar Russia, July 2010.
'…Look, the afternoon dies
as night begins in the heart of the lilies and smokes up
their fluted throats until it fills the room
and my lights have to be not switched on.
And ,
so strong, that it could slice me open. It does.' From Cut Lilies by Noah Warren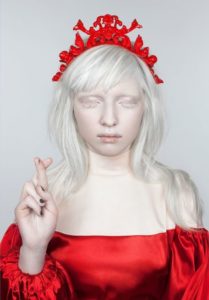 Nastya Khidova is a Russian Albino model and singer
I find myself writing so much on Italian niche scent these days, something I noticed a few years ago on my own blog and writing for ÇaFleureBon as I sampled Masque Milano, Gabriello Cheiffo, Hilde Soliani, Meo Fusciuni, Bogue Profumo, Xerjoff, Menditterosa Odori d'Anima, Unum, Odriù, Tiziana Tirenzi, One of Those (formally Nu_be) and Rubini Profumi that I suspect Italian perfumery has found some secret, golden source of exquisite inspiration. The multifarious work is passionate, joyful, sexual and innovative, often driven by experimental artistry and a desire to use the skin as a canvas of celebratory sensuality.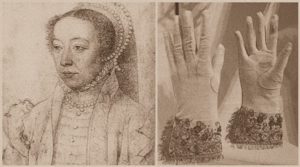 Catherine de Medici brought Perfume to France and was said to soak fine leather gloves in scent … and poison
The Foxy collection contains many of these fine houses and I never fail to be amazed by the surge in olfactive expertise and virtuosity taking place in Italian perfumery, tribute perhaps to the fact it was originally Catherine de Medici who is credited with bringing the aromatic arts to France when she arrived to marry a French Duke who would become Henri II. Her private perfumer René de Florentin had his perfume laboratory in the Palais du Louvre, accessible via a secret passage known only to Catherine. The wearing of perfume was commonplace at the Italian court, but she made it fashionable at the highly charged and competitive French court. Rumour had it that Florentin also made the Queen's poisons to lace books, gloves, toiletries and her renowned De Medici rings. A laboratory of beautiful floral perfumes and formulae of death. Quite the environment.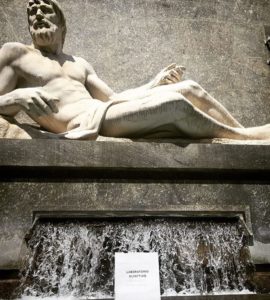 laboratorio olfattivo via instagram
Now in modern days, Roberto Drago and his talented group of carefully chosen perfumers at Laboratorio Olfattivo create perfumes I once described in a Cafleurebon review of Patchouliful by Cécile Zarokian as 'work of quiet prestige and intelligent aroma'.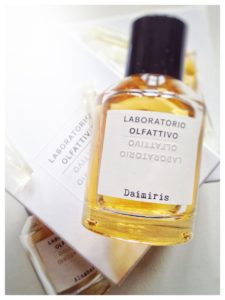 Laboratorio Olfattivo Photo TSF for CaFleureBon Daimiris by Pierre Guillaume
Founded in 2009, this soulful, elegant brand has been releasing fragrances of charm and sensual character. It is a vastly underrated house, the concentration and awareness placed firmly on the juice and materials rather than the big sell of flacon and packaging. I have three of their subtle and complex fragrances: Cécile's opulent, heliotrope robed Kashnoir, Enrico Bucella's glorious cocoa glowing amber Alambar and the singular Daimiris, Pierre Guillaume's bizarre, buttery iris that smells like Bambi.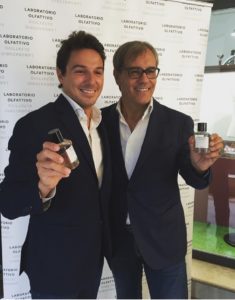 Luca Maffei and Roberto Drago laboratorio olfattivo via instagram
I wondered how long it would it be before Roberto worked with Luca Maffei, the increasingly prolific Milan-based perfumer with the olfactive golden touch just now. He has proven himself to be a creator of immense, diverse talent, generous with his time, working with an intriguing set of collaborators, choosing to work on projects that allow him a certain amount of freedom with budgets, ideas and materials. It is no big secret the Fox is a Luca fan, I've followed his work from early days and it's been amazing to watch his creations and the charming man himself garners praise and awards. I loved Maisìa, the seared urban fig he made for Gabriella Chieffo and his utterly crazy and magnificent savoury sensation Ragu is still one of the most unusual things I have ever reviewed. Garuda and Néa for Jul et Mad were both ravishing examples of his art, Néa winning him a second 2016 Art & Olfaction Award for Best Independent. Recently his champagne iris L'Attesa for the guys at Masque Milano was the talk of Esxence and my oh my what a wondrous thing it is, monochromatic and divinely arresting, a bready, savage vintage shattered across an expectant terrazzo floor.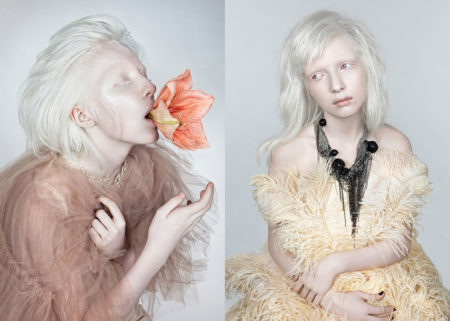 Wild Flower' editorial for Fashion Gone Rogue, Natasya Khidova Danil Golovkin
So now I have my answer, not one but a pair of sensational compositions by Luca for Laboratorio Olfattivo called Nun and MyLo, part of a divergent line of scents entitled In Fiore, floral perfumes that play with of sunlight and illumination. Nun is palindromic (reads the same backwards) and refers to the Ancient Egyptian word for primordial waters.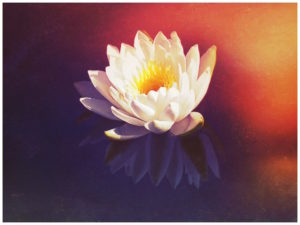 White Lotus Digitalized TSF for CaFleureBon
These gave birth to the lotus that is uniquely drawn back into the water as night falls only to surface and re-emerge in the morning, fresh, white and pure. As such it was regarded as a symbol of the sun god Atun, a symbol of daily rebirth. Nun is an aquatic, but far removed from the saline, sun-kissed formulae that have seen something of a resurgence in the last year and different again from Luca's dry, wry Acquasala for Gabriella Chieffo which was one of the most refined and ethereal of these recent new marine interpretations.
Natasya Khidova
Nun has an abstracted sensation of surface reflection, it smells cool and instantly refreshing; the initial burst of jasmine and juicy pear is incredibly photorealistic. The lemon squeezed over them is on point. Nun feels like all the ingredients, those cut pears, jasmine grandiflorum, ylang ylang, bergamot, bright waxen lemons, white lotus and sun bleached blond wood scattered across a glass-topped table to bathe in brilliant Vermeeresque sunlight. A still life of limpid, odiferous modernity. The lotus is aqueous and light, floating on Luca's heady white floral bouquet. It's the pear that makes the difference though, conjuring fruit just on the cusp of ripe, skin barely taut over the succulent flesh below. The longevity is excellent, white musks and clean amber really stretching out a delicate yet persistently graceful drydown.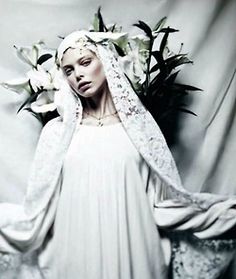 Tanya Dziahileva in Ave Maria by Danil Golovkin for Harper's Bazaar Russia July August 2012
MyLo is divine. Just gonna say it. Those of you who read my work on a regular basis will know that for me the white lily is a bloom without parallel in perfumery. I search out lily soliflores, always adding to my collection of this divisively erotic and much maligned bloom. The name MyLo? Simple. My Laboratorio Olfattivo. And this I think it is mine. If I could have one bottle right now from the collection to magic into my study and wear for the summer, MyLo would be it. On my skin eight hours ago and I still smell amazing, impressive and satisfying longevity, not just the insipid traces of base notes but the fading body of the scent, beautiful and damned. Now I have precedents with lily soliflores, there has been very little that has come close to Mathilde Laurent's uncompromising masterpiece Baiser Volé for Cartier. Two versions, the original eau de parfum and the shockingly indulgent Baiser Volé Essence were both superb, both capturing differing facets of the knife-edge virgin and whore dichotomy that makes white lilies in particular so compelling. Luca has come very very close.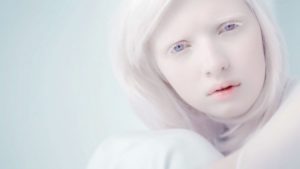 Natasya Khidova Danil Golovkin
MyLo has a dazzling trio of flowers to support that white lily; rose, jasmine and a peculiar throaty iris. Everything is white, a counterpointing of ivory unblemished skin and that same skin about to be touched, kissed and ravaged. There is always the whisper and lascivious lick of lilies in perfumery; on the one hand oh so pure and chaste, on the other their pornography driven by indoles and sun-drenched salicylates. The difference between MyLo and Mathilde's Baiser Volé is the profundity of her vanillic base notes and the green stem capture she used which is absent in Luca's composition.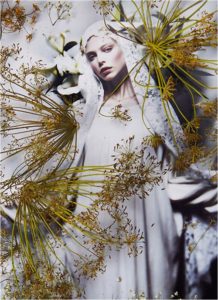 Tanya Dziahileva by Danil Golovkin in Ave Maria Harpers Bazaar Russia July 2010
However, Luca has used his resinous benzoin-licked vanilla to suggest the slutty honey-coloured pollen fall that wrecks skin and clothes. It's a daring turn and one that makes me love MyLo even more. The pink pepper and lemon right back at the top of the scent add a lovely glister to the notes, as if the lilies were held carefully in a glass vase standing on a sill in a sun-soaked room where a bed lies scattered with sheets crumpled from sex and laughter.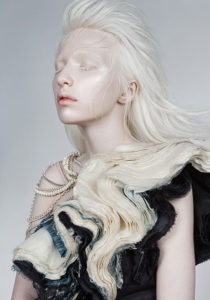 Wild Flower editorial for Fashion Gone Rogue, Natasya Khidova
These two new perfumes by Luca Maffei for Laboratorio Olfattivo once again demonstrate his lightness of touch and dexterity when it comes to handling such potentially transparent and to be honest relatively generic themes. But Roberto Drago is not a man who allows mediocrity or misadventure past his door and has found as others before him have found in Luca Maffei an alchemist of spellbinding talent, able it seems to transmute the raw materials of olfaction into desirous skin-loving gold.
–The Silver Fox, Contributor and Author of The Silver Fox
Disclosure: Samples of Nun & MyLo kindly received from Roberto Drago at Laboratorio Olfattivo. Thank you. Opinions my own.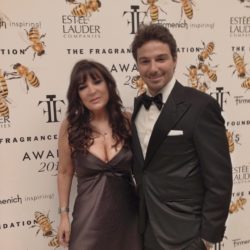 Michelyn Camen Editor in Chief with multi award winning Italian perfumer Luca Maffei on the red carpet at The Fragrance Foundation Awards 2015 (photo Harry Fremont of Firmenich)
Editor's Note: Art work by TSF and MC to convey whiteness; we chose Nastsya Khidova and Tanya Dziahileva . I first met Luca at Esxence in 2014 and he was my companion to the Fragrance Foundation Awards last year in NYC, when TSF Smoky Eyes and Smoky Perfumes: The Allure of Scents that Smoulder won for Editorial Excellence: Online I recall how Luca wanted his photo taken with so many great perfumers (Meeting Yann Vasnier was a big thrill for him). I told him "that will be you, one day they will want to take photos with you"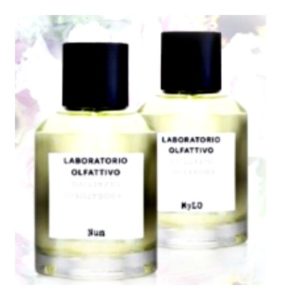 Nun and MyLoPhoto: Laboratorio Olfattivo
Thanks to Laboratorio Olfattivo we have a draw for your choice of either Nun or MyLo for a registered reader anywhere in the world. To qualify, please leave a comment with what excites you about Nun and Mylo based on The Silver Fox's Reviews, a description that was memorable, where you live and if you have a favorite Laboratorio Olfattivo fragrance. If have a favorite by Luca Maffei we would love to know. Draw closes 7/9/2016
We announce the winners on our site and on our Facebook page, so Like Cafleurebon and use our RSS option…or your dream prize will be just spilled perfume